Aftershocks Keep Nepalese On Edge, But Rescue Provides Glint Of Hope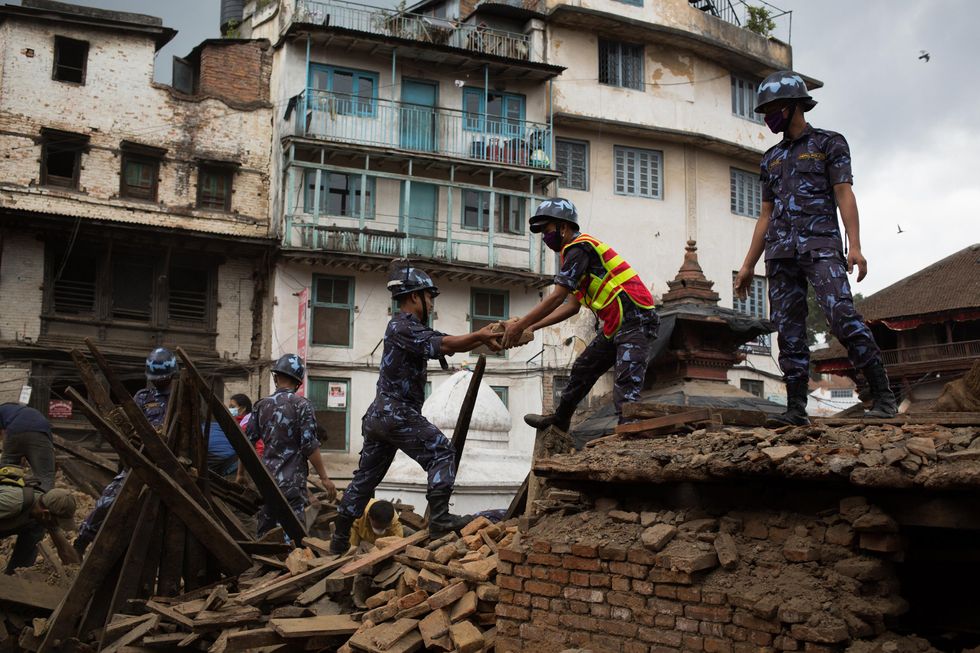 By Julie Makinen and Shashank Bengali, Los Angeles Times (TNS)
KATHMANDU, Nepal — A rare jolt of good news brought cheers to earthquake survivors Thursday, even as aftershocks continued to rattle nerves and the government said the death toll had risen to 5,489 in Nepal alone.
The number of injured closed in on 11,000, officials said, a day in which the gloomy news was overshadowed, if only for the moment, by the rescue of a 15-year-boy, pulled alive from the rubble of a hotel.
Aid continued to flow into hard-hit areas northwest of the capital. In Gorkha, near the epicenter, trucks delivering relief supplies plied the winding mountain roads and Swiss and Indian doctors scurried about the bare brick main hospital — signs that the pace of humanitarian assistance was beginning to pick up.
The number of dead and wounded has been rising steadily as relief teams access more villages and fresh patients reach medical facilities. The government has announced that it will provide about $1,000 to families of the deceased.
But an estimated 75,000 people were still camping outside in the Katmandu Valley alone, the U.N. said, either because their homes are uninhabitable or because people feared returning to their cracked structures. Engineering professors from a local university announced Thursday that they were forming an 18-member task force to help evaluate the structural integrity of buildings in the city.
With officials facing criticism over a slow response to the crisis, Bijan Pant, an adviser to Prime Minister Sushil Koirala, flew into Gorkha on a helicopter and toured the hospital, which was not damaged in the quake. It was the first time a senior government official had visited the area, where the death toll stands at 405.
"It's a huge project," Pant said. Asked whether the death toll will rise, he said: "That is for sure. We haven't been able to get into the center of these areas. We've only gone to the periphery."
In a dirt soccer field where the adviser's helicopter was parked, quake victims said they were not impressed by the official visit.
"It's just a formality," said Prem Dhitar, whose home was damaged in the magnitude-7.8 temblor.
As many as five families were sharing a single tent, he said, and food and water shortages were developing in nearby villages. "Aid is coming but it's being distributed haphazardly," Dhitar said. "We have major needs."
Around midday, three patients — including a teenage boy with apparently serious leg injuries — arrived at the hospital in an ambulance from the village of Panch Kuwa Deurali, a short car ride away. Swiss relief workers and Nepalese police officers loaded one woman onto a stretcher, covering her grimacing face with a scarf to shield her from the sharp sunlight.
Boxes of plaster, IV bags, oxygen tanks, and other medical supplies were piled up outside the main ward, but beds were scarce. Several recently arrived patients lay on blue mattresses in the concrete courtyard, including Chij Maya Gurung, 35, who had arrived by helicopter a day earlier with injuries to her leg, hand and face.
She had survived the collapse of her home in the village of Simjung, but it had claimed the life of her seven-year-old son and two other relatives who were inside. All 20 houses in the village were destroyed in the quake. For three nights, she slept in a cornfield because there were no tents, said a cousin, Dhan Maya Gurung.
"No one was there to help her," she said as Gurung's daughters, ten and nine, knelt beside her, quietly combing their hair.
Hospital workers said they had treated 260 injury victims through Wednesday, 11 of whom had not survived. The vast majority suffered head injuries and fractures.
The 15-year-old boy rescued in Katmandu, Pemba Lama, had been entombed on the ground floor of a hotel where he worked. A USAID disaster response team comprising search and rescue specialists from the Los Angeles County Fire Department and Virginia's Fairfax County Fire Department, along with Nepalese Armed Police Force units, helped extricate the teenager.
In an interview with the Los Angeles Times from an Israeli field hospital where he was being treated for dehydration and scrapes, he said he survived by eating some ghee — clarified butter — that he found in the space where he was trapped.
Photo: Ivan Castaneira via Zuma Press/TNS