Aid Mission To Syria's Homs On Hold, Peace Talks Falter
@AFP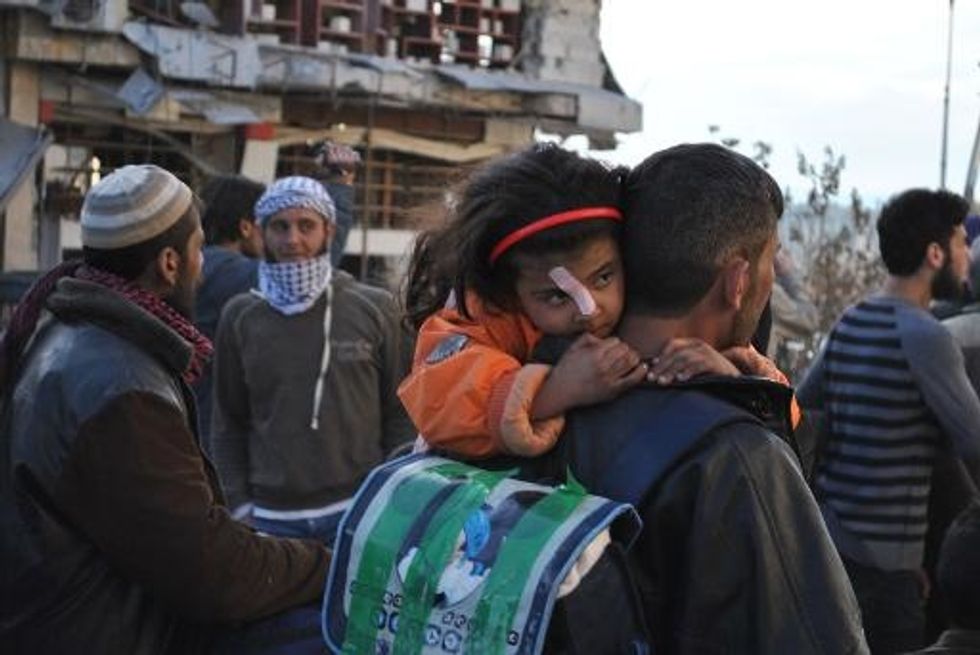 Damascus (AFP) – The evacuation of civilians from besieged rebel-held areas of Syria's third city Homs was suspended on Tuesday, as a mediator said peace talks in Switzerland were making little progress.
Aid teams had been on standby to resume humanitarian operations in the central city on Tuesday, but by mid-afternoon the provincial governor said they would be delayed for a day.
"Today, operations didn't take place for logistical and technical reasons," Homs governor Talal Barazi told AFP.
"The evacuation of civilians and delivery of food aid will continue tomorrow morning," he said, adding that a truce agreed until Wednesday night could be extended if necessary.
"The geographic location is difficult, we are in the process of ensuring adequate passages by removing some sandbag barriers," he said.
The Syrian Red Crescent has so far helped evacuate around 1,200 people trapped in the war-battered rebel enclave, and delivered desperately-needed food and medicines.
On Monday, UN and Red Crescent teams evacuated 473 people from Homs, many of whom had spent more than 18 months trapped with dwindling food and medical supplies.
They streamed out of streets strewn with rubble and pockmarked by half-collapsed buildings, towards the vehicles waiting to extract them from the city.
Operations began on Friday to evacuate those among the estimated 3,000 civilians trapped in the Old City of Homs who wish to leave and deliver aid to those who want to stay.
They were made possible by a three-day truce, which was extended for another 72 hours on Monday despite multiple violations, including shelling that killed 14 people and fire directed at the relief convoys.
The operations delayed on Monday had not been scheduled to include aid delivery, but the World Food Programme said it had managed to deliver 310 family rations — enough to feed 1,550 people for a month — between Friday and Sunday.
It has also delivered 1.5 metric tonnes of wheat into Homs, where residents have said they survived for months on a diet of olives and wild plants.
The Red Crescent posted pictures on its Facebook page of a party that was later organised for a group of children, their faces lit up with smiles as they played with green, grey and pink balloons.
The UN children's agency UNICEF said that at least 500 youngsters were among those evacuated, describing many who came out as "terrified, frail and emaciated."
It said nearly 200 children had received on-the-spot vaccinations, including for polio.
The UN refugee agency UNCHR said that 336 male evacuees aged between 15 and 55 had been taken in for questioning by the Syrian government.
A total of 42 were released, but the remainder were still in the hands of the authorities, UNHCR spokeswoman Melissa Fleming said.
The humanitarian operation has been welcomed internationally, with UN and international officials urging that the model be extended to other areas in Syria.
"I hope that those negotiating in Geneva agree to allow the sustained delivery of aid to the 250,000 people in besieged communities in Syria and all those who are in desperate need," said UN humanitarian chief Valerie Amos.
But the tone at a second round of peace talks that began in Geneva on Monday has so far kept expectations of a breakthrough low.
On Tuesday morning, UN-Arab League mediator Lakhdar Brahimi chaired a joint session attended by government and opposition delegations — their first face-to-face meeting this month.
But after the talks, Brahimi described the process as "laborious" and acknowledged there was little to show so far.
"We are not making much progress," he said after the three-hour session ended.
The two sides still disagree fundamentally on the purpose of the discussions.
The regime insists they must be used to condemn "terrorism" in Syria, while the opposition wants to discuss a transitional government and President Bashar al-Assad's departure from office.
"The regime is not even budging on this, insisting that they want to talk about one thing," opposition spokesman Louay Safi said.
"These people are not here to come up with a political solution, but they are insisting on killing the people in Syria to keep the rule of one person," he told reporters.
More than 136,000 people have been killed since the conflict erupted in March 2011, while some 2.4 million Syrians have fled abroad.
AFP Photo