Aid To Farmers Falls Short Of Damage From Trump Tariffs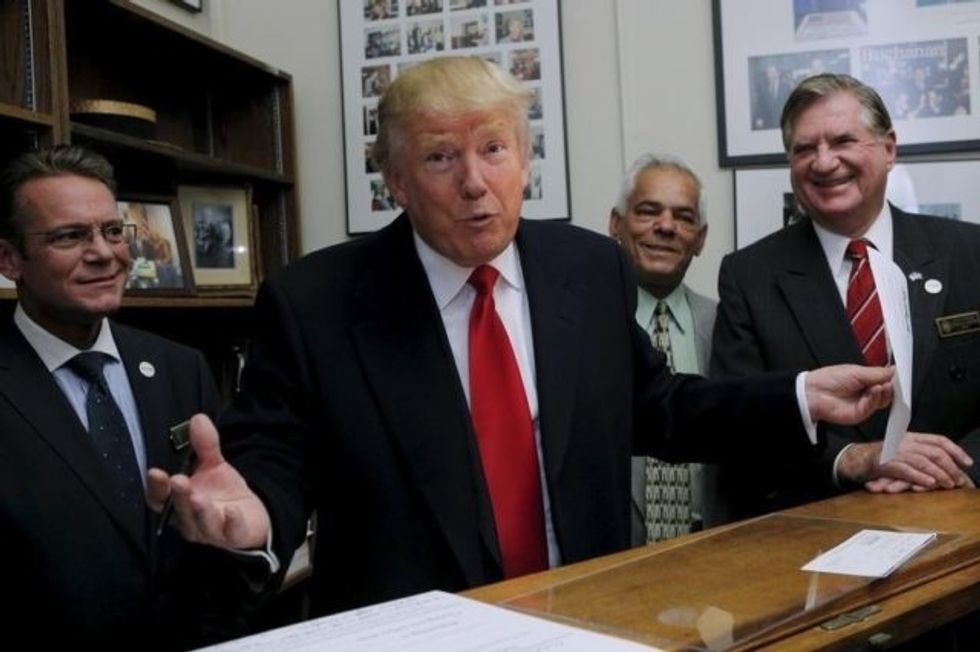 Reprinted with permission from Shareblue.
Billions of dollars are being released for Trump's bailout of farmers who have been hurt by his trade war — but, as predicted, the money still isn't nearly enough to make up for the damage Trump's reckless tariffs have done to American farmers.
The U.S. Department of Agriculture (USDA) has announced that it is releasing an initial $4.7 billion payout to farmers, and intends to purchase $1.2 billion of surplus food that it will distribute to federal nutrition assistance programs.
After Trump started his unnecessary trade war by levying tariffs on imported goods, other nations like China predictably retaliated with tariffs on U.S. goods.
The trade war has had many damaging ripple effects. One of the worst is that American farmers have been priced out of many global markets, and have lost billions in revenue.
American farmers are now forced to dramatically lower their prices, and are stuck with large stores of unsold goods, because foreign purchasers can buy things like hogs and soybeans from other countries for less money.
Trump's bailout is intended to ease the financial pain for the farmers affected by his decision, many of whom live and work in red states that voted for Trump.
But even this multi-billion-dollar, taxpayer-funded bailout is woefully inadequate, and doesn't come close to making up for Trump's poor policy choices.
Jim Mulhern, the president and CEO of the National Milk Producers Federation, told CNN the payments "fell short of addressing the losses dairy producers are experiencing."
Just how short do they fall?
The $127 million USDA has put aside for dairy farmers will cover less than 10 percent of the losses they have incurred from Trump's trade policy, Mulhern said in a statement.
Associations representing corn and wheat growers were also extremely negative about Trump's payoff attempt.
North Dakota farmer Kevin Skunes, president of the National Corn Growers Association, said in a statement that even though corn growers had "lowered expectations" for how much the bailouts would help, the plan is still "disappointing."
"NCGA has understood from the beginning that this aid package would neither make farmers whole nor offset long-term erosion of export markets," Skunes said. "But, even with lowered expectations, it is disappointing that this plan does not consider the extent of the damage done to corn farmers."
This is why farmers don't want Trump to bail them out. They just want him to stop meddling with their trade markets and ruining their business.
Trump has steadfastly ignored warnings from farmers that his trade war would turn out poorly for their industry and for the American economy.
Trump even refused to back down when Republican senators from agricultural states warned that the trade war would create a backlash for the GOP.
Trump is determined to wage his trade war, even as farmers are suffering and as the pain is starting to reach consumers.
A temporary bailout, even to the tune of billions of dollars, just isn't enough to undo the damage Trump has already done, or to avoid the long-term chaos that is still to come.
Published with permission of The American Independent.