Albuquerque Police Release One Minute Of Video In Controversial Shooting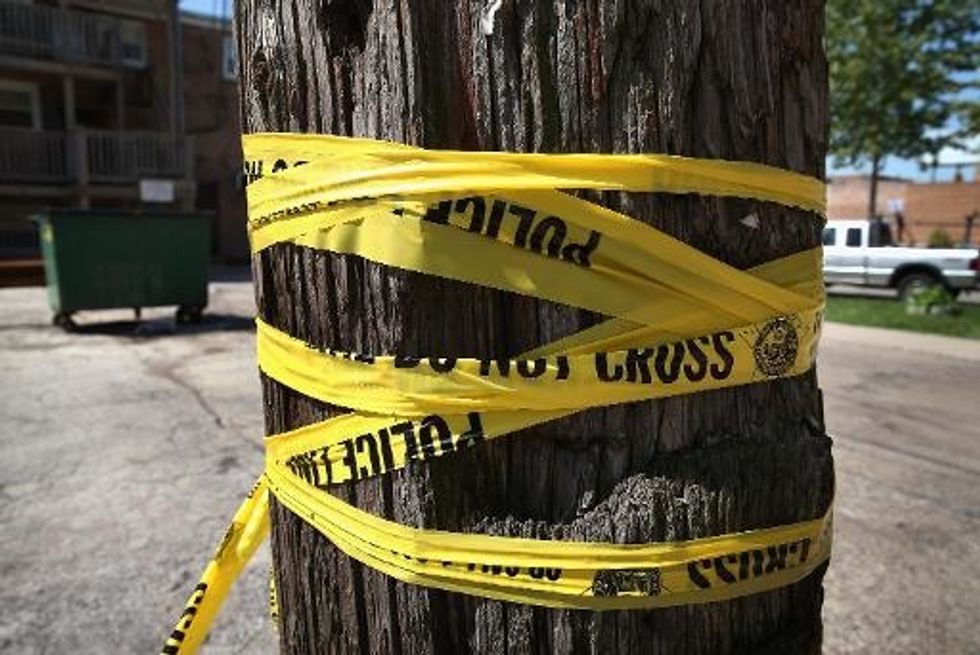 By Cindy Carcamo, Los Angeles Times
ALBUQUERQUE, NM — Residents expressed outrage Wednesday that police released less than one minute of video in an hours-long standoff that ended with an officer-involved fatal shooting — the most recent incident in a series of deadly police shootings that have prompted a federal investigation.
A crowd is anticipated to converge on a City Council meeting Thursday night. Many want to know why the footage made public does not show the entire chain of the events that police said led to the shooting.
Police said Armand Martin, 50, came out of his home Sunday afternoon "with a handgun in each hand," firing shots.
Martin's wife had called police to report that her husband was threatening her and her children with a gun. Police said Martin had fired shots on the second floor of his home and toward neighbors' homes and officers. Police responded by firing tear gas in an attempt to move him and prevent further shooting, they said.
Moments later, Martin came out of the house, firing two handguns. One officer shot Martin as he came out firing. Police did not disclose how many times or in what direction Martin was firing.
Martin, an Air Force veteran, had a history of mental illness and had been treated at a Veterans Affairs facility for "significant mental health-related issues," Deputy Chief Eric Garcia said. An officer trained in crisis intervention was at the scene, police said.
Saturday's shooting occurred less than four weeks after the Justice Department slammed the Albuquerque Police Department in a scathing report for a rash of what it described as unjustified officer-involved shootings. Since 2010, officers have fatally shot 25 people — four of them since mid-March, including the killing of a homeless man that touched off protests.
The Martin shooting has further exacerbated tensions. On Monday, activists took over the City Council meeting and delivered a symbolic "arrest warrant" for Albuquerque Police Chief Gorden Eden, demanding that he step down.
The next day, residents became increasingly angry when police failed to release the entire video of the Martin shooting. Several officers activated their lapel cameras, but Garcia said officials were sorting through all of the video. It is not clear whether it will be released.
On Tuesday, police released a cell phone video taken by Martin's son. The clip shows Martin holding a handgun and telling his family to get out of the house. He allegedly went out of control and his wife ended up calling police during a domestic dispute, police said.
A second video clip — taken from the helmet camera of a SWAT officer — shows police approaching Martin as they handcuff his bloodied and lifeless body on the driveway. Police said those actions were part of a national standard on police safety. A phone, bullet casings and two handguns can be seen near the body.
Officer Daniel Hughes, the 12-year veteran who shot Martin, was more than 50 yards away — beyond the resolution of any body-worn cameras that the department has, police said. This was Hughes' first officer-involved shooting with the department, he said. Hughes is on administrative leave, in keeping with department policy.
Garcia also said some of the officers turned off their lapel cameras to conserve battery power during the long standoff. Others were more concerned with taking cover during the shooting rather than turning on their cameras, Garcia said.
"We did not position any officers directly in front of the house, they were all taking cover behind armored vehicles and distanced from the home during the first volley of shooting by Mr. Martin and the second, when he exited the home shooting with two handguns so you are not going to see any lapel video of the shooting," police spokeswoman Tasia Martinez said in a written statement.
Lapel camera footage has been a point of contention for the Police Department. Some residents are still upset after officers said they were unable to recover lapel camera footage from an officer who fatally shot Mary Hawkes on April 21 — the first officer-involved deadly shooting after the federal report was issued.
Hawkes, 19, led police on a foot chase and pointed a handgun at the officer, Eden has said. The camera was sent to the manufacturer for forensic analysis, but its status remains unclear.
On Thursday, the council is expected to discuss whether the city should change the way the police chief is selected. One of the recommendations is for the position to become elected instead of being appointed by the mayor.
AFP Photo/Scott Olson