Facing Judgment, Alex Jones Begs For Help From The 'Deep State'
@next2godwin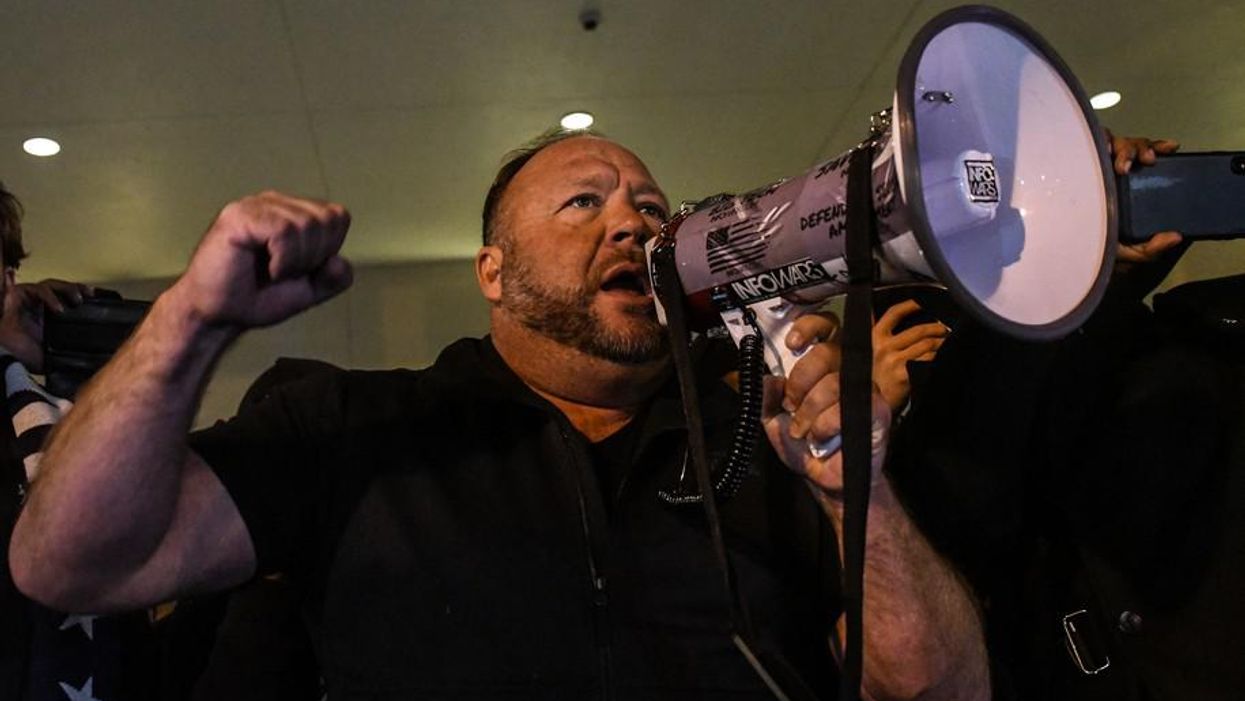 Facing growing legal troubles which three bankruptcy filings have only exacerbated, Alex Jones has turned to the U.S. government — which he so often called the "deep state" — for help.
Jones, a right-wing conspiracy theorist and avid Trump supporter, rose to prominence by making absurd allegations against the government and disseminating conspiracies of an alleged shadowy cabal of world-controlling pedophiles, a belief that's the foundation of the QAnon movement.
Jones' conspiracy empire has made him a massive fortune and attracted millions of daily visits to his websites and social media accounts, per the New York Times . Jones' Infowars store raked in $165 million from 2015 to 18, all while he pleaded for donations from his supporters to help him stay financially solvent, according to records obtained by HuffPost .
Just what could Jones have sold to his supporters? According to the Texas Tribune , during the pandemic, Jones' Infowars store sold products like "Nano Silver" toothpaste and "Superblue Silver Immune Gargle," both of which he claimed could fight Covid-19. Jones has also sold doomsday pepper materials and diet supplements, products he labeled antidotes for the phony threats he made up on his shows.
Last Tuesday, Jones announced an "emergency blowout sale," where "thousands of great items, books, you name it" will be sold on his Infowars store. "This is do or die time if you want to keep us on the air," Jones said, referring to the sale. "They are trying to silence you. They are trying to take down the leading voice of resistance."
Jones' radio show, his so-called "voice of resistance," is actually his bullhorn for a litany of conspiracy theories. Jones has claimed that Austin authorities often used "black helicopters" to survey the public; that 9/11 was an inside job orchestrated by the government; that the high school survivors of the tragic Parkland, Florida, shooting were "crisis actors" on the payroll of Democrats and George Soros, a regular target for right-wing conspiracies; that juice boxes made kids "gay"; and that Sandy Hook elementary school massacre was a hoax cooked up to curtail the right of U.S. citizens to own guns.
"Sandy Hook is synthetic, completely fake, with actors, in my view, manufactured," Jones told his listeners in 2015. In subsequent episodes, Jones mocked the weeping parents mourning the death of the children and shared addresses and other personal information of the victims' families.
After months of continued harassment by Jones' Infowars supporters — one of whom was sentenced to prison for sending death threats to one victim's family — the mourning parents fired back with defamation lawsuits, and Jones quickly admitted that the shooting happened but blamed "anti-free speech Democrats" and the media for his predicament.
Jones has tried to slow his legal reckoning by failing to obey court orders to turn over documents; filing late settlement offers, which the victims' families have rejected; and even citing a bogus medical problem as a reason for failing to show up in court.
In September, Jones was found liable for defamation by a Travis County judge in lawsuits filed by two families of Sandy Hook victims. One month later, Jones lost again in a separate suit filed in Connecticut by eight other families of Sandy Hook victims.
However, Jones' legal troubles don't end there. He is also being investigated by the Justice Department for his role in the January 6 insurrection, an inquiry Jones contended could damage him more than the Sandy Hook defamation lawsuits.
Jones has rolled over for the Justice Department, desperate to share all he knows about the January 6 insurrection in exchange for prosecutorial immunity.
On April 18, one week before juries were to make their decision on damages in the Sandy Hook defamation lawsuits, three companies affiliated with Jones, including Infowars, filed for bankruptcy.
The Justice Department's bankruptcy monitor quickly objected because Jones, who generates and controls Infowars' income, didn't file for bankruptcy himself. The bankruptcy filing was for three Infowars offshoots that had no assets, employees, or income.
A restructuring office for Infowars, Mark Schwartz, justified the move by saying Jones would ruin "his good name" and harm his "ability to sell merchandise" if he filed for bankruptcy himself, the Times reported.
Jones wanted the bankruptcy court to approve a $10 million settlement fund for the victims' families suing him. The families, all of whom want to see Jones in court, filed a motion to dismiss his bankruptcy motion.
A judge has scheduled a status conference on Jones's bankruptcy motion for Friday.