Alt-Right: The Rise Of The New KKK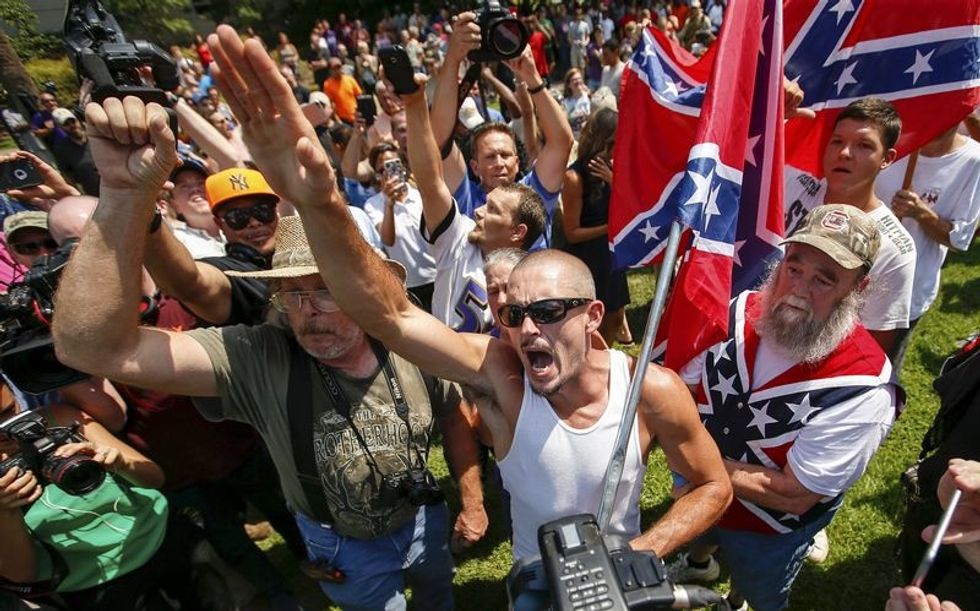 In this era of a soon-to-be President Donald Trump, my profession has a lot to answer for. Journalists who should have known better covered the email controversy that engulfed Hillary Clinton's campaign as if it were a scandal akin to Watergate, helping to drive up her negative ratings and doom her candidacy.
Meanwhile, they devoted fleeting attention to the genuine scandals that have enmeshed Trump at every turn. He has bilked countless contractors; he defrauded students at his fake university; he has lied repeatedly. He will take office as the only president in American history whose campaign was given a leg up by a foreign power — Russia. If you didn't know that, blame scanty press coverage.
But my fellow journalists can begin to make amends with one simple vow that ought to be standard in every newsroom: The term "alt-right" is banned. From now on, news organizations should identify Steve Bannon, chief strategist in the nascent Trump administration, and his merry band of haters as what they are: racists.
Bannon came to Trump's campaign from his post as executive chairman of Breitbart News, a vitriolic outpost of the ultraconservative fringe. The "news" site is vehemently misogynist, xenophobic, anti-Semitic and racist.
In July 2015, for example, shortly after white supremacist Dylan Roof, a Confederate sympathizer, was accused of the mass murder of congregants at a black church in Charleston, South Carolina, Breitbart ran a story with the following headline: "Hoist It High and Proud: The Confederate Flag Proclaims a Glorious Heritage." Bannon has called Breitbart a "platform for the alt-right."
The appellation "alt-right" sounds trendy, like alternative rock. It severs a white supremacist ideology from its Ku Klux Klan roots. It applies a hefty coat of Wite-out (pun intended) to a dangerous and frightening appreciation for Adolf Hitler. In other words, it's a brilliant marketing strategy to normalize beliefs with which most Americans don't wish to be associated.
That's why the term was coined. According to The Washington Post, the descriptor was created by a well-educated racist named Richard Bertrand Spencer, who co-founded a now-defunct website for white nationalists called AlternativeRight.com. Spencer is nothing if not media-savvy. He knows how to distract journalists from the truths staring them in the face.
But his so-called "alt-right" is nothing but the same old white supremacy that has oppressed minorities for centuries. It was present at the Continental Congress and enshrined in the U.S. Constitution. The KKK took up the same beliefs with great enthusiasm in the late 19th and early 20th centuries. Hitler's version was centered on his hatred for Jews, but he and the KKK, which was also anti-Semitic, could easily have made common cause. In other words, there is nothing new or trendy about this bigotry.
Many journalists and political commentators remain in denial about the racism that fueled Trump's rise. They maintain that economic anxiety lifted him to victory, that working-class whites are increasingly anxious about job loss and wage stagnation.
There is obviously some truth there. There were counties in a few states that voted for Obama twice but which Clinton could not hold. It's hard to see racism in those votes.
But racial resentment was easy enough to detect in the Trump voters who embraced his calls for "law and order," who cheered when he described inner cities as dystopian nightmares, who showed up at his rallies to hurl racial epithets every time Obama's name was mentioned. Let's remember how Trump introduced himself to national politics: with a five-year stint as birther-in-chief, insisting that Obama was a usurper who didn't belong in the Oval Office. It's hard to see economic anxiety in that.
As much as anything else, Trump's election was a backlash against cultural forces that have changed American civic and social life over the last several decades. A black president was the starkest symbol of those changes, but other cultural dynamics also played a role. Many Trump voters resent the legalization of same-sex marriage. Others could not stomach the idea of a female president.
The country is now entering a new post-Reconstruction phase, a dangerous time for those whose history has been shaped by prejudice and oppression. The least that my profession can do is to acknowledge the backward-looking forces at work.
Cynthia Tucker won the Pulitzer Prize for commentary in 2007. She can be reached at cynthia@cynthiatucker.com.
IMAGE: A supporter for the Ku Klux Klan and the Confederate flag yells at opposing demonstrators during a rally at the statehouse in Columbia, South Carolina July 18, 2015.  REUTERS/Chris Keane