The Alt-Right Tries To Spin Trump Debate Performance And Fails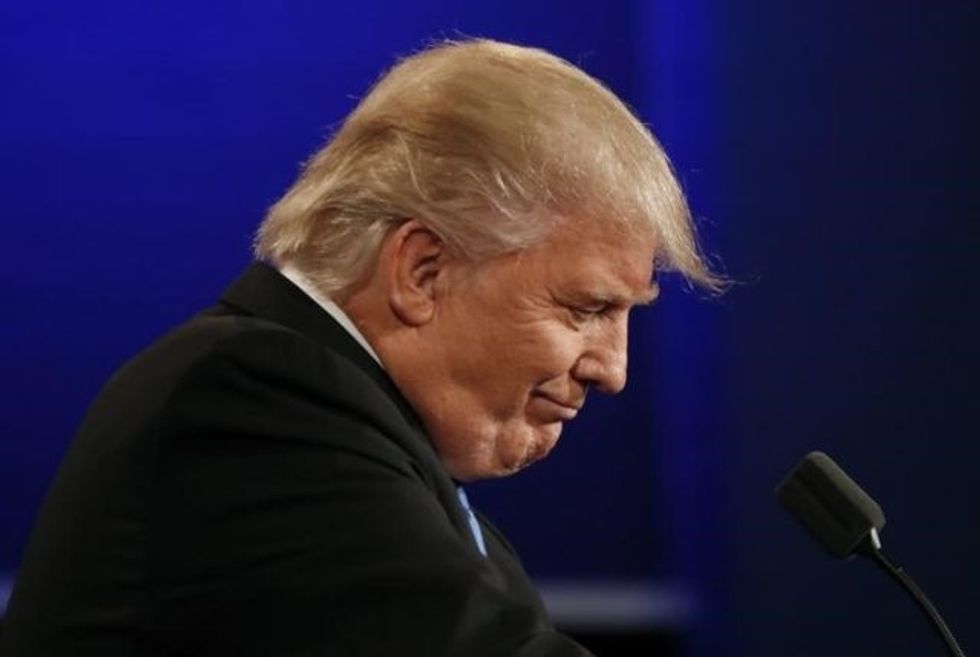 The alt-right, the fringe sect of conservatism that is marked by white nationalist allegiances, is struggling to make sense of the debate between Hillary Clinton and Donald Trump last night. Despite attempts to shill for Trump, as usual, many in the alt-right are finding it difficult to reasonably deny that Clinton won, in every sense of the word.
Stormfront, the site founded by a Ku Klux Klan leader and seen as a premier website for alt-right neo-Nazis, had several posts from readers indicating their view that Hillary won the debate. Deadspin rounded up some of these posts, and they include at least one person saying, "I'm a hard core  [sic] Trump supporter – and was from the very beginning – but Hillary mopped the floor with Trump tonight." Another added, "sorry but he got crushed tonight."
Meanwhile Breitbart News, the Trump sock-puppet nationalist site run by Stephen Bannon, is pushing the idea that Trump won, and hard, but is flailing. The Breitbart front page is running headlines like "+5% Say Hilary Won – But Trump Picks Up Undecideds" and "Hillary's Name Misspelled On The Debate Ticket." Clinton's name being misspelled, then, is clearly big news for the alt-right fan site.
Pat Caddell, of Fox News, however, spoke to Breitbart and said in a flash poll taken just after the debate, 48 percent said Clinton did better, compared to just 43 percent for Trump.
Prior to the debate, alt-right personality Milo Yiannopolous guessed that the media "will paint [Hillary] as a victim." His prediction didn't hold, however, as the consensus was widely that Clinton won the debate.
Even more traditional conservatives believe Clinton won the debate. Frank Luntz, conservative political commentator, asked a focus group consisting of undecided voters about the results of the debate and was told, among other things, when Trump was defending himself he came off like a "disaster" and that he "responded horribly" to Clinton baiting him. Focus group participants also felt, overwhelmingly, that Clinton won the debate, that Trump didn't have "solutions" and was "frankly rude to Lester Holt."
Trump supporter and former New York mayor Rudy Giuliani, for his part, said Trump should skip the next debate if he's going to continue to be fact-checked. Because, of course, the American people shouldn't expect a presidential candidate to tell the truth or humbly accept when his lies are called out.
Photo: Republican U.S. presidential nominee Donald Trump listens during the first debate with Democratic U.S. presidential nominee Hillary Clinton at Hofstra University in Hempstead, New York, U.S., September 26, 2016.   REUTERS/Brian Snyder