Amazing How The Only Group Voter Suppression Doesn't Target Is White Men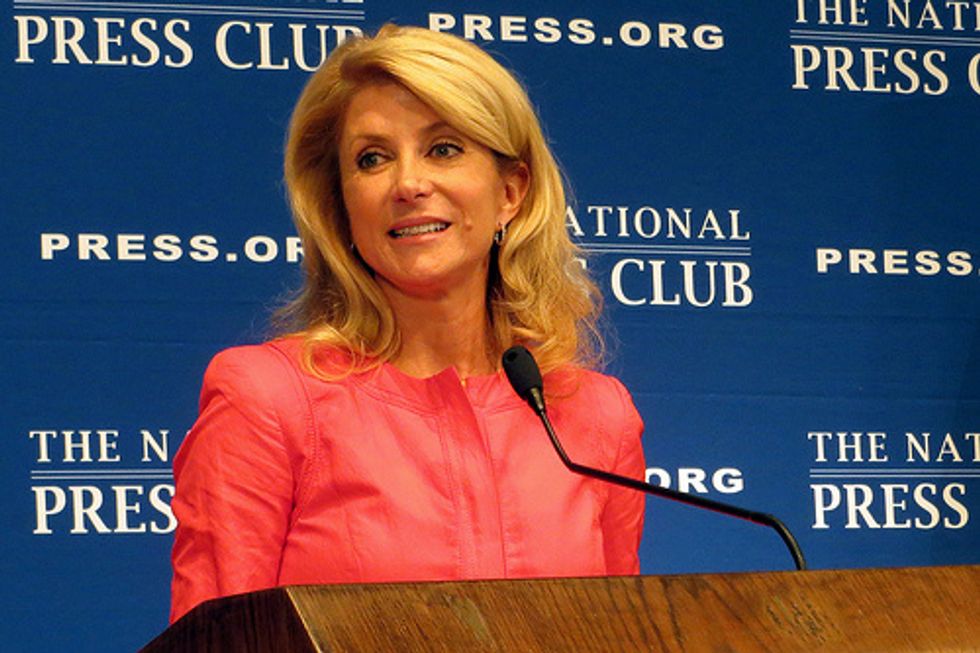 The Republican defense of laws requiring identification to vote usually goes like this: "Who doesn't have ID? And why can't they get it?"
They're forced to this defense because they can't point to one election in modern American history that was swung by the phantom scourge of in-person voting fraud. They know they can't because the Bush administration tried to find one for years and couldn't.
These questions are rhetorical, because any serious attempt to answer them indicts the effort to make voting more difficult.
Who doesn't have voter ID?
In 2012, "the state admitted that between 603,892 and 795,955 registered in voters in Texas lacked government-issued photo ID, with Hispanic voters between 46.5 percent to 120 percent more likely than whites to not have the new voter ID," according to The Nation's Ari Berman.
And why can't they get it?
The laws purposely make it difficult to get IDs. In Texas, residents had to pay a minimum of $22 to get the necessary documentation at a government office, such as the Department of Motor Vehicles. "Counties with a significant Hispanic population are less likely to have a DMV office, while Hispanic residents in such counties are twice as likely as whites to not have the new voter ID (Hispanics in Texas are also twice as likely as whites to not have a car)," Berman points out.
But Texas's law doesn't only make it more difficult for Latinos to vote, it also places an undue burden on one specific gender. Guess which one!
The New Civil Rights Movement's Jean Ann Esselink explains:
As of November 5, Texans must show a photo ID with their up-to-date legal name. It sounds like such a small thing, but according to the Brennan Center for Justice, only 66 percent of voting age women have ready access to a photo document that will attest to proof of citizenship. This is largely because young women have not updated their documents with their married names, a circumstance that doesn't affect male voters in any significant way. Suddenly 34 percent of women voters are scrambling for an acceptable ID, while 99 percent of men are home free.

Democratic strategist Alex Palambo points out, "Similar to how poor, minority, and elderly voters in Pennsylvania had trouble getting to the DMV to obtain a state ID or driver's license before the election, women in Texas are having trouble getting an acceptable photo ID that matches their most current name."
Palambo feels it's more than a coincidence that voting is becoming more difficult for women just as State Senator Wendy Davis (D-Fort Worth) prepares to take on Texas attorney general Greg Abbott to replace Rick Perry as the state's governor.
"Greg Abbott has a reason to be scared of Davis, his own popularity with women is low, most likely due to his strict reproductive health restrictions, gutting of childcare funding, and opposition to equal pay," she notes. The party may also be thinking ahead to 2016, when another Democratic woman might be on the ballot.
Regardless, voter ID is a policy that seems designed to make it harder for everyone to vote, except white men.
Even the conservative federal judge who wrote the majority opinion in the 2008 case that ultimately upheld that such laws were constitutional now admits the true agenda of these laws.
In his new book, Stephen A. Posner admits that he regrets his decision in Crawford v. Marion County Election Board,  noting that the law it upheld is "now widely regarded as a means of voter suppression rather than of fraud prevention."
The Reagan-appointed federal appeals court judge now agrees with Judge Terence T. Evans, his colleague who wrote the minority decision in Crawford. "Let's not beat around the bush: The Indiana voter photo ID law is a not-too-thinly-veiled attempt to discourage Election Day turnout by certain folks believed to skew Democratic," Evans wrote.
Posner admits that he wasn't aware of the "trickery" inherent in the law when he made his decision just two years after a Republican Congress and president had renewed the Voting Rights Act, which was recently gutted by the Roberts court.
"I plead guilty to having written the majority opinion," he writes in Reflections On Judging.
Perhaps he should have asked himself a question: Why would the party that claims to hate government regulation demand government regulation to solve a problem that doesn't exist?
The answer — unfortunately — is sad and simple.
"The Confederates and Dixiecrats of yesteryear are the Republicans of today," writes Berman.
UPDATE: Texas will make free IDs available on Saturdays in select DMV offices for citizens who do not currently have valid ID between June 25, 2013 and November 2, 2013.

Photo:  Alan Kotok via Flickr