American Islamist Killed In Somalia: Witnesses
@AFP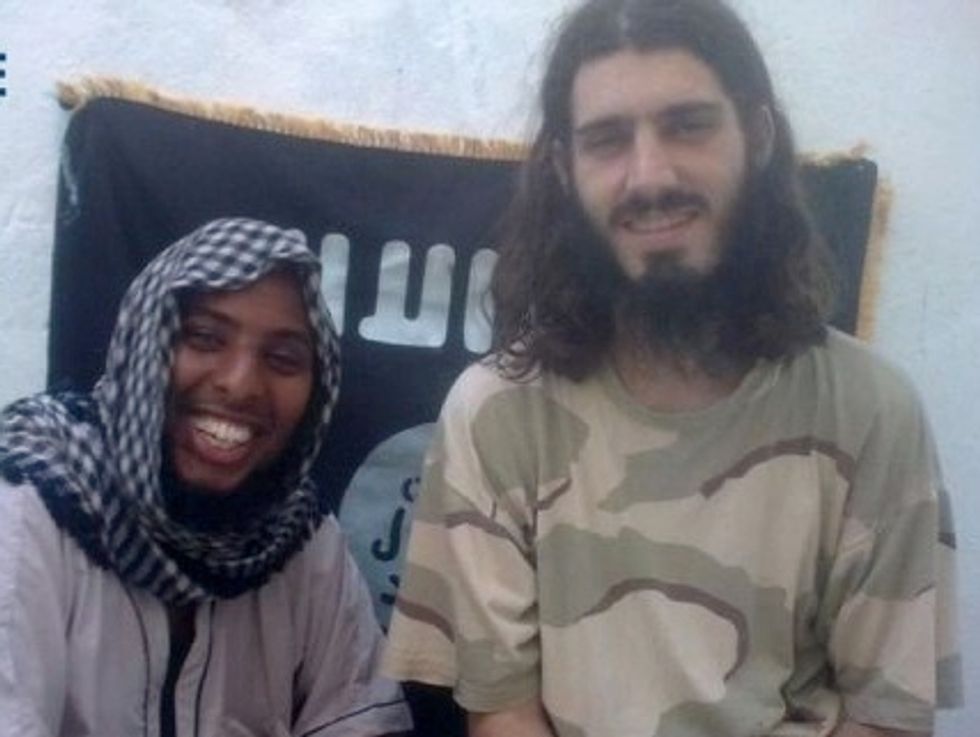 MOGADISHU (AFP) – A U.S. Islamist fighting in Somalia was killed Thursday in a shootout with Al-Qaeda linked Shebab militants, former comrades he had fallen out with, witnesses said.
Alabama-born Omar Hammami — better known as Al-Amriki or "the American" — was one of the most prominent foreigners fighting in Somalia, and the U.S. State Department had offered a $5 million (3.8 million euro) bounty for his capture.
"There was a gun battle between Amriki and his men and other fighters, the reports are that Amriki is among those killed," said Moalim Ali, a resident in Bardhere, a small settlement in southern Somalia.
Two other extremists were also killed in the battle, including one other foreigner.
There were conflicting reports of the latter's identity, with some reporting he was Egyptian, others suggesting he may have been British or Pakistani.
"Amriki and two other fighters, one of them foreigner, have been killed near Bardhere," said Mohamed Wardhere, another resident.
There was no immediate response from the Shebab.
Hammami, 29, moved to Somalia in 2006 and began to work for Shebab recruiting young trainees through his English-language rap songs and videos.
Jerky videos showed him enthusiastically promoting the Shebab's battle to overthrow the internationally backed government, but he later fell out with top Shebab leader Ahmed Abdi Godane, for whom the U.S. has offered $7 million.
Hammami, who referred to himself as the "former poster boy" of the group, accused Godane of betraying the former presumed chief of Al-Qaeda in east Africa, Fazul Abdullah Muhammad, leading to his killing in 2011 in Somalia.
Fazul is thought to have planned the 1998 truck bombings of the U.S. embassies in Nairobi and Dar es Salaam, and had a $5 million bounty on his head.
In turn, the Shebab accused Amriki of "spreading discord and disunity" and a "narcissistic pursuit of fame".
He had previously warned of assassination attempts against him, and posted forlorn photographs on his Twitter account posing with automatic rifles, his lank hair held back by a checked headscarf.
Somalia's Shebab have lost a string of key towns to a 17,700-strong African Union force, fighting alongside government troops.
The death of Hammami makes him the latest extremist to be killed by infighting within the group, and will bolster Godane's control.
Abdi Aynte, head of the Somali think-tank the Heritage Institute for Policy Studies, said that if confirmed, Hammami's death would mean the "anti-Godane alliance is almost neutralised".
In June, Godane's men killed two co-founders of the group, one with one with a $5 million U.S. bounty, Ibrahim Haji Jama Mead, better known by his nickname Al-Afghani — "the Afghan".
Veteran Islamist leader Hassan Dahir Aweys, allied to the Shebab since 2010, also fled Godane's purge after criticising his rule, and has since been placed under arrest in the capital Mogadishu.
Inside the Shebab, some are more attracted by a nationalist agenda to oust foreign forces from Somalia, while others — including Godane — are seen as having more global jihadi ambitions.
But despite its divisions, analysts say it remains a dangerous and powerful force.
U.N. Monitoring Group reports in July estimated the Shebab are still some 5,000 strong, and remain the "principal threat to peace and security to Somalia".
Photo Credit: AFP/Ho