Americans Increasingly See Opposing Party As 'Threat' To Nation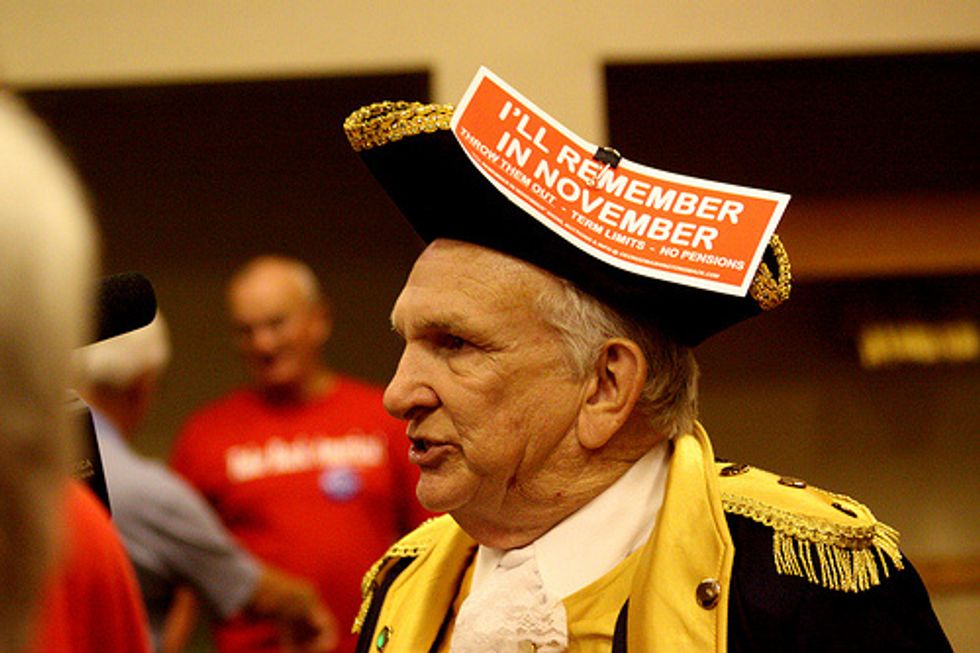 By David Lauter, Tribune Washington Bureau
WASHINGTON — More than one-third of Republicans and just over a quarter of Democrats see the other party as a "threat to the nation's well-being," reflecting a widening partisan division in the country that has congealed into animosity and distrust.
Through two decades of political battling across the presidencies of Bill Clinton, George W. Bush and Barack Obama, the ideological divisions among Americans have deepened. The percentage of Americans who hold consistently liberal or conservative views has sharply increased, and the antipathy between the two groups has shot upward.
Among those with a high level of political engagement — consistently voting in elections and following government and politics carefully — nearly half say they would go so far as to describe the other side as a threat to the country.
Although a majority of Americans do not hold such consistent ideological views, those who do have a disproportionate influence on elections. They engage much more in politics, vote more consistently, especially in primaries, and give much more money to candidates.
They also increasingly live cut off from adherents of the opposite party, choosing friends and picking places to live that reinforce their political outlooks.
Those findings come from an unusually extensive survey of more than 10,000 adults conducted by the Pew Research Center.
The results show how the partisan divisions that have gridlocked Congress reflect an increasingly deep and often bitter division at the grass roots. And although Americans overall express frustration with Congress and say they want to see lawmakers compromise more, the most politically engaged on both sides define a successful compromise as a deal in which their side gets most of what it wants.
A decade ago, only about 10 percent Americans held consistent liberal or conservative views across a broad range of issues on which Pew has repeatedly polled. The issues include the role of government, attitudes toward the poor and racial and ethnic minorities, environmental policies and the use of military force overseas.
Today, that share has doubled, to 20 percent. An additional 40 percent of Americans hold mostly consistent views.
As the number of ideologically consistent people has increased, they have become more clearly sorted by party: Many more Democrats are consistently liberal and more Republicans consistently conservative.
As a result, the two parties are more ideologically separate than they have been for decades, with less and less overlap between their backers. That's true even though Pew included people who identify as independents in its survey. The vast majority of self-described independents, this survey and others show, lean toward one party or the other, and their views are nearly indistinguishable from those who openly espouse a partisan affiliation.
Overall, 34 percent of the adults surveyed held consistent or mostly consistent liberal views and 27 percent held consistent or mostly consistent conservative opinions. That contrasts somewhat with Americans' self-descriptions of their ideologies. When asked, 23 percent of those surveyed called themselves liberal and 36 percent conservative. The reason for the disparity is largely that more than one-third of those who hold consistently or mostly liberal views self-identify as moderates.
Personal preferences beyond politics reinforce those divisions. More than three-quarters of consistently liberal Americans say they would prefer to live in a place where houses are "smaller and closer together, but schools, stores and restaurants are within walking distance." A similar percentage of consistent conservatives say they would prefer a place where "houses are larger and farther apart, but schools, stores and restaurants are several miles away."
Reality bears out those preferences: The survey showed what election results have demonstrated, that Democrats are an urban party while Republicans dominate in rural areas.
Liberals, regardless of their race, say that ethnic and racial diversity in their neighborhoods are important to them. They also express a strong preference for living in a place that has museums and theaters. Conservatives express little interest in either of those factors in a neighborhood, but more than half say it is important to them to live in a place where many share their religious faith.
Just under four in ten Americans held mixed views in the survey. Their views are not necessarily more moderate than the ideologically consistent voters. Instead, what stands out about them is their relative disengagement from politics. They're less likely to register to vote, don't show up at the polls as frequently even when they do register, and don't pay as much attention to politics and government.
By contrast, those with the greatest ideological consistency report talking about politics much more often than other Americans.
They mostly seem to have those conversations with like-minded people. Among consistent conservatives, more than six in ten say most of their close friends share their political views. About half of consistent liberals say the same.
That's no accident. The most politically engaged voters on both sides increasingly hold deeply unfavorable views of the other side. The level of antipathy has increased markedly over two decades, and dislike of the other side has become a major motivator for political engagement.
Just under four in ten Democrats and just over four in ten Republicans report holding "very unfavorable" views of the other party, a level that has more than doubled since the early years of Clinton's tenure. The dislike deepens among the most ideological, with nearly three-quarters of consistent conservatives saying they hold a "very unfavorable" view of the Democrats and just over half of consistent liberals saying the same about the GOP.
Among those with very unfavorable views of the other side, more than one-third say it is important to them to live in "a place where most people share my political views." Just about three in ten in both groups say they would be unhappy if someone in their families married a person from the other party.
Photo: Gage Skidmore via Flickr