Americans Support Tougher Action Against Jihadists
@AFP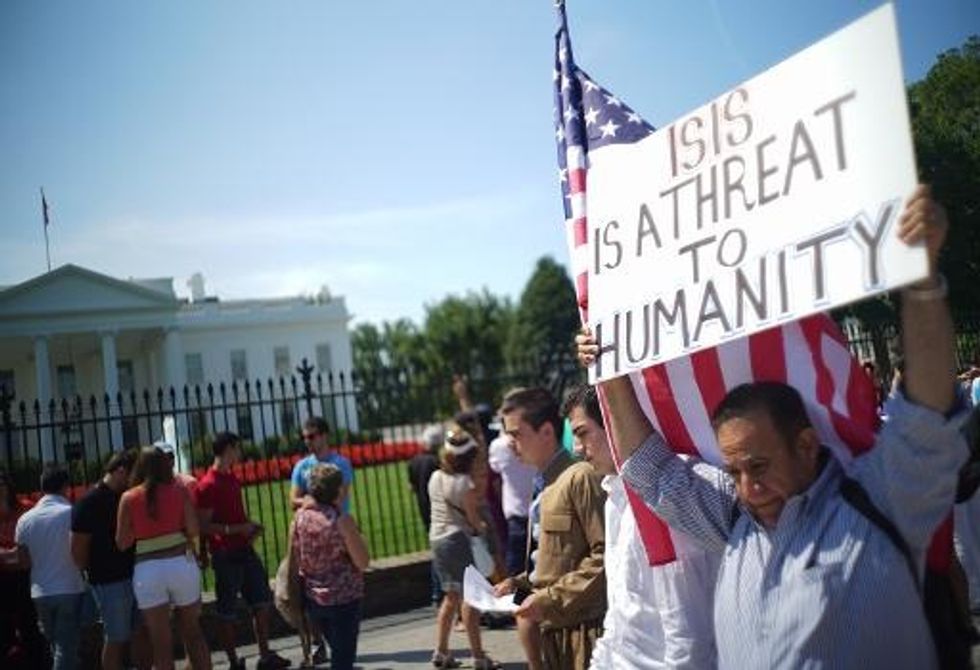 Washington (AFP) — Americans and Congress have grown hawkish in their views of jihadists, according to a Tuesday poll and lawmakers who say President Barack Obama should take stronger military action against the Islamic State (IS).
The increasingly aggressive stance frames the backdrop of Obama's upcoming speech to the nation Wednesday, when he will lay out what the White House says will be his "strategy for degrading and ultimately destroying the terrorist group."
In the Washington Post/ABC News poll, Americans overwhelmingly favored taking tougher steps against IS, with 52 percent of respondents saying Obama has been "too cautious" in his approach to the extremist forces rampaging across parts of Iraq and Syria.
Eight percent said his approach was too aggressive, while 35 percent said it was about right.
Nine in 10 Americans declared IS a serious threat.
Respondents favored ongoing airstrikes against the group in Iraq by 71 percent to 23 percent, and they responded 65 to 28 percent in favor of expanding airstrikes into Syria, where the administration has shown reluctance in getting involved in the ongoing civil war.
In Congress, Republicans and Democrats alike are calling for more presidential resolve in bringing down IS.
Many lawmakers feel Obama already has authority under the War Powers Resolution to conduct military strikes on Iraq and Syria, but voices from both parties have called for a formal vote to authorize the use of force.
"I am looking for a strategy from the president that takes on this terrorist threat and defeats it," House Speaker John Boehner told reporters.
Boehner and other congressional leaders were to be briefed by Obama later Tuesday.
Obama has sought to downplay the prospect of re-inserting US ground troops into Iraq, but Boehner declined to rule out the possibility of a role for US soldiers beyond their advisory or protective capacity.
Obama "needs to show that he can be a leader, that he can coalesce the Arab League partners in a way that he hasn't in the past," House Intelligence Committee Chairman Mike Rogers told Fox News.
But Republican Congressman Adam Kinzinger said lawmakers are ready to green-light presidential action now.
"If he chooses to come to Congress, I think it would pass overwhelmingly," Kinzinger said.
Calls to intensify military action against IS go beyond the traditional circle of interventionists. Senator Rand Paul, who has been deeply skeptical of US overseas intervention, has recently joined calls to destroy IS.
According to Democrat Senator Dianne Feinstein, who chairs the Senate Intelligence Committee, Obama has the authority to launch more airstrikes.
"The question is how long that lasts," she said.
AFP Photo/Mandel Ngan
Want more national news? Sign up for our daily email newsletter!