Amid Tightening Senate Polls, Georgia Republicans Seek Repeal Of 17th Amendment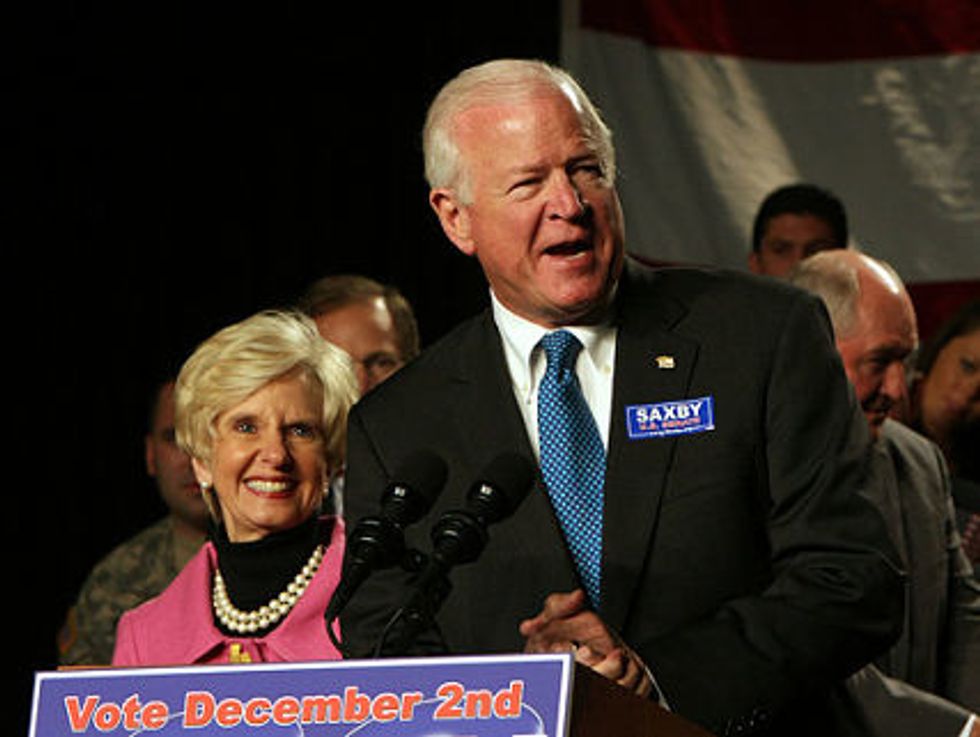 In the latest example of the GOP's selective reverence for the Constitution, six Georgia Republicans are trying to end the election of U.S. senators by popular vote — just as a new poll shows that the GOP's footing in the state's upcoming Senate election is less secure than previously thought.
The Douglas County Sentinel reports that state representatives Dustin Hightower, Mike Dudgeon, Buzz Brockway, Josh Clark, Kevin Cooke, and Delvis Dutton — all Republicans — have introduced a resolution to repeal the 17th Amendment to the U.S. Constitution. The 17th Amendment, which was adopted in 1913, mandated that senators be elected by popular vote; before its passage, senators were selected by state legislatures.
Cooke, who authored the resolution, told the Sentinel "It's a way we would again have our voice heard in the federal government, a way that doesn't exist now."
"This isn't an idea of mine," he added. "This was what James Madison was writing. This would be a restoration of the Constitution, about how government is supposed to work."
Successfully repealing the amendment would require two-thirds approval by both houses of Congress, followed by ratification by at least 38 states — giving the Georgia lawmakers next to no chance of accomplishing their goal. After all, most voters would prefer to keep the power to elect their own representatives — especially considering the pervasive corruption that has characterized the election process within state legislatures.
Still, the timing of the move is interesting. Coincidentally, on the same day that the Sentinel reported on the Republicans' repeal plans, Public Policy Polling released a new poll showing that the GOP is in real danger of losing another Senate seat in 2014.
Despite the fact that Democrats have not won a major election in Georgia in 13 years, PPP finds that the race for the seat currently held by retiring Republican Saxby Chambliss is a complete toss-up. Democratic congressman John Barrow trails five likely Republican candidates — U.S. Representatives Paul Broun, Phil Gingrey, Tom Price, and Jack Kingston, and right-wing activist Karen Handel — by an average of just 0.4 percent.
If former senator Max Cleland (D) jumped into the race, he'd start out with a lead over all five Republicans.
Republicans should be deeply troubled by their weak numbers in Georgia, ostensibly a deep-red state. If they lose Chambliss' seat, it would all but end their hopes of capturing a Senate majority in 2014. The six Georgia lawmakers' solution to the problem appears to be taking the decision out of voters' hands, which fits a broad pattern of Republican behavior since the 2012 election. Once again, the party's prevailing strategy appears to be "If you can't beat them, change the rules."
Photo by Bruce Tuten/Flickr