Amidst Calamitous Harvey Flooding, Pence Speaks To A Racist, A Hurricane Conspiracy Theorist, And Other Right-Wing Radio Hosts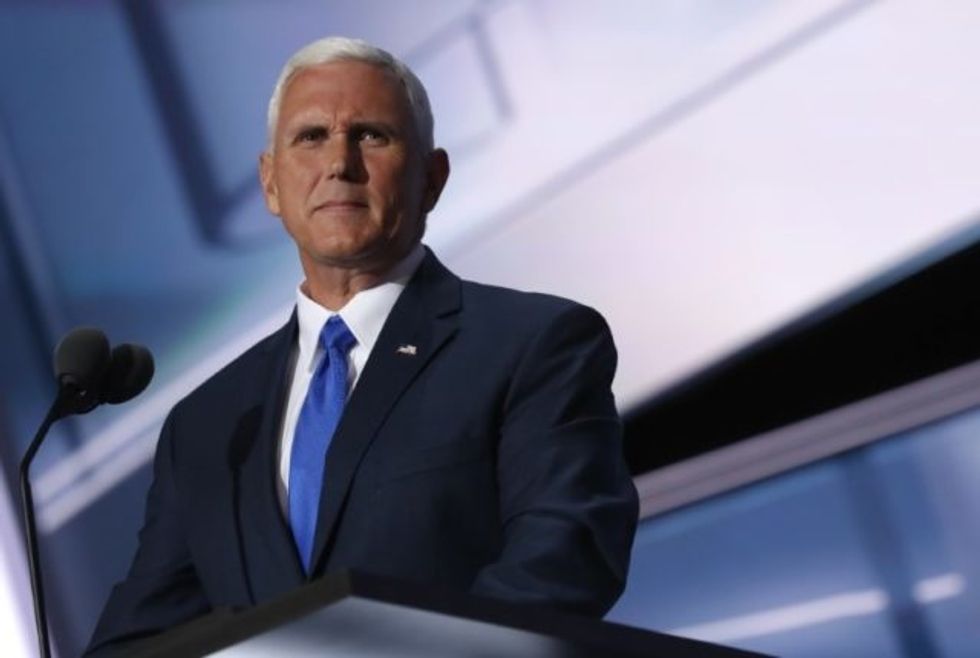 Reprinted with permission from MediaMatters.
In the ongoing efforts to mitigate the aftermath of Hurricane Harvey, Vice President Mike Pence appeared on several right-wing radio programs in Texas to give updates on the recovery and rescue efforts. According to the transcripts posted on the White House website, the vice president appeared to limit his radio outreach mostly to conservative shows, including Rush Limbaugh and Michael Berry, who is notorious for mocking black victims of gun violence in Chicago and other racist programming.
Limbaugh has a history of using hurricanes to attack Democrats and further his fringe conspiracy theories. During Hurricane Matthew in October 2016, Limbaugh stated that "it's in the interest of the left to have destructive hurricanes because then they can blame it on climate change" and that the National Hurricane Center is "playing games" to convince people of climate change. Limbaugh also told his listeners that "there is politics in hurricanes" because "there are votes."
During Tropical Storm Isaac, Limbaugh questioned the National Hurricane Center's forecasting, pointing out "the degree of coincidence" that the storm was headed for Tampa, the location of the National Republican Convention. Limbaugh implied, according to The Atlantic, that "the weather service was collaborating with the liberal media to invent narratives that are unpleasant for the GOP."
In 2016, Limbaugh attacked Hurricane Katrina victims as "liberals" on welfare who lacked "self-reliance." He also compared the Katrina disaster to "a reality show." In 2008 following significant flooding in the Midwest, Limbaugh minimized the damage caused by Hurricane Katrina relative to the floods and accused Katrina victims of "waving guns at helicopters," "shooting cops," and "raping people on the street."
As evidenced by the White House's posted list of transcripts of the vice president's radio appearances, Pence appeared almost exclusively on conservative radio shows, including KTRH during a joint interview with Michael Berry and Shara Fryer. Berry has been known for making sexist, homophobic, anti-Muslim, and anti-African-American comments on his radio show.
Berry has posted several racist videos to his show's YouTube channel that criticize African-Americans and hasreferred to African-Americans as "jungle animals," "pack animals," and used blackface comedian "Shirley Q. Liquor" on his show to tell jokes based on racial and religious stereotypes. Media Matters President Angelo Carusone pointed out to TheWrap that "the idea that the vice president would dignify that kind of a program with his office should be alarming." Carusone said the fact that the White House has sent out transcripts of Pence's interview with Berry shows that "they're proud" of his appearance and "they're not even hiding it." When asked to explain the vice president's choice, a White House official told TheWrap that Pence's team was unaware Berry would be conducting the interview.
Pence also granted an interview to Trey Ware, host of The Trey Ware Morning Show on KTSA. As reported by Right Wing Watch, Ware said America is suffering through riots, terrorist attacks, and same-sex marriages because it has left God. Pence also spoke to Chris Salcedo on The Chris Salcedo Show on KSEV. Salcedo is a conservative radio host in Houston who believes liberalism makes America "less successful" and that President Obama is "sympathetic to radical Islam." And in a tweet about North Korea directed at far-right troll Jack Posobiec who has appeared on Salcedo's show, Salcedo claimed "This is the danger of uninformed libs. They'd sacrifice the lives of Americans just to prop up brutal dictators who starve their own people."