Amtrak's Great Dome Car Returns To The Northeast For Fall Foliage Runs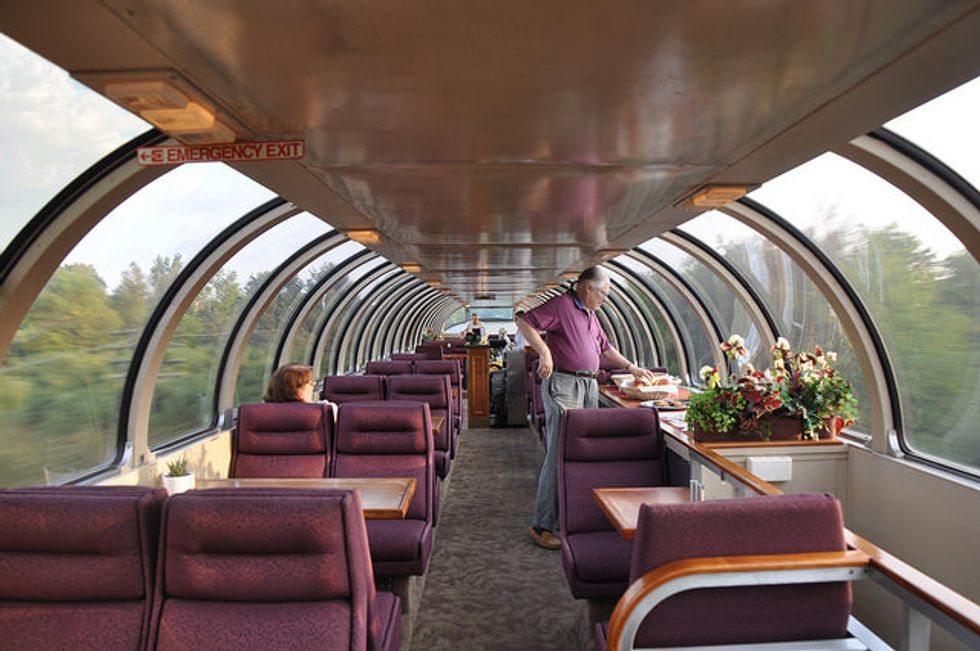 By Korky Vann, The Hartford Courant (TNS)
With Labor Day in the rearview window, fall foliage is just ahead. If you're like me, you love the great colors of the season, but hate the bumper-to-bumper traffic on backed-up country roads.
There's an interesting alternative that offers leaf-peepers, train lovers and history buffs an unusual vantage point for some of the Northeast's most beautiful landscapes.
Passengers aboard Amtrak's Adirondack service between Albany and Montreal can view upstate New York's fall foliage from the line's historic Great Dome car, which returns to the Northeast each year for a six-week run — this year, it started Sept. 25 and runs through Nov. 3.
The vintage Dome car, built in 1955 and the last of its kind in Amtrak's fleet, features an upper level with windows on all sides (including the roof), which provides unparalleled 360-degree panoramic views of the autumn vistas, says Amtrak spokesman Marc Magliari.
"This route offers postcard views every season, but it's even more breathtaking in the fall, especially from the Dome," says Magliari. "The train runs along the cliffs of Lake Champlain and you can see the Green Mountains of Vermont across the lake."
Travelers also get views of the Hudson River and the Adirondack Mountains.
"Trains go places cars can't," says Magliari. "You aren't going to get these foliage views from the road."
He's not kidding. The Adirondack route was named "One of the Top 10 Most Scenic Train Trips in North America" by Conde Nast Traveler.
Amtrak, the New York State Department of Transportation and the National Park Service Trails and Rails program partner to offer the special service and, on most Saturdays and Sundays, Park Service volunteers are aboard and offering commentary on local towns and historic events.
Close to 134,000 passengers traveled the Adirondack route in 2014, and Amtrak expects as many or more this year.
"This particular route is a real favorite," says Magliari. "Every summer, people start calling for dates."
The Dome Car operates northbound from Albany to Montreal on Thursdays, Saturdays and Mondays and returns south from Montreal on Fridays, Sundays, and Tuesdays. The Dome car doesn't operate on Wednesdays.
(You can begin the Adirondack route in New York City's Penn Station, but the Dome Car isn't attached to the train until the Albany–Rensselaer Rail Station stop. On the southbound route from Montreal to New York City, the Dome Car is detached from the train at the Albany–Rensselaer Rail Station.)
There's no surcharge for riding the Adirondack service during this period, but advance reservations are required. Seating in the Great Dome car is unreserved.
"Folks get their regular seats and then they tend to go up and rotate in and out of the Dome car," says Magliari. "It's a rolling social experience."
The train departs from New York City's Penn Station about 8 a.m. and the Albany–Rensselaer Rail Station at 11:10 a.m. It arrives in Montreal about 7 p.m. (If you're taking the train all the way to Montreal, don't forget your passport and be sure to book a hotel room before you leave.)
A one-way ticket from New York City to Montreal starts at $68. Climb aboard at the Albany–Rensselaer Rail Station in New York, (about a two-hour drive from Hartford), and one-way ticket prices start at $58. Book your trip online with the "See New York and Save" promotion and you'll save 15 percent. Up to two children, aged 2 to 12, travel at half-fare with each adult fare purchased. Information and bookings: Amtrak.com/deals.
(c)2015 The Hartford Courant (Hartford, Conn.)Distributed by Tribune Content Agency, LLC.
Photo: J. L. Nelson via Flickr