An Important Announcement About @LOLGOP's 'Campaign' For The U.S. Senate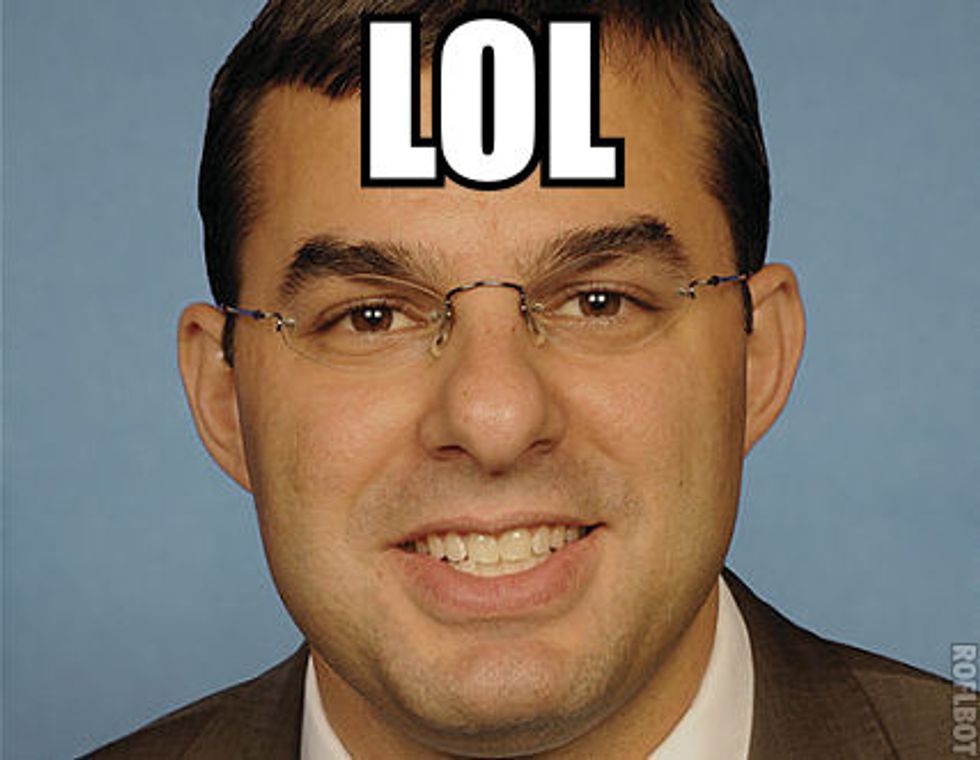 When PPP Polls announced on Monday that I — an anonymous Twitter account — was leading a sitting congressman 23-22 in a poll for Michigan's open U.S. Senate seat, I thought, "Wait till people find out I'm on Facebook, too."
But I wasn't surprised.
The Wolverine State has gone blue in every presidential election since Bill Clinton. But in 2010, in the midst of the worst economy in half a century and what would clearly have been a Great Depression in our state if the auto industry didn't survive, Republicans swept into power — erasing Democratic gains from 2006 and 2008, winning 9 of the state's 14 House seats, all state-level offices, and solid majorities in both houses of the state legislature.
Like victorious Republicans in purple states across the U.S., Michigan's GOP redrew the electoral map to make their new spoils nearly impossible to lose. They then went about conducting an experiment fit for a Mel Brooks movie, testing how far they could go and still keep their safe seats.
State Republicans raised taxes on seniors and the poor while cutting them for big corporations. As they defunded localities, they sent in unelected bureaucrats to "solve" financial crises conservative policies helped create. And though the auto rescue and good union jobs are the only true glimmers of recovery in our state, Republicans used a lame-duck session to launch an unprecedented attack on unions in a state built by the labor movement.
On a federal level, Michiganders sent guys like Rep. Justin Amash to the House of Representatives. The freshman congressman voted for Paul Ryan's first budget — which privatized Medicare and Social Security — then voted against the House Budget Chair's second budget because it didn't cut fast enough.
Here's The New Republic's Jonathan Cohn describing Ryan's budget:
Many millions of working-age Americans would lose health insurance. Senior citizens would anguish over whether to pay their rent or their medical bills, in a way they haven't since the 1960s. Government would be so starved of resources that, by 2050, it wouldn't have enough money for core functions like food inspections and highway maintenance.
Amash didn't think that would happen quickly enough.
Here's a guy from a blue state in a barely safe district who wants to push Paul Ryan — vice-presidential nominee on a ticket that lost Michigan by 9.5 percent — further to the right.
In a recent interview, Amash said that young people know Social Security won't be around for them. That's only possible if young people vote for people like Justin Amash. Social Security is completely solvent for two decades — after that, raising the payroll tax cap on those in the top few percent would fix it forever.
But somber, fallacious proclamations of government's futility are the trademark tactic of a libertarian movement that sees Amash as a rising star. They promise "liberty" by creating a government small enough to make sure wage slavery is inevitable.

E.J. Dionne points out that there's no country on Earth that demonstrates that libertarian values can work, at least not since cars were invented. And when I asked PPP Polls if they would poll me against Rep. Amash  — who is rumored to be considering running for the seat Senator Carl Levin is retiring from in 2014 — I wanted to prove that anyone with a Twitter account could beat Amash in Michigan. Because while the congressman has a safe seat, Republicans cannot gerrymander whole states — yet.
And my slight lead over Amash made that point. The congressman hasn't responded yet to the news that he'd lose to a nobody, but I'm sure he saw it in BusinessInsider, Mediaite, Daily Kos, The Huffington Post or Talking Points Memo.
Tuesday on SiriusXM's Politics Radio, I got a little too excited and said that if Amash runs, I will too.
But now I have an announcement: I am suspending my campaign for the U.S. Senate to spend more time with my Twitter account.
I hope that Rep. Amash will get in the race. A primary battle between the congressman — who is against the PATRIOT Act — and Rep. Mike Rogers, Chairman of the House Intelligence committee, would be good for America. Rogers is a huge fan of the surveillance state and a champion of laws that drive the Internet crazy, like CISPA.
Hearing two right-wingers who have both voted to privatize Medicare tear each other apart on issues that threaten to tear the Republican Party apart would be good for America.
But either of them will lose to Rep. Gary Peters (D-MI), the likely Democratic nominee, for one huge reason: He's never voted to privatize Medicare. And that was my point.
Thanks to those of you who have actually encouraged me to run. And to those who said you would actually donate money to my campaign, speak to your family about having a court-appointed guardian brought in before you make any large financial decisions.
I look forward to continuing my effort to shame, with my dumb tweets, those who seek to destroy the institutions that created the middle class. And let me assure you that whenever Justin Amash is on the ballot, @LOLGOP will be there.