Analysis: How The Presidential Campaign Got Religion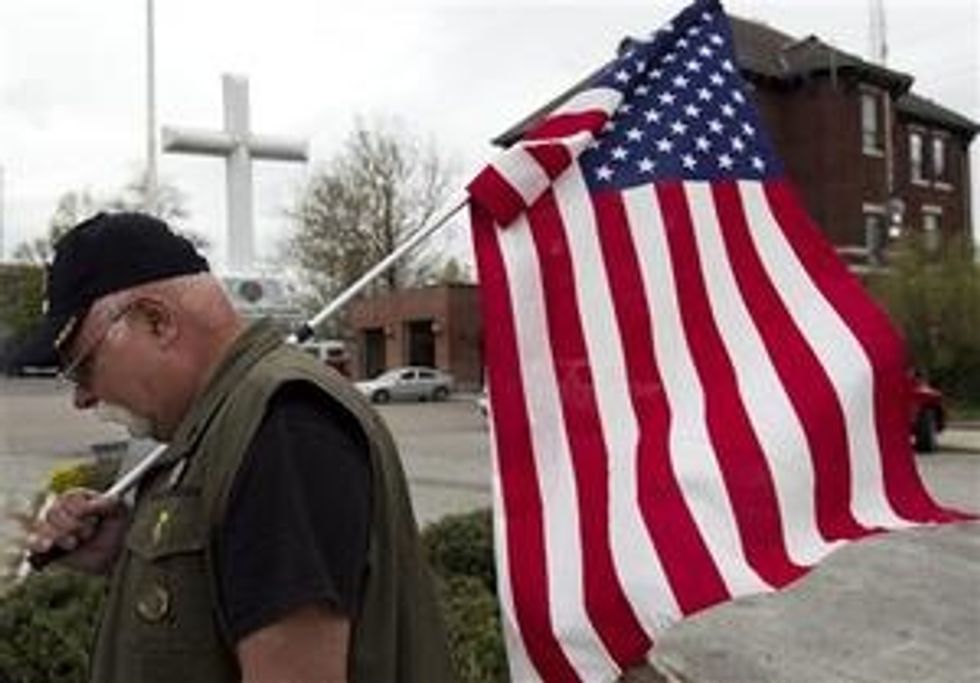 By Melinda Henneberger, Bloomberg News (TNS)
WASHINGTON — On Sunday, Hillary Clinton stood at the pulpit of Foundry United Methodist Church, which she'd attended as first lady, and said she'd just gotten some excellent, Bible-based advice from her former minister, J. Philip Wogaman: In keeping with the reading of the day, from Romans 12, he told her, "You've got to be nicer to the press."
"I certainly will take that to heart," she promised, and the congregation laughed.
Though she didn't specify which lines in particular he was referring to, these seem to fit:
Verse 14: "Bless them which persecute you: bless, and curse not."
Or 18: "If it be possible, as much as lieth in you, live peaceably with all men."
Or 19-20: "Dearly beloved, avenge not yourselves, but rather give place unto wrath: for it is written, Vengeance is mine; I will repay, saith the Lord. Therefore if thine enemy hunger, feed him; if he thirst, give him drink: for in so doing thou shalt heap coals of fire on his head."
Recently, her friend-turned-rival Donald Trump, the billionaire leading the GOP field, declined to single out any of his favorite Bible verses, though he often mentions that it's his favorite book, just ahead of "The Art of the Deal."
"I wouldn't want to get into it, because for me that's very personal," he said on "With All Due Respect."
But Clinton had no such qualms, and said Sunday's reading happened to be a favorite, because of what it says about how we all have gifts, and all have different gifts we have a duty to put to good use.
She suggested that it is important to acknowledge our own gifts: The directive to "love your neighbor as yourself doesn't mean much," she said, "unless you love yourself first."
Using our talents is "how we honor God," she said, "who gave us these gifts in the first place." It's in doing so, she said, that "we can unlock the potential of every American…and of America itself."
That feeling — and even some of the words she used to express it — echo the only other woman in the crowded presidential race, Republican candidate Carly Fiorina, who often talks about learning in Sunday school that we all have different gifts from God, and that how we use them is our gift to God.
From Ben Carson questioning Trump's faith to Joe Biden telling Stephen Colbert how much solace he draws from saying the rosary to Clinton's return to her D.C. church, it was an unusually godly week on the campaign trail.
At Foundry United Methodist Church, which was celebrating the 200th anniversary since it was started by the lay-preaching owner of a Georgetown foundry, Clinton referred to herself as a "Methodist by birth and by choice." As she has often in the past, she again spoke about the ways she's been shaped by that experience, including when a minister took her all-white church youth group to visit various inner-city Chicago churches. And on one memorable occasion, to hear Martin Luther King, Jr. preach. "I left that hall a different person," she said, "thanks to my church."
These days, Democrats are no less likely than Republicans to speak this way; Jesuit-educated former Maryland Gov. Martin O'Malley once said that his Catholic faith taught him "to search for Christ in the faces…of the homeless men who lined up for a meal every morning" and to "recognize and confront the enemy within _ the original sin of our own culture and environment that would have us think less of people who because of race or class or place are not like us."
If anything, it's Bernie Sanders, a secular Jew, whose lack of "God talk" is unusual for a presidential candidate.
That wasn't always the case, particularly among Democrats; when John Kennedy talked about his Catholic faith, it was to assure America that he wouldn't be taking orders from Rome. But John Kerry's decision not to talk about his faith during his '04 run was a mistake, he said later:
"Despite this New Englander's past reticence of talking publicly about my faith," he said in an '06 address at Pepperdine University, "I learned that if I didn't fill in the picture myself, others would draw the caricature for me. I will never let that happen again."
Like Kerry, Biden has not often spoken of his faith in public, and even now, he seems to feel it's a little unseemly to do so: When Colbert asked him point-blank on his show last Thursday how his faith had helped him deal with the death of his first wife, their daughter, and now his son Beau, he said this:
"First of all, it's a little embarrassing to speak about me. There's so many people — maybe some people in the audience — who have losses as severe or worse than mine and didn't have the incredible support I have. I have such an incredible family. And so I feel self-conscious talking about — loss is serious and it's consequential, but there's so many other people going through this.
"But for me, you know my wife when she – she's a professor – when she wants to leave me messages, she literally tapes them on my mirror when I'm shaving, and she put up a quote from Kierkegaard, and Kierkegaard said, 'Faith sees best in the dark.' And for me, my religion is just an enormous sense of solace. And some of it relates to ritual, some relates to just comfort and what you've done your whole life. I go to Mass, and I'm able to just be alone, even in a crowd; you're alone. I say the rosary. I find it to be incredibly comforting. What my faith has done is it sort of takes everything about my life, with my parents and my siblings and all the comforting things and all the good things that have happened have happened around the culture of my religion and the theology of my religion, and I don't know how to explain it more than that, but it's just the place that you can go. And, by the way, a lot of you have been through this; the faith doesn't always stick with you. Sometimes, it leaves me. So I don't want to come off like …"
Colbert finished his thought: "You don't want to come off as pious or a holy Joe." In an interview that was intentionally short on laughs, they both pretended that that last play on words was funny, just to lighten the moment.
Hillary Clinton, however, was never among those in her party who've felt that faith in God is too personal a thing to share in the public square. In a 1993 cover story in the New York Times Magazine called "Saint Hillary," the late writer Michael Kelly made her out to be someone who overdid it, and was quite a moralizer, both tedious and grandiose on that account.
The piece began, "Since she discovered, at the age of 14, that for people less fortunate than herself the world could be very cruel, Hillary Rodham Clinton has harbored an ambition so large that it can scarcely be grasped. She would like to make things right."
More than 20 years later, "Saint Hillary," evangelizer for the "politics of virtue" as portrayed in that story, is not how much of the public sees her; on the contrary, a recent poll found that 30 percent of the Democrats surveyed said they don't find her honest and trustworthy, while only 4 percent said that of Sanders and 5 percent of Biden.
Trump, meanwhile, says outright _ and here he does get points for honesty — that no, he's never really felt the need to ask God to forgive him — yet he nonetheless ranks at or near the top with evangelical voters. When he takes communion, he said, "When I drink my little wine — which is about the only wine I drink — and have my little cracker, I guess that is a form of asking for forgiveness."
Could it be that even strongly religious voters no longer take professions of faith from candidates at face value — or hold the lack of such professions against them? Until another candidate besides Trump threads the same needle, of course, it will be hard to say.
And when Pope Francis visits Washington, New York and Philadelphia later this month, even Trump may be tempted to murmur a mea culpa under his breath.
Photo: America: Where religion meets patriotism. (AP Photo/Steven Senne)