Analysis: Jeb Bush Offered Inaccurate Version Of Iraq War History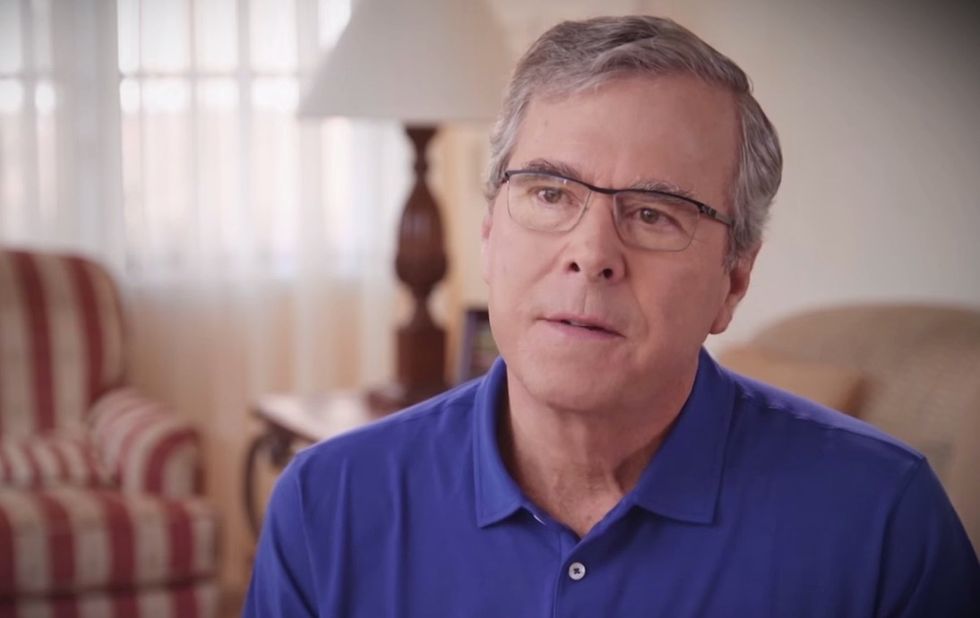 By Jonathan S. Landay and Lesley Clark, McClatchy Washington Bureau (TNS)
WASHINGTON — Republican presidential candidate Jeb Bush, in his Tuesday speech that was billed as a major foreign policy address, provided a distorted version of the U.S. troop withdrawal from Iraq and an incorrect account of the origins of the Islamic State.
Bush vowed that if elected he would expand U.S. military intervention in the Middle East significantly. His version of events, however, seemed intended to absolve his brother, President George W. Bush, of blame in destabilizing the region while trying to pin the region's current bloodshed on President Barack Obama and his former secretary of State, Hillary Clinton, the current Democratic presidential frontrunner.
The former Florida governor asserted that the Islamic State's takeover of large swaths of Iraq in 2014 was a direct consequence of the "fatal error" of Obama's decision to withdraw U.S. forces from the country in 2011 after the eight-year U.S. military occupation. He claimed the withdrawal squandered the "success, brilliant, heroic and costly," of the 2007 U.S. troop surge. He said Clinton "stood by as the hard-won victory by American and allied forces was thrown away."
Bush's account of the withdrawal as a "case of blind haste" omitted the fact that it was his brother who'd set the withdrawal date of Dec. 31, 2011, in an agreement that he signed with the Iraqi government in 2008.
He also neglected to note that the Iraqi government strongly opposed the continued presence of U.S. forces.
"The last American soldier will leave Iraq" as agreed, then-Iraqi Prime Minister Nouri al-Maliki said in a Dec. 2010 interview with The Wall Street Journal. "This agreement is not subject to extension, not subject to alternation. It is sealed."
Critics fault Obama for not pressing al-Maliki harder to permit a U.S. contingent to remain to train Iraqi security forces. But the Obama administration was forced to fulfill the departure timetable when the Iraqi government refused to exempt American troops from Iraqi law.
Bush's version of the success of the surge, launched to contain attacks on U.S. forces and minority Sunni Muslims by Iranian-backed Shiite militias, also was incomplete.
U.S. military operations did help contain Shiite militias known as special groups that had targeted American forces. But another major factor was Iran, which had gained enormous influence in Iraq after the 2003 U.S. invasion replaced Sunni rule with a Shiite-dominated government. Iran ordered Shiite militia leaders like Muqtada al-Sadr, the head of the so-called Mahdi Army that controlled Baghdad's sprawling Sadr City slum, to stand down in order to hasten the U.S. troop withdrawal.
Bush's version of the role the U.S. troop withdrawal played in "creating the void that ISIS moved in to fill" also was incomplete, omitting that fact that the Islamic State is the successor organization to al-Qaida in Iraq, or AQI, the al Qaida affiliate formed after the U.S. invasion.
The Bush administration sought to crush AQI by recruiting local Sunni tribesmen into a militia movement known as the Sons of Iraq that worked closely with U.S. forces. While the strategy dealt serious blows to AQI, it failed to eradicate the group, which went underground and continued to pursue a campaign of bombings, assassinations and attacks that targeted Shiites and government officials.
The group, many of whose leaders met while prisoners at the U.S. military's Camp Bucca detention center in Iraq, re-emerged in 2013, co-opting support from a protest movement by Sunnis in Iraq's Anbar province enraged by what they denounced as broken promises and persecution by the Shiite-dominated central government.
The group also sent fighters into neighboring Syria, which was enmeshed in devastating civil war that erupted in 2011, seizing territory that it used as springboard for the 2014 offensive that overran the northern Iraqi city of Mosul and stormed to the outskirts of Baghdad.
"There is blame to go around," said Michael O'Hanlon, a senior foreign policy fellow at the Brookings Institution. "But if you are trying to weigh the blame, there is more on the Bush administration, that's when these forces really developed."
O'Hanlon, who supported the Bush decision to invade Iraq, said he believes Obama could have tried harder to persuade al-Maliki to keep a residual force in Iraq, but credits Obama with slowing down the withdrawal until late 2011, beyond his original timeline.
"Blind haste is not a fair characterization,' he said.
Anthony Cordesman, a national security analyst at the Center for Strategic and International Studies in Washington, said he sees little value in arguments about who bears responsibility for the rise of the Islamic State in Iraq.
"Nothing could be more damaging or pointless in serving American interests at this point than a partisan debate that focuses on whether President Bush or President Obama 'lost Iraq,' " he said, adding that the "record will show . . . Iraq's problems have been shaped far more by Iraqis and Iran" than the actions of the United States.
New Jersey Gov. Chris Christie, a rival for the Republican nomination, said he thought Jeb Bush had made a mistake trying to "re-litigate" the Iraq war.
"It makes no sense for us as a party," he said. "We know what the answer to that question is, we should just move on to the other issues that are of real concern."
(c)2015 McClatchy Washington Bureau. Distributed by Tribune Content Agency, LLC.
Screenshot: Jeb Bush's campaign announcement video.