Anderson Cooper Mocks Trump For Claiming News Anchors Sent Congratulatory Letters Over Immigration Meeting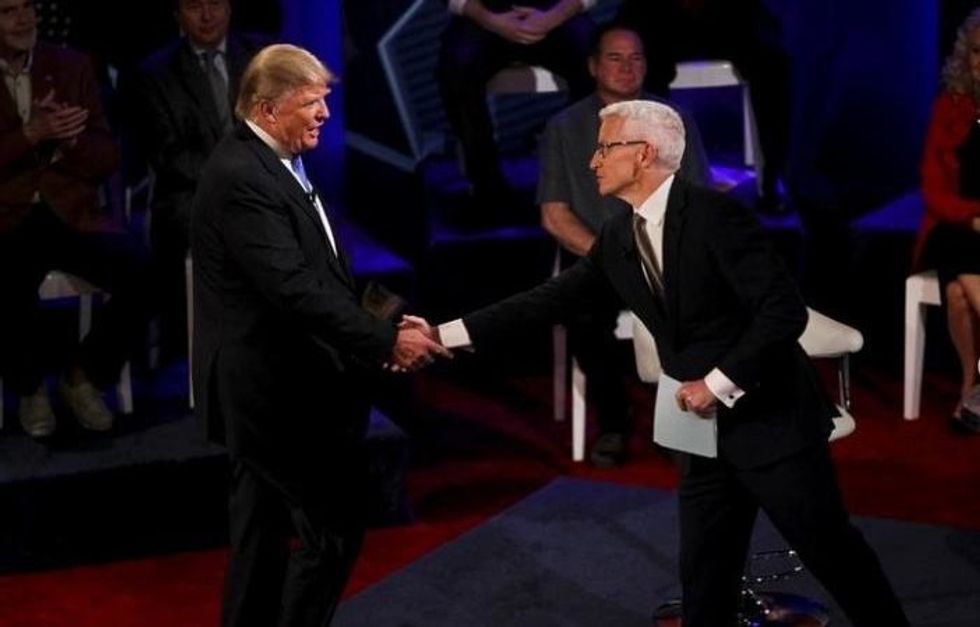 Reprinted with permission from AlterNet.
President Donald Trump claimed that news anchors loved his televised immigration meeting so much that they sent him letters of congratulation. CNN's Anderson Cooper decided to have a laugh at the president's expense and explain how ridiculous his claim was.
"First of all, major kudos to the United States Postal Service for delivering those letters so fast, so fast it's almost like it wouldn't even be humanly possible," Cooper said. "Quick question though, who are these anchors who wrote letters congratulating the president on one of the greatest meetings they've ever witnessed—which is a highly believable, totally normal thing that would absolutely happen."
He wasn't finished mocking the president's absurd statement.
"For the record, I didn't write a letter," Cooper continued. "Everyone knows, when I want to do something totally normal, I send the president one of those big cookies with 'congratulations on the meeting' in icing or one of those edible arrangements filled with cantaloupe, which I personally think is a just a filler fruit."
The anchor went on to quote a journalist who, after being cited by the White House as sending a congratulatory tweet, said her use of "riveting" to describe the meeting would also apply to Real Housewives of New York.
Cooper also managed to poke fun at Fox News host Sean Hannity's vaping habit and MSNBC host Lawrence O'Donnell's infamous meltdown.
Watch the full segment below.
Chris Sosa is a managing editor at AlterNet. His work also appears in Mic, Salon, Care2, Huffington Post and other publications. Follow him on Twitter @ChrisSosa.