Trump Picks Anti-Choice Federal Judge For Supreme Court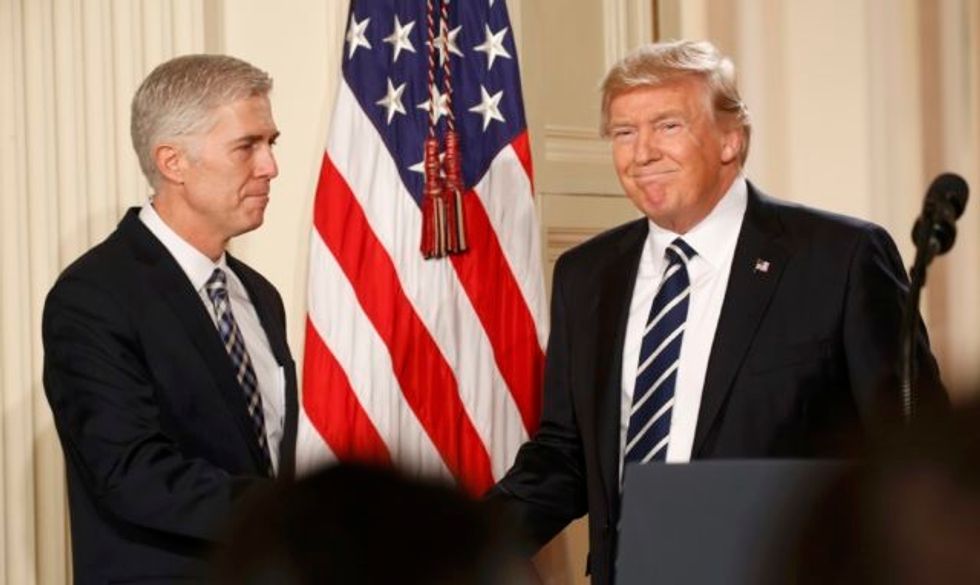 Reprinted with permission from AlterNet.
Within minutes of President Trump's nomination of federal judge Neil Gorsuch to the Supreme Court, several hundred demonstrators had converged on the steps of the Supreme Court in Washington, D.C. to protest his selection.
Waving signs proclaiming, "Gorsuch: Extreme and Dangerous" and "#NoWall #NoBan," the protesters and a stream of speakers linked the conservative nominee to the administration's unconstitutional ban on immigrants from seven predominantly Muslim countries, and pledged to defy both.
"This is the most egregious insult in the history of Supreme Court nominations," declared Terry O'Neil, president of the National Organization of Women, triggering a chant of "Stolen seat, stolen seat!"
"Until this administration begins to respect the U.S. Constitution, it would be unconscionable to consider an extremist nominee to the court," said Ben Wikler, Washington director of MoveOn.org.
"Leave it to Trump to distract the country from a constitutional crisis by appointing a right-wing litmus test judge to the court," said Nancy Schoolmacher of College Park, Maryland. "We just had to come down and do something," added her friend, Barb Considine, standing in the throng of people and TV cameras.
The night began when Trump, in a short White House speech, nominated Judge Gorsuch from the 10th Circuit Court of Appeals in Denver to the court. Calling his nomination process the "most transparent" ever, President Trump picked an ultraconservative who is expected to follow in the footsteps of the justice he is replacing, Antonin Scalia, the court's most ideological right-winger, who died last February.
Gorsuch's nomination sets the stage for one of the biggest domestic political fights in years, after Senate Republicans spent nearly a year willfully ignoring their constitutional responsibility to consider President Obama's nominee to the court, Merrick Garland. Gorsuch, despite a reportedly mild-mannered temperament, is known for his anti-choice and anti-LGBT stances, pro-employer rulings in labor disputes, anti-regulatory attitudes, dismissal of scientific expertise, and pro-police bias in brutality cases, according to statements from public interest groups issued after the announcement.
The nomination comes amid unprecedented political and popular resistance to Trump's presidency. In recent days, there have been escalating protests over Trump's anti-Muslim executive orders, his firing of the acting attorney general late Monday night after she said that Trump's decrees were unconstitutional and violated the Justice Department's historic civil rights mission, and after Democratic senators refused to attend confirmation hearings Tuesday for two Trump cabinet nominees they said had lied to them.
"During his over 10 years on the federal bench, Judge Gorsuch has proven to be a conservative ideologue who has consistently ruled against civil rights, women's rights, and workers' rights. And he has expounded a judicial philosophy that would prevent the federal government from properly enforcing countless acts of Congress," said Wade Henderson, president and CEO of the Leadership Conference on Civil and Human Rights. "The president could have nominated an independent or consensus candidate for this seat, someone like Merrick Garland, whose record has proven to be unimpeachable. Instead, he chose Neil Gorsuch to be a rubber stamp and another 'yes man' for this administration."
Michael Keegan, president of People for the American Way, was also quick to criticize Gorsuch as an extreme right-winger. "Over the course of his career, he's turned his back on fundamental American rights, from shutting down claims of gender discrimination in the workplace, to trying to limit Americans' ability to join class-action lawsuits to challenge corporate wrong-doing, to ruling in the original Hobby Lobby [Obamacare] decision that corporations are people and can refuse to offer their employees birth control, to claiming that a police officer could not be sued for using excessive force when his stun gun killed a young man running from police simply because he was growing marijuana plants," he said. "That's appalling."
"Over the past 10 years… Gorsuch has written at least 15 labor and employment rulings," said National Nurses United's statement. "Gorsuch's opinions aligned with employers in eight of the 12 cases. Additionally, Gorsuch wrote three opinions upholding National Labor Relations Board rulings against both employers and unions."
"With Judge Neil Gorsuch, the stakes couldn't be higher when it comes to women and our lives," said NARAL Pro-Choice America's president Ilyse Hogue. "Gorsuch represents an existential threat to legal abortion in the United States and must never wear the robes of a Supreme Court justice."
Indeed, virtually every issue and concern that is in the public interest is threatened by the Supreme Court nomination. After Scalia died in early 2016, the court was left with a four-four conservative-liberal split on most contentious social and economic issues. The GOP, led by Senate Majority Leader Mitch McConnell, refused even to hold hearings for Obama's nominee, a federal appeals court chief judge who sailed through nomination hearings for that post several years before.
Supreme Court justices typically serve for a quarter century or more, meaning that the court's ideological center was poised to move to the left. The Republicans essentially stole Obama's final appointment, hoping that a Republican president would be elected in 2016 and keep the court as a right-wing majority.
Day of Growing Rage On the Hill
Trump's announcement comes against a backdrop of mounting opposition by Democrats in Congress and large swaths of the public in both blue and red states. Even before he fired Acting Attorney General Sally Yates late Monday, Senate Democrats had flocked to airports and attended rallies to protest Trump's decree that the U.S. would take no more war refugees from Syria and would block travelers from seven Muslim counties for 90 days. (He also issued orders to ramp up the domestic deportation machinery and to penalize sanctuary cities that would not cooperate with immigration police.)
On the Supreme Court steps Monday night, Senate Minority Leader Chuck Schumer, D-NY; Sen. Ben Cardin, D-MD; Sen. Cory Booker, D-NJ; Sen. Elizabeth Warren, D-MA; Sen. Bernie Sanders, D-VT; Sen. Al Franken, D-MN; and Sen. Richard Blumenthal, D-CN all held forth against the executive order banning travelers from Muslim countries, including, initially, legal residents who hold green cards.
What was notable in their statements was their determination to resist Trump's right-wing policies.
"We now must be determined to fight for the long haul," Booker said.
"We stand with our fellow human beings who flee terrorism," Warren said. "We will band together to fight Donald Trump as he tries to put himself above the law of the United States."
"We do not hate the Muslim people and we want them to know that," Sanders said. "So we say to President Trump, rescind that ban."
Those protests were a prelude to Tuesday's boycott by Democrats of the Senate Finance Committee's proceedings to vote on Steve Mnuchin's nomination for Treasury Secretary and Rep. Tom Price's nomination for Health and Human Services Secretary, denying the a quorum needed to vote on their nominations and bring them before the full Senate. The Democrats cited Mnuchin's and Price's false statements, with Mnuchin denying that the mortgage lending giant he oversaw had not abused borrowers, and Price denying that he cashed in on stocks in healthcare companies under his congressional jurisdiction.
The Democrats' absence forced the GOP to postpone voting on those nominees. At the same time in the Senate Judiciary Committee, Democrats railed against Trump's firing of Sally Yates and said that Trump's pick for attorney general, Sen. Jeff Sessions, R-AL, helped design the Muslim travel ban that Yates called unconstitutional and refused to implement.
"Yesterday, early in the evening, we saw what a truly independent attorney general does," the panel's top Democrat, Sen. Dianne Feinstein, D-CA, said. "That is what an attorney general must be willing and able to do. I have no confidence that Sen. Sessions will do that. Instead, he has been the fiercest, most dedicated and most loyal promoter in Congress of the Trump agenda, and has played a critical role in the clearinghouse for policy and philosophy to undergird the implementation of that agenda."
The Democrats managed to postpone the Judiciary Committee's vote on Sessions on Tuesday. Meanwhile, Trump's nominee for Secretary of Education, Betsy DeVos, ran into new opposition when Democrats discovered that some of her answers to their questionnaire had apparently been plagiarized, according to the Washington Post.
Elsewhere, however, Senate committees confirmed Elaine Chao—Mitch McConnell's wife—to be Trump's transportation secretary, former Texas Gov. Rick Perry to be energy secretary, and Rep. Ryan Zinke, R-MT for interior secretary.
At the Senate Finance Committee, Chairman Orrin Hatch, R-UT, told a half-empty room that the Democrats do not have the votes to stop any of Trump's cabinet appointments. That is because the GOP needs only a simply majority to confirm them.
"I'm really disappointed that my friends on the other side, Democrats on the other side, are deliberately boycotting," he said. "Why that's an important thing for them, I'll never understand, because these two nominees are going to go through regardless."
"I think this is a completely unprecedented level of obstruction… We did not inflict this kind of obstructionism on President Obama," Sen. Patrick J. Toomey, R-PA, chimed in. "This is not what the American people expect of the United States Senate."
Both of those statements—and others like them from Republican senators—are utterly disingenuous, especially in light of the Senate GOP's obstruction and theft of Obama's Supreme Court nomination. Under the Senate's current rules—which the Republicans may yet jettison—Trump's nominee needs 60 votes to be confirmed. This is Trump's only appointment that Senate Democrats have the power to block, and the stakes could not be more consequential.
Jefferson Morley is AlterNet's Washington correspondent. He is the author ofSnow-Storm in August: Washington City, Francis Scott Key, and the Forgotten Race Riot of 1835and Our Man in Mexico: Winston Scott and the Hidden History of the CIA.
Steven Rosenfeld covers national political issues for AlterNet, including America's democracy and voting rights. 
IMAGE: U.S. President Donald Trump shakes hands with Neil Gorsuch (L) after nominating him to be an associate justice of the U.S. Supreme Court at the White House in Washington, D.C., U.S., January 31, 2017. REUTERS/Kevin Lamarque