Appalachia Gathers Dissent To Gas Pipeline Bound For Eastern North Carolina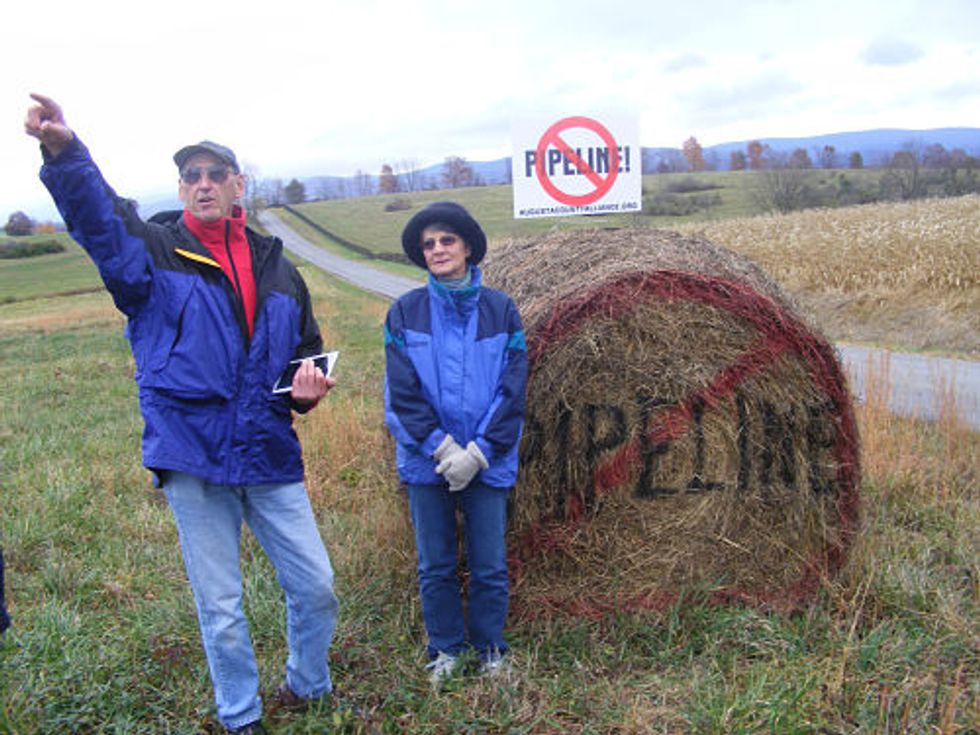 By Sean Cockerham, McClatchy Washington Bureau (MCT)
WAYNESBORO, Va. — Fred Powell was born under the misty mountain ridges that hug southwest Virginia, beneath the Appalachian Trail and where Shenandoah National Park's Skyline Drive turns into the Blue Ridge Parkway, in a farmhouse his great-great-grandfather built in 1832.
Part of the so-called "Breadbasket of the Confederacy" during the Civil War, farmers have long worked the land, raising cows and crops, joined in recent years by wineries and craft breweries that attract day-trippers from the college town of Charlottesville.
This quiet area is being roiled by plans announced in September to put it in the path of a 42-inch pipeline from West Virginia through North Carolina. The Atlantic Coast Pipeline, primarily a project of Dominion Resources and Duke Energy, would ship natural gas 550 miles from the fracking fields of the Marcellus and Utica shales to economically struggling counties in eastern North Carolina, where there are hopes it will help to attract industry.
Powell, like others in Virginia's Nelson and Augusta counties, is refusing to allow Dominion Resources to come through his farmland and survey for the pipeline right of way, saying they'll do whatever they can to try to stop the $5 billion project.
"We're not against pipelines, but the location for this is terrible," said Powell, 65, whose fears range from water contamination to an explosion.
More than 100 people turned out on a bone-chilling November day to protest the pipeline in Waynesboro, accusing their state's politicians of selling them out and invoking the spirit of the Revolution.
"What is left to us but to rise up on our own, like in 1776?" said Tracy Pyles, a member of the Augusta County Board of Supervisors.
The view is different in the lowlands of eastern North Carolina, where the pipeline would deliver its cargo after narrowing to 36 inches. Opposition does exist, as seen at a mid-October public hearing in Rocky Mount, but so does a powerful sense of opportunity.
The plans call for the pipeline to end in rural Robeson County, where the most recent Census Bureau statistics showed 1 in 3 residents living in poverty. It's among the poorest areas in the nation, with the highest violent-crime rate in North Carolina.
"We need help," said Greg Cummings, the economic development director for Robeson County, who expects there will be feeder lines to increase the availability of natural gas for industrial parks in the area.
"It's going to play a major role as far as helping us to market our industrial parks," Cummings said. "The majority of companies manufacturing today, 90 percent of them, they are asking for natural gas."
Keith Dimsdale, who owns a Chick-fil-A in Smithfield, N.C., said there also were opportunities in Johnston County, which has undeveloped sites without access to natural gas.
"We're very positive about the jobs it would bring to the community putting in the pipeline, as well as getting the natural gas available for industry," said Dimsdale, chairman of the local Chamber of Commerce.
The North Carolina section of the pipeline is planned to roughly parallel the Interstate 95 corridor, entering the state in Northampton County, northeast of Raleigh.
North Carolina Gov. Pat McCrory, a Republican, is a big pipeline supporter. So is Virginia Gov. Terry McAuliffe, a Democrat, who called it a "game changer" for his state's economy. The pipeline is proposed to have a spur to Virginia's populous Hampton Roads area, near the coast.
But in the eyes of many in the mountainous region along the border of Virginia and West Virginia, the project would just mean destruction. The pipeline, mostly to be buried about 3 feet deep, would have a 125-foot-wide construction right of way. A coalition of nearly two dozen groups with concerns about the project has formed, calling itself the Allegheny-Blue Ridge Alliance.
Opponents of the pipeline argue that the area's karst topography of limestone, susceptible to sinkholes, is an unstable place to build a pipeline, which could contaminate the drinking water.
They predict damage as the pipeline carves into the George Washington and Monongahela national forests, with the Southern Environmental Law Center, for example, saying it would threaten sensitive habitat. Some speak of fears for their children and the explosive potential of a highly pressurized natural-gas pipeline near schools. People whose land has been in their families for generations fear that Virginia-based Dominion Resources will use eminent domain to force the pipeline through.
"We're just everyday people who feel like we are getting run over," said Nancy Sorrells, who is on the Augusta County water and sewer board.
Chet Wade, vice president of corporate communications for Dominion Resources, argued that there's a lot of misinformation about the project, including "completely fabricated" claims that the natural gas is meant for export. He said worries of polluted water were overblown and that pipelines were commonly built in karst areas. Schoolchildren have nothing to fear, he said.
The plan comes as utilities such as Charlotte, N.C.-based Duke Energy, which would own 40 percent of the pipeline, increasingly turn to natural gas made cheaper by the boom in hydraulic fracturing, known as fracking. Duke has retired half its 14 coal-burning power plants in North Carolina in the past three years, while opening five natural gas-fired plants.
Nearly all of the 1.5 billion cubic feet of natural gas a day that would run through the pipeline has been reserved by utilities such as Duke, Piedmont Natural Gas, Virginia Power Services Energy and Virginia Natural Gas. While the proposed pipeline may not lower energy bills for consumers, the utilities say it might prevent spikes during extreme weather.
Dominion asked the Federal Energy Regulatory Commission on Oct. 31 to start the process for approving the Atlantic Coast Pipeline.
The company hopes to begin construction in 2016, with the natural gas coming through two years later.
Wade said that more than 70 percent of the landowners along the planned route weren't resisting Dominion's efforts to survey. For those who are refusing, though, Virginia law gives natural gas utilities the right to survey on private property, Wade said, and the company intends to assert that right.
The company said it sent letters to 226 landowners in Virginia, West Virginia and North Carolina in a last-ditch effort to gain entry to properties for survey work before going to court. Once it's time to obtain the land needed for the pipeline, Dominion would offer money to the affected landowners. Should they refuse to sell, the company is prepared to take their land through eminent domain, with a judge setting the value for the easement.
That doesn't sit well with many in Virginia's Blue Ridge Mountains. On a recent weekend, locals packed into the Blue Mountain Brewery in Afton, so many that workers had to direct traffic in the parking lot, with families munching burgers and pizza topped with bratwurst from the nearby Double H Farm. Adults sipped glasses of Full Nelson Pale Ale and Kolsch 151.
Brewer and co-owner Taylor Smack is jumping into the pipeline fight, arguing that it's wrong for the government to give Dominion the right to seize people's land.
"I understand and appreciate that this new fuel source is important for our entire country," he said. "But this isn't the government stepping in for the greater good; Dominion will make billions of dollars with this gas and foul thousands of citizens' properties."
Not far away, Powell stood on his land in front of a bale of hay that he said marked where the pipeline would run. His wife and grown son joined him in the cold, beneath the red and gold autumn blaze of the mountains, pledging to confront the pipeline developers.
"We'll take it as far as it's possible to take it," Powell said.
Photo: Fred and Bonnie Powell stand on their Augusta County, Va., farmland that lies on the proposed route of the 550-mile Atlantic Coast Pipeline from West Virginia to eastern North Carolina, on November 1, 2014. The Powells are not allowing Dominion Resources to survey for the right-of-way. "We�re not against pipelines but the location for this is terrible," Fred Powell said. (Sean Cockerham/MCT)