Apple's ResearchKit Could Be Boon For Medical Research, But There Are Concerns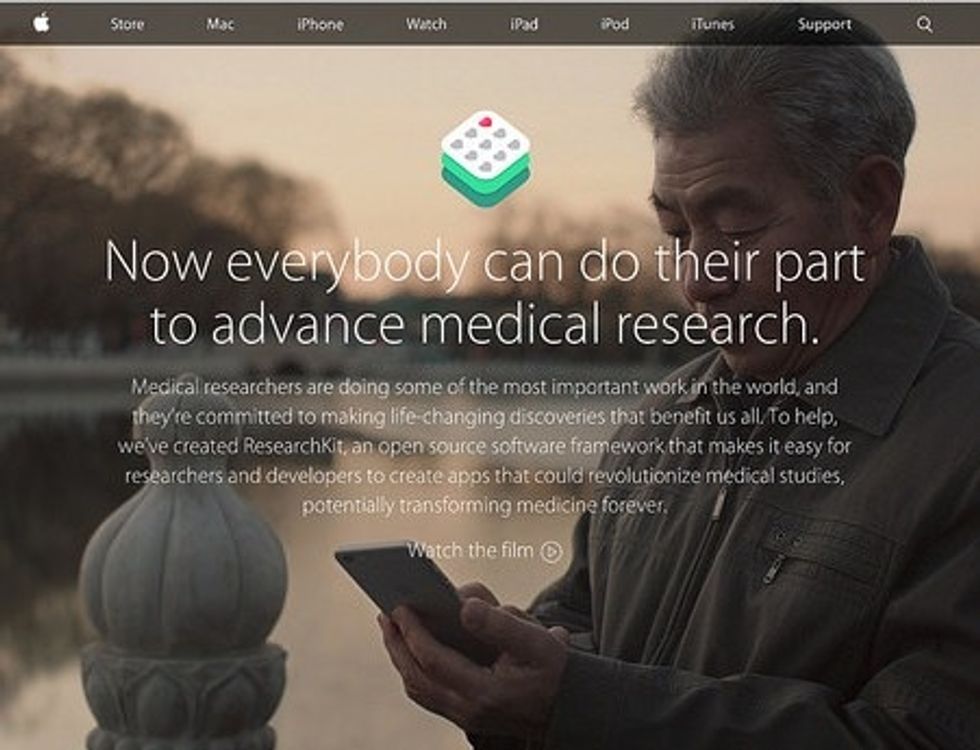 By Julia Love, San Jose Mercury News (TNS)
CUPERTINO, California — You will soon be able to participate in cutting-edge medical research — from the comfort of your iPhone.
At a hotly anticipated event focused on its new smartwatch earlier this month, Apple surprised attendees by unveiling ResearchKit, a new software platform that taps the power of the iPhone for medical research. Researchers can design apps that use the iPhone's accelerometer, microphone, gyroscope and GPS to gather information about a subject's health, and you can start contributing to science by simply downloading the apps.
It remains to be seen whether ResearchKit will revolutionize medical research: Some are concerned about the reliability of information that users self-report on their iPhones, and others note that people who own pricey Apple gadgets don't exactly mirror the rest of the population. And while Apple stresses that the data will be secure, users may still need to think twice before sharing sensitive medical information with an app in an age of incessant breaches.
Nevertheless, with iPhones flying off the shelves, ResearchKit opens up a new frontier for medical researchers, who have long struggled to find enough participants for their studies and keep them on board. MyHeart Counts — an app developed at the Stanford University School of Medicine that evaluates how patients' activity levels influence cardiovascular health — had been downloaded 52,900 times in the United States and Canada as of Friday morning, just four days after its release, according to the university. More than 22,000 users who downloaded the app had consented to the study.
Stanford cardiologist Mike McConnell, the principal investigator on the MyHeart Counts, said such reach is critical for a study on cardiovascular health.
"Cardiologists have a little bit of an odd perspective on all this because we know heart disease and stroke is still the No. 1 killer," he said. "We tend to think of everybody we see as our prevention patient."
After downloading MyHeart Counts and reviewing the consent information, participants are asked to carry their phones with them as much as possible to track their activity, in addition to taking a six-minute walking test. Over the next few months, researchers plan to expand the study to measure how effectively different techniques encourage people to become more active, McConnell said. The app works with the iPhone 5s, 6, and 6 Plus.
Participants are not compensated for their time, but Stanford tries to repay them with information about their heart health, McConnell said. The app gives participants a score that measures their risk for heart disease or a stroke, which they can compare to the ideal score for their age range.
"If you're asking people to donate data, we certainly want to give feedback on how they're doing relative to the different guidelines," McConnell said.
McConnell said the Stanford team is still fine-tuning the technology to ensure that the iPhone's perceptions of "moderate" and "vigorous" exercise are in line with conventional wisdom.
MyHeart Counts was part of an initial batch of five apps that Apple released last week, after announcing ResearchKit. The other apps study asthma, breast cancer, diabetes, and Parkinson's disease. Apple says an open source framework will debut next month.
Although the medical community sees great promise in ResearchKit, some caution that a vast sample size is not the only key to sound medical research. Lisa Schwartz, a professor at the Dartmouth Institute for Health Policy and Clinical Practice, said she is concerned that some people who do not actually suffer from conditions such as asthma or diabetes may indicate that they do to participate in the research.
She stressed that the rigor of traditional research must be brought to studies unfolding in the app sphere.
"We have learned over time how to distinguish 'snake oils' from effective treatments," she said. "We need to apply that same sort of rigorous thinking to this. Otherwise, it's more data, but it's not more knowledge."
Apple, which frequently touts its commitment to privacy, emphasized that it will not have access to the data, and participants decide how much to share. Software like ResearchKit can raise privacy concerns if participants do not fully understand how their information will be used, or if the data is compromised in a breach, said Daniel Gottlieb, a lawyer at McDermott Will & Emery. But that should not deter researchers and patients from experimenting with new tools, he added.
"When you are in the clinical research world, there is always a balancing act between privacy protections for the individual human beings who are the research subjects and…the important public health objective for all of us," he said. "This really has enormous potential to bring new folks into important research."
___
RESEARCHKIT APPS
Apple worked with medical researchers to have five apps available that used the ResearchKit framework when the company announced the software platform March ninth.
MyHeart Counts: Developed by Stanford University School of Medicine and the University of Oxford, this app measures activity and uses surveys to get a feel for participants' lifestyle, then measures the effects on cardiovascular health.
Power: This app measures users' gait, dexterity, balance and other traits through a variety of tests in order to study the effects of Parkinson's disease.
Share the Journey: Patients with breast cancer can use this app to log their experiences after chemotherapy, which could help develop new approaches to post-treatment care.
Asthma Health: Asthma sufferers can benefit while generating data with this app by being alerted when air quality in their area is poor. It also tracks patterns in asthma symptoms, helping further knowledge about triggers for asthma attacks.
GlucoSuccess: Another app that offers benefits to both parties, this software gives researchers insight into the effects certain activities have on glucose levels while providing patients with diabetes a better understanding of how their choices affect their well-being.
Photo: rosefirerising via Flickr