Are Women's Magazines Just 'Liberal Cheerleaders'?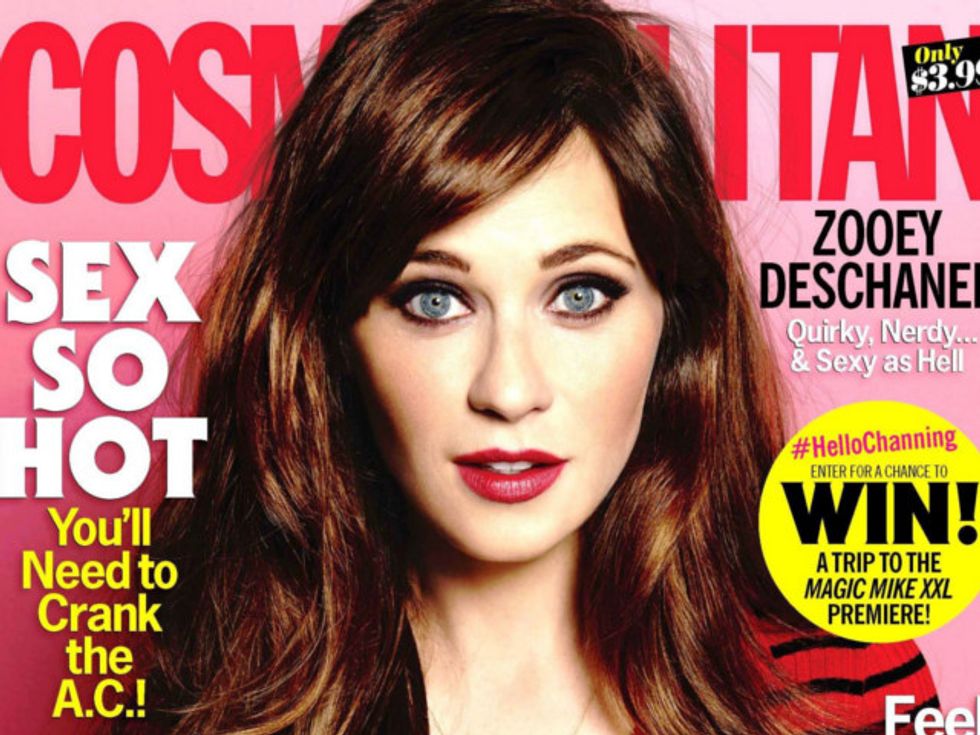 Are women's magazines "liberal cheerleaders" rooting for Hillary Clinton?
That's the basis of a Politicoarticle by Hadas Gold that suggests readers of women's magazines "will be getting a heavy dose of liberal cheerleading this season along with their skincare, makeup and fashion tips."
It's a mistake to think that young women don't care about these issues, Joanna Coles, the editor-in-chief of Cosmopolitan,told Brian Stelter on CNN's Reliable Sources Sunday:
We have many millions of millennial readers, and they're interested in how they [will] pay off their student debts, they're interested [in], are they going to get a job in this difficult economy? They're also interested in, are they going to get great healthcare and do they have access to contraception and God forbid, should they need it, can they have access to an abortion. So I think they are watching candidates that reflect their interests.
Cosmopolitanbegan endorsing candidates last year, a controversial move partly because they explicitly endorse candidates that are pro-choice, support equal pay and birth control coverage, and oppose restrictive voter-ID laws. Abortion is actually a deal breaker, explainsCosmopolitan.com editor-in-chief Amy Odell: "[I]n our minds it's not about liberal or conservative, it's about women having rights, and particularly with health care because that is so important. All young women deserve affordable easy access to health care, and that might include terminating a pregnancy, and that's OK."
So while certainly liberal, the publication is not in the tank for Hillary — at least not yet. Although Clinton has long been pro-choice and has advocated for women's rights throughout her career, her stances are not necessarily in strict adherence to Cosmopolitan's guidelines.
As Kat Stoeffel at The Cutpoints out, women's magazines focus so much on reproductive rights because it's a "gateway issue to political consciousness." Coles tells Stelter, in the end, they just want women to vote: "We have a rooted interest in them being part of the political process."
"Both parties should be courting them rather assiduously," said Glamour editor-in-chief Cindi Leive when she spoke to Mika Brzezinski Monday.
Although according to the Pew Research Center, women have been skewing Democratic since 1990, with 52 percent to 36 percent in 2014. For millennials, it's nearly the same — 51 percent to 35 percent. Half describe themselves as independents, but they've voted for Barack Obama in 2008 and 2012, both times by big margins as compared to previous youth votes in modern elections.
Politico citesCosmopolitan's reach (an audience measure combining print and digital readers) to be 53 million, Glamour's about 28 million, Vogue's at 28 million, and Elle at 21 million.
It's worth noting that Politico only concentrates on a handful of general-interest magazines, ones that are targeted to — and mostly read by — young women. The article ignores publications that have a specifically feminist bent (Bust, Bitch), or focus on fashion (W, InStyle), health (Self, Shape), mothers (Working Mother, Parents), or middle-aged and older women (Redbook, More).
Since Coles took over the magazine in 2012, the publication — which only became affiliated with its young, primarily single-women focus in the 1960s when Helen Gurley Brown took over its editorship — has a new focus on serious topics, winning its first American Society of Magazine Editors award for a spread on contraception, but it's not the only one. Elle has a politics section. Glamour — through its "inspired" section — often focuses on women's careers, policy, and national news.
Women's magazines have often published serious stories; they just don't get the recognition (or the respect) that similar magazines targeted to men do.
Are women's magazines pro-Hillary Clinton?
Certainly, Hillary — and Chelsea — have gotten plenty of coverage from women's magazines. But this is less about these publications shilling for Hillary than it is about the dearth of other women at her level to cover.
As Glamour's Leive told Brzezinski (whom Leive interviewed for her monthly column on career strategies in the current issue), when choosing women to report on, the numbers just work against Republicans. Out of 108 women in Congress, there are only 30 Republicans. (Heck, Glamour even posted a story on this.)
"Listen, if Republicans are concerned that women's magazines are in the tank for Hillary and they want to come into our pages to tell their stories to our millions and millions of readers, then that's fantastic… that's exactly what they should be doing," she said. So while Democrats like Clinton and Michelle Obama get a lot of coverage, Republican presidential contender Carly Fiorina has received some press, too.
Of Cosmopolitan's perceived shift, Coles said, "People keep saying, 'Oh, you've made the magazine much more political,' but I feel that these are about lifestyle issues for women… That to me is why I am doing this."
Photo: Does this scream liberal bias? Via Cosmopolitan.com