Argentina Deposits Debt Payment, Defying U.S. Judge
@AFP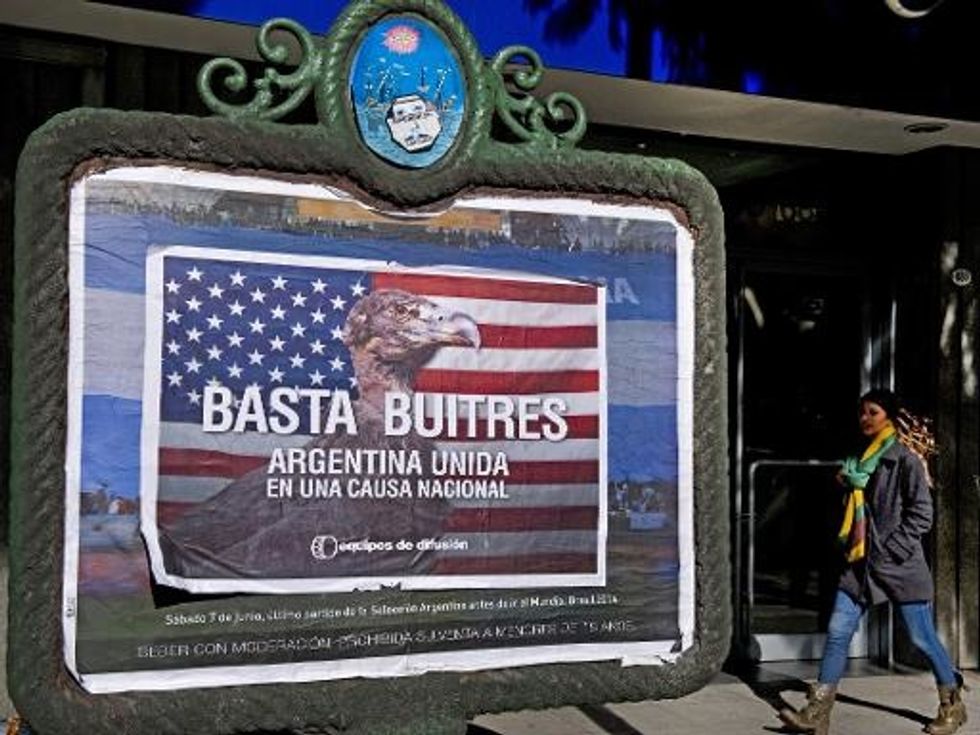 Buenos Aires (AFP) – Argentina deposited a $161 million payment on its restructured debt Tuesday, defying a U.S. judge who ruled it in contempt of court and ordered it to pay two "holdout" creditors first.
The Argentine government said it had deposited the payment in a Buenos Aires account of the state-run Banco Nacion.
The South American country is trying to meet its obligations to creditors who agreed to take steep losses on their bonds after it defaulted on $100 billion in debt during its 2001 economic crisis.
Cabinet chief Jorge Capitanich brushed off Monday's contempt ruling by U.S. federal judge Thomas Griesa, saying it had "no basis or impact."
Griesa found Buenos Aires had acted illegally to dodge his orders blocking it from servicing its restructured debt until it pays the two U.S. hedge funds the full $1.3 billion it owes them.
The dispute with the two holdouts, which the Argentine government has branded "vulture funds," has derailed the country's 2005 and 2010 restructuring deals, forcing it into a new default in July.
To get the restructuring plan back on track, Argentina has passed a law permitting the government to pay creditors in Buenos Aires, Paris or another venue of their choice — skirting the New York judge's freeze on the bank accounts it uses to service its debt.
Capitanich said Griesa's ruling was "expected," and repeated the Argentine foreign ministry's statement that it violated international law.
"The judge has unleashed a true legal rigamarole. Every decision he makes gets worse," Capitanich told journalists in Buenos Aires.
He said any potential contempt penalties — which could amount to a $50,000-a-day civil fine, as requested by the hedge funds — would be "inapplicable."
"Sovereign immunity law prohibits contempt penalties against foreign states," he said.
More than 92 percent of Argentina's creditors agreed to take losses of up to 70 percent on the face value of their bonds in order to get the struggling country's debt repayments back on track after the 2001 default.
But the two hedge funds, U.S. billionaire Paul Singer's NML Capital and U.S.-based Aurelius Capital Management, refused to accept the write-down and took the country to court, winning a ruling from Griesa that crippled Argentina's restructuring plan.
Blocked from paying its restructured debt, Argentina missed a $539 million interest payment and entered default again on July 30.
Tuesday's deposit aims to circumvent the judge's ruling on the day the deadline expires for a new $200 million payment.
AFP Photo/Alejandro Pagni