Arithmetic For Billionaires: Romney Is Rich, But Can He Add?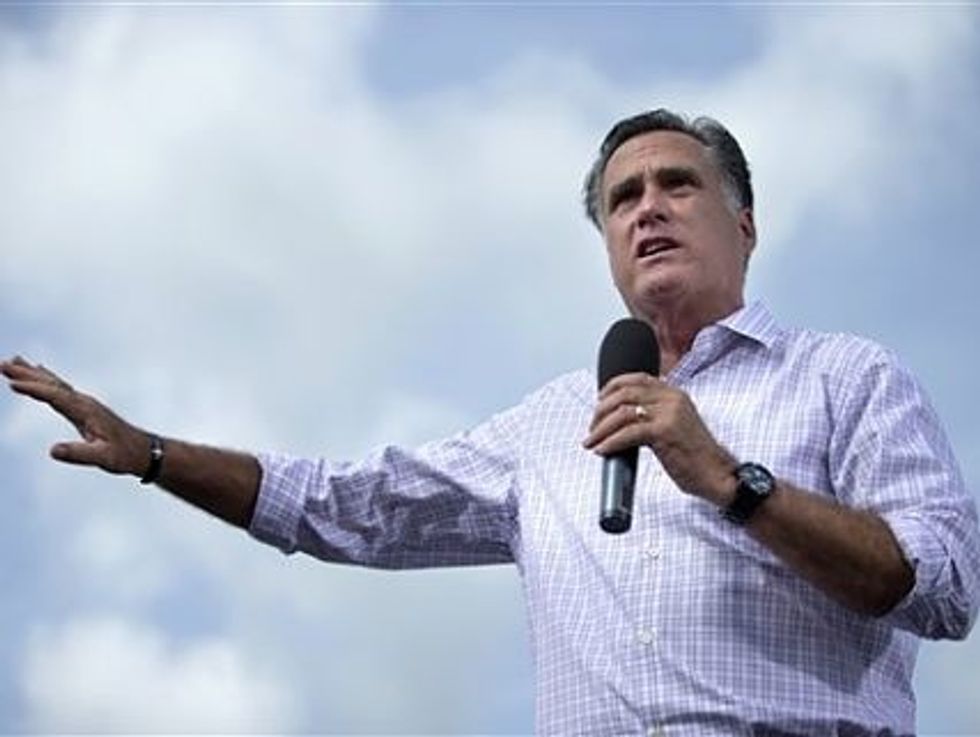 Mitt Romney is a very wealthy man with a proven capacity for avoiding taxes – but can he do simple arithmetic?
In the wake of the Democratic convention, the Republican candidate again promised to "cut the deficit and get us back on track to a balanced budget." He even hinted that his own party bears some responsibility for ballooning federal deficits and debt. "We're going to finally have to do something that Republicans have spoken about for a long time and for a while we didn't do it. When we had the lead, we let people down," he said the other day, presumably referring to the last Republican president, whose name must never be mentioned, and the Congressional leadership during that administration.
And "for a while" presumably refers to the past 30 years or so.
Romney also says that he watched none of the speeches at the Democratic convention. He obviously missed the one that might have helped him figure out exactly what his party has been doing wrong. "I hear Bill Clinton spoke for like, 50 minutes?" he snarked at a public appearance on Friday. Yes, the former president spoke for just over 49 minutes – and he articulated a message that could enlighten Romney. Clinton's lesson might be titled "Arithmetic for Billionaires." He could start with an accurate assessment of the origins of the national debt level currently carried by the U.S. Treasury. As Clinton noted, the federal debt roughly quadrupled during the 12 years of the Reagan-Bush administration, from just under a trillion dollars to four trillion.
When Clinton became president, that debt was rising rapidly with annual deficits of $400 billion. His first budget raised taxes, almost entirely on the wealthiest taxpayers, by restoring a top bracket of 39.5 percent. Not a single Republican in Congress voted for that 1993 budget, with many of them predicting that raising taxes on the rich would result in economic catastrophe. They were wrong, of course.
The economy boomed, incomes rose at every level, millions began to climb out of poverty, and the rich became richer too (although many of them never forgave Clinton for demanding that they pay up for the festivities of the Reagan era). Clinton booked four balanced budgets and began to pay down the national debt. The debt would have been paid down entirely, preparing the nation far better for the crash that we ultimately faced, had that unnamed Republican not succeeded Clinton with reckless tax cuts and extremely expensive wars.
By the time President Nameless left office, the nation was deeply in debt and on the brink of a catastrophe that wasn't merely rhetorical. Now along comes Romney, with his sidekick Paul Ryan, telling voters that they will cut the deficit and balance the budget. Yet as Clinton noted, they propose still another round of tax cuts for the wealthiest households – including their own and those of their most generous supporters – that would cost the Treasury at least $5 trillion. And they insist on increasing the defense budget by hundreds of billions, too.
What Clinton asked is how the Republican nominees propose to pay for those lavish favors to themselves and their friends. Doing the arithmetic himself, he came up with three possible answers: They will raise taxes on the middle class by taking away mortgage, charitable and other deductions, so that billionaires can have another tax break. They will cut federal spending so deeply that infrastructure, education, science, technology, and health care will be ruined for the future. Or they will do nothing, and explode the debt, just as their predecessors have done repeatedly over the past three decades.
Whether in  their own 40-minute addresses to their party convention or elsewhere, neither Romney nor Ryan has offered a plausible solution to Clinton's arithmetic problem. They talk about spending cuts and tax reform, but without any specifics.  The footnote to their budget claim says only, as Clinton put it: "See me about that after the election." Clearly the Republicans intend to push off difficult questions about their budgeting, just as Romney intends to push through without releasing his tax returns. But those evasions may prove very difficult to sustain through the four upcoming debates.
Sometime before November 6, someone will ask Romney and Ryan to do the arithmetic.
Photo credit: AP/Evan Vucci