Judge Sanctions Arizona Election Denier For 'Groundless' Fraud Lawsuit
@next2godwin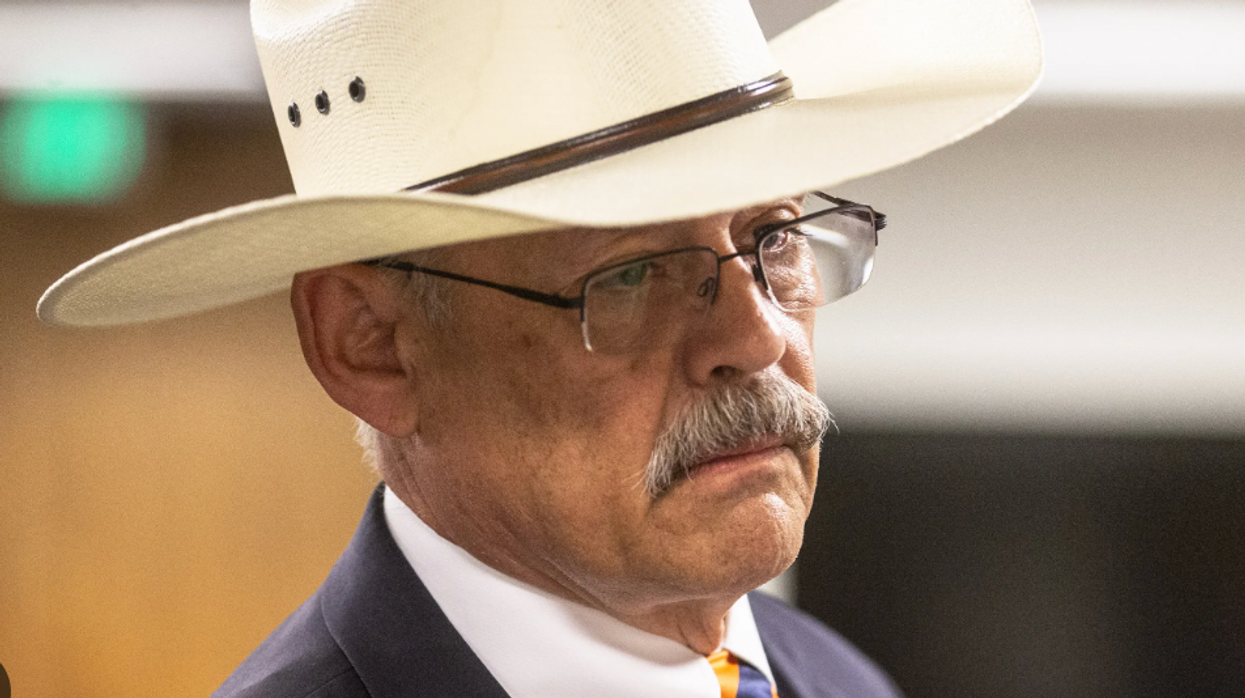 A judge on Monday imposed sanctions on Mark Finchem, the Republican who lost the Arizona Secretary of State race in November, for filing a "groundless" lawsuit "in bad faith" to challenge the election result.
Finchem's suit — filed weeks after his loss to Democrat Adrian Fontes by 120,208 votes — was fraught with unsupported allegations of electoral malpractice. The Republican asked the court to overturn his electoral defeat and hold a new election.
Maricopa County Superior Court Judge Melissa Iyer Julian dismissed Finchem's lawsuit as baseless in December, writing, "Fraud [in election contests] must be specifically alleged and "ought never to be inferred."
Fontes and then-Arizona secretary of state Katie Hobbs, who is now the state's governor, implored the court to sanction Finchem and his lawyer.
Finchem's suit, they said, "is a politically motivated weaponization of the legal process meant to perpetuate the dangerous narrative that our elections are unreliable, our elected leaders are corrupt, and our democracy is broken," according to AZCentral .
Julian agreed in her eight-page order granting the sanction , dated March 1, instructing Finchem and McCauley to cover the legal fees that Fontes and Hobbs incurred in the case. The amount to be paid remains undetermined, per KTAR News .
The judge explained in her order that while Arizona law — specifically, A.R.S. § 12-349 — discouraged "lawsuits for which there is no legitimate basis in fact or law," sanctions were granted only "in rare cases" to avoid shutting the door on legitimate lawsuits.
Finchem's lawsuit — which accused Hobbs of masterminding the Republican's Twitter ban and included several misspellings of Finchem's name as "Fincham," amongst other oddities — was one of those rare cases, Julian noted in her order.
"None of Contestant Finchem's allegations, even if true, would have changed the vote count enough to overcome the 120,000 votes he needed to affect the result of this election. The Court finds that this lawsuit was groundless and not brought in good faith," Julian wrote.
Finchem knew all the facts about the election, given the preponderance of reports debunking false claims of electoral fraud; yet, he based his challenge on unsupported allegations, the judge said in her order.
"Although election challenges must be filed on an expedited basis, in this instance Finchem had the necessary facts and controlling case law available to him when he nevertheless elected to pursue a meritless challenge," Julian wrote.
One such example was Finchem's decision to withdraw his request to examine ballots, Julian said, a move that suggested "he had no expectation that an inspection would yield a favorable outcome."
The judge added, "This demonstrates that Finchem challenged his election loss despite knowing that his claims regarding misconduct and procedural irregularities were insufficient under the law to sustain the contest."
Finchem is one of several election-denying Arizona Republicans who questioned former President Trump's loss in the 2020 presidential election and refused to concede their defeats in Arizona's November 2022 midterms.
Far-right attorney general contender Abraham Hamadeh, Senate contender Blake Masters, and gubernatorial contender Kari Lake also lost their elections to Democrat challengers. Of the three, only Masters has conceded.
Lake, whose crusade to overturn Arizona's midterm election results has been soundly rejected in a string of court rulings, has continued to insist, in and out of court, that she should be named governor of Arizona.
After winning a straw poll for Republican vice presidential candidates at the Conservative Political Action Conference (CPAC), Lake's campaign released a statement saying that the serial election denier, although flattered, couldn't be "[g]overnor and VP at the same time." Hobbs is the governor of Arizona.
\u201cBREAKING: Out of 30 contenders, @KariLake wins @CPAC straw poll for Vice President. \n\nWe\u2019re flattered, but unfortunately our legal team says the Constitution won\u2019t allow for her to serve as Governor and VP at the same time.\u201d

— Kari Lake War Room (@Kari Lake War Room) 1677970529
[ Tweet ]