Arizona Governor Jan Brewer Bows To Term Limits Laws, Will Not Run Again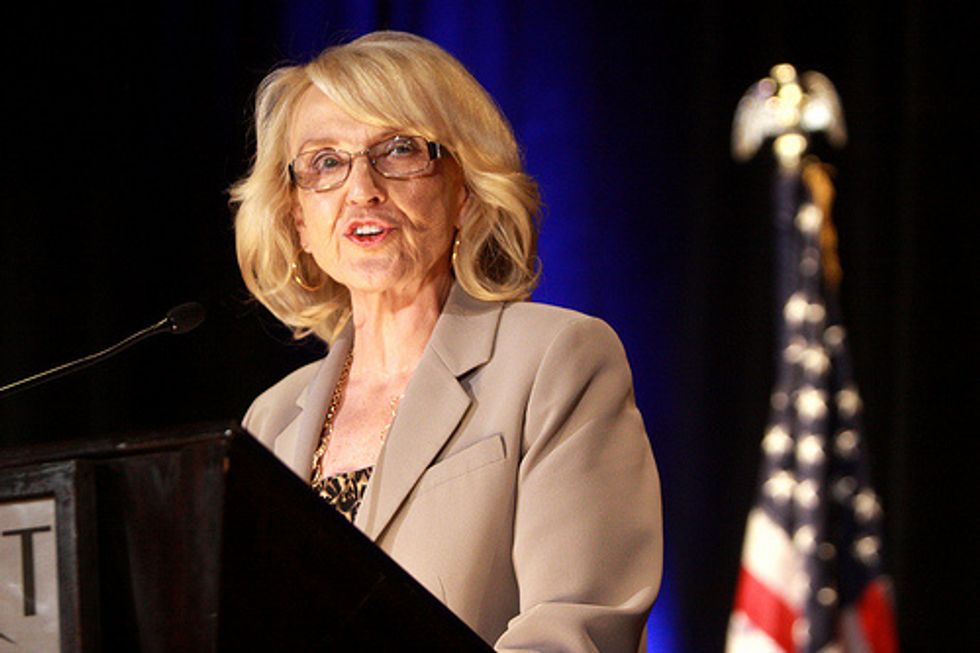 By Cathleen Decker and Cindy Carcamo, Los Angeles Times
TUCSON, Ariz. — Arizona Governor Jan Brewer announced Wednesday she would not seek a third term, forgoing a campaign that would have required her to challenge the state's term limits measure.
The Republican had left open the option of running this year, despite the overwhelming weight of legal opinion against it. She became governor in 2009 when Democrat Janet Napolitano left office to join President Barack Obama's Cabinet, and won re-election the following year. The state limits governors to two terms and legal experts said her first partial term counted toward the limit.
Brewer's announcement came during an appearance at Park Meadows Elementary School in Glendale; it served as a bit of political symmetry, because the school's PTA propelled her elective career.
Afterward, the governor explained her decision via Twitter.
"Our work continues and our comeback story is still being written. I look forward to seeing that story continue to unfold for years to come," she wrote. "However, there does come a time to pass the torch of leadership. So, after completing this term in office, I will be doing just that."
Brewer's words glided over the difficult path she faced had she decided to run. The state's term limits measure specifically describes "any part of a term served" as counting as a full term.
That left Brewer with the tortuous legal argument that the measure did not mean what it clearly stated — and it would have left Republicans fighting a court battle while trying to fend of Democratic candidates.
By any measure, Brewer's tenure as governor was tumultuous, as she presided over a state controlled by conservative lawmakers at a time when its population, like other Western states, grew more diverse and centrist.
She signed into law some of the nation's most restrictive immigration laws, including one that allowed police to check the legal papers of anyone stopped for any reason, and she later engaged in a finger-wagging dispute with Obama that drew national attention.
But Brewer was never a knee-jerk conservative.
She angered many in her party by proposing an expansion of Medicare under the president's health care program — a move made by few Republican governors but driven, in Brewer's case, by a desire to restore cuts to medical and mental health programs in the state.
In late February, in a decision hailed by gay rights activists, Brewer vetoed a controversial measure that would have bolstered a business owner's right to refuse service to gays and others.
She said in a brief veto announcement she worried the bill had "the potential to create more problems than it purports to solve."
By the time she announced the veto, the measure had drawn substantial opposition by Republicans, including that of the state's senior senator, John McCain.
"I thank my dear friend Gov. Jan Brewer for her years of outstanding service to the state of Arizona," McCain said in a statement Wednesday. "First entering public service as a mother concerned about the workings of her local school board, Gov. Brewer has served with distinction at every level of state and local government over the last three decades. Throughout her career, Governor Brewer has always been a great champion for our state, and I wish her all the best in her future endeavors."
At the school that McCain alluded to, Brewer on Wednesday announced her decision amid several hundred supporters, schoolchildren and former staff members.
Matthew Benson, a former spokesman and adviser to Brewer who was among those attending, said the announcement did not come as a surprise.
"She's been weighing this decision for a number of months but I think she feels confident that the state is on the right path," he said. "And that's why she is comfortable stepping away."
Photo: Gage Skidmore via Flickr