Arizona Republican Resigns After Proposing Sterilization Of Poor Women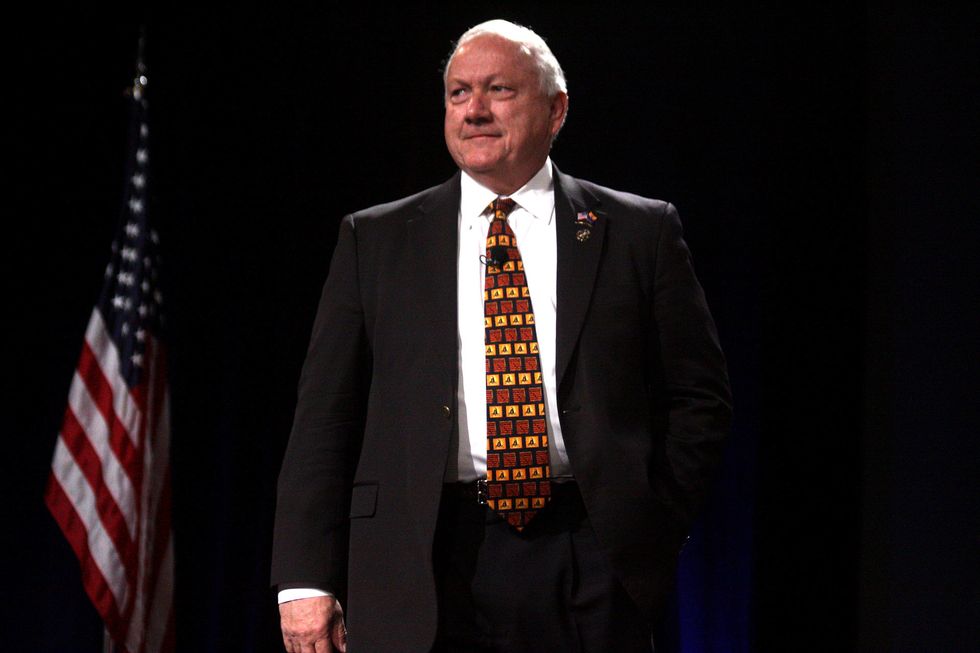 Former Arizona state senator Russell Pearce resigned from his position as the Arizona Republican Party's vice chairman on Sunday, after suggesting that Arizona sterilize all women on Medicaid.
"You put me in charge of Medicaid," Pearce said on his radio show last week, "the first thing I'd do is get [female recipients] Norplant, birth-control implants, or tubal ligations. Then, we'll test recipients for drugs and alcohol, and if you want to [reproduce] or use drugs or alcohol, then get a job."
Right, because people on Medicaid couldn't possibly have jobs. And apparently not everyone in the United States has the right to have children.
He later contradicted himself, arguing that the government shouldn't be involved in people's lives at all.
"I know there's people out there [who] need help, and my heart goes out to them, too," he said. "But you know what? That should never be a government role. That's a role for family, church, and community."
Though Pearce claims to oppose dependence on the government, he's didn't mention the fact that the government pays his own paycheck. He recently accepted a job working for Maricopa County Treasurer Charles Hoskins for $85,000 per year. His job involves promoting the Elderly Assistance Fund, which helps out low-income seniors.
"That is, he's helping to do exactly what he preaches against on his radio show," Phoenix New Times ' Stephen Lemons wrote .
Lemons also points out that Pearce is very "influential" in the Arizona GOP, and that many Republican candidates seek out his endorsement .
The Arizona Democratic Party quickly took advantage of Pearce's influence on other state Republicans to conflate his sterilization comments with the GOP's values.
"For the first vice chair of the Arizona Republican Party to advocate for forced sterilization is unacceptable," executive director of the Arizona Democratic Party D.J. Quinlan said . "The silence of Republican leaders like Doug Ducey, Andy Tobin, and Robert Graham is even worse. It indicates that they have made a cynical calculation that Russell Pearce and his brand of politics appeals to the most extreme elements of their electoral base."
The Republican nominees for governor, secretary of state, attorney general, and other candidates rushed to denounce Pearce's comments.
On Sunday night Pearce resigned , claiming that his comments were "written by someone else and [he] failed to attribute them to the author."
"I do not want the progressive left and the media to try and take a misstatement from my show and use it to attack our candidates. I care about the Republican Party and its conservative platform too much to let them do that," he said in a statement. "I have no intention of being used as a distraction by the Democrats looking to escape responsibility for their failed policies."
Pearce's resignation did not stop the attacks, though. On Monday, Arizona state representative Adam Kwasman (who memorably thought a bus full of kids on their way to camp was transporting migrant children with "fear on their faces"), wrote in the Arizona Capital Times that Pearce's comments are not only "unacceptable and wholly inappropriate," but "were profoundly progressive and, in my opinion, betrayed a problematic misunderstanding of the proper moral justification of government." Kwasman similarly described the eugenics programs of the 1920s as "progressive."
Pearce had endorsed Kwasman's failed campaign for Congress.
ThinkProgress 's Bryce Covert notes that Pearce's "ideas are far from being on the fringe. They in fact help inform our policies."
She goes on to cite the Nixon administration, which "pushed through funding" for sterilization of low-income women and California's previous practice of sterilizing women in their prison system.
Photo: Gage Skidmore via Flickr
Interested in U.S. politics? Sign up for our daily email newsletter!