Arizona Wildfire Burns Nearly 1,000 Acres, Threatens 100 Structures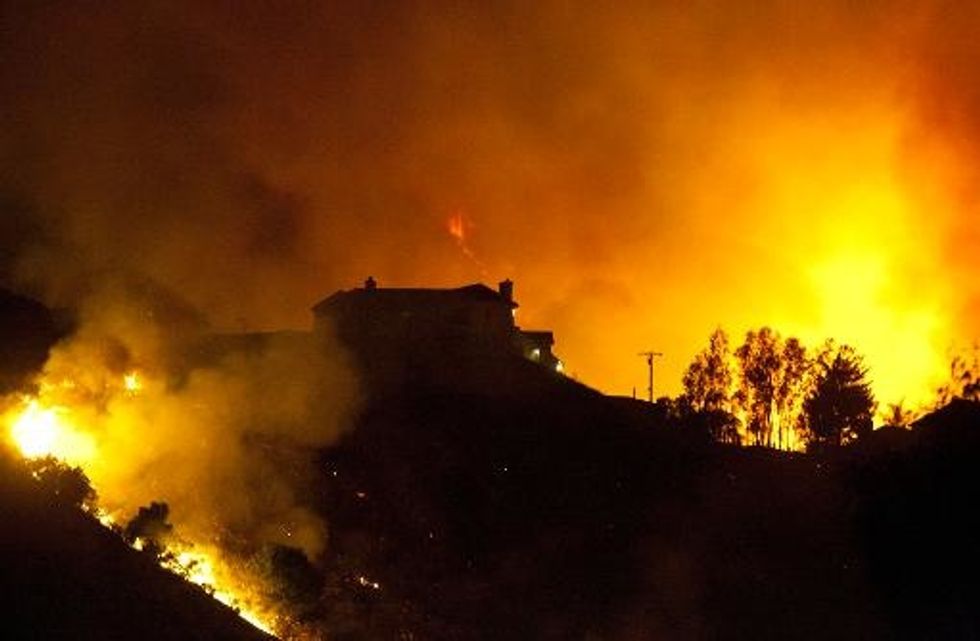 By Paresh Dave, Los Angeles Times
A fire ripping through a heavily forested canyon in northern Arizona had burned nearly 1,000 acres and left several cabins evacuated by midday Wednesday.
The Slide Fire was reported about 4 p.m. Tuesday and is being investigated as human-caused because lightning wasn't an issue at the time, said Heather Noel, a spokeswoman for Coconino National Forest. Authorities did not have any immediate leads.
The fire began just north of Sedona's Slide Rock State Park, a popular hiking and vacation destination, and has been traveling northward through a canyon. By early morning Wednesday, the blaze had scorched 450 acres, an estimate that was doubled hours later as low-humidity, high-wind conditions persisted. The fire was also pushing up the canyon's steep hillsides.
In the early morning, U.S. Forest Service officials said 100 houses and vacation cabins were under threat to the north of the state park.
The Coconino County Sheriff's Office ordered evacuations of that stretch of structures, with people moved to Sinagua Middle School in nearby Flagstaff, where smoke from the fire area created hazy conditions. The Associated Press reported that about 15 campers stayed at the shelter Tuesday night. The American Red Cross in Phoenix provided meals and clothing to the campers, officials said.
Sophie Lwin, an operations director for a law firm in Peoria, Arizona, said her family had made plans six months ago to stay this weekend at cabins in the now-evacuated area.
"I have a feeling our trip will have to be canceled," she said by phone Wednesday. "This is just devastating for people who know these cabins. There's a lot of history there."
Lwin, her husband, Curtis McGee, and four family members from Los Angeles planned to rent three cabins at the Butterfly Garden Inn and the Forest Houses Resort. She described them as "secret gems" and among the "least-touristy places" in Sedona.
"I'm just hoping nothing happens to those cabins," Lwin said, noting her honeymoon was spent at the Butterfly Garden. "It's an all-natural environment around there, and now it's all gone because of a human."
More than 200 people were helping to fight the blaze, including some firefighters who worked on wildfires that took out several thousand acres in San Diego a week ago.
Noel said authorities suspect the fire was sparked in Oak Creek Canyon, between Flood Rock and Halfway Picnic Area.
On Tuesday, the U.S. Forest Service said it added four more aircraft to its fleet to contend with "what is shaping up to be a catastrophic fire season in the Southwest."
The agency cited climate change, forest diseases and suburban sprawl combined had extended the annual fire season by more than two months during the last 30 years.
In the upper West, from Idaho to the Dakotas, the forest service on Monday indefinitely banned the use of exploding gun targets because such devices have started at least 16 wildfires in the West during the last two years. A similar ban took effect last year in the Rocky Mountain region, including Colorado, Wyoming and Nebraska.
AFP Photo/Jorge Cruz