Arizona's Primary Day Headaches Aren't Finished Yet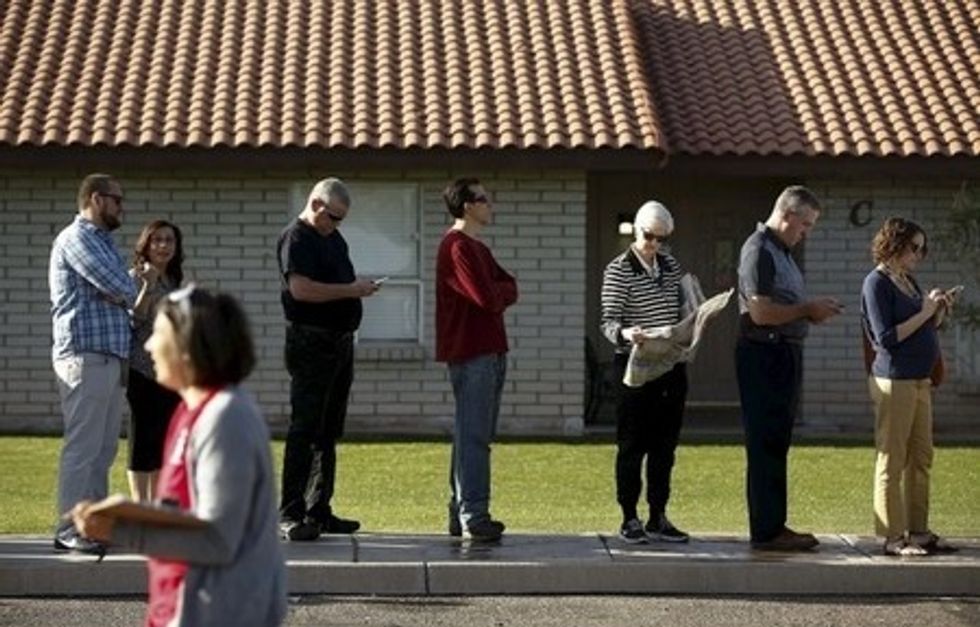 While the national media has turned its attention to the upcoming primaries in Wisconsin, voters in Arizona are fighting against the state's weak response to complaints of long lines and a shortage of polling locations during its recent primary, last Tuesday.
But it seems uncertain there will be any remedy to the situation.
"I apologize profusely — I can't go back and undo it," said Helen Purcell, the Maricopa County recorder, during a highly charged public hearing on Monday in front of the Arizona House Elections Committee. Purcell had earlier caught flak for accusing voters of being responsible for the long lines.
In the first presidential election year since the gutting of the Voting Rights Act in 2013, polling stations in Maricopa County, home to the greater Phoenix area, were reduced from 200 in the 2008 primaries to just 60 this year, resulting in waiting times of up to five hours at some locations. In neighboring Pima County, which includes the greater Tuscon area, complaints arose about incorrect party affiliations, which, in a closed primary like Arizona's, prevented voters from choosing presidential preferences.
During the public hearing hearing, person after person approached the podium, providing testimony of poll workers telling them that their votes weren't going to count because the election was already decided, or because their party affiliation had been switched. Many also called for the Purcell's resignation, or called the voting irregularities "a planned attack," although there's no evidence to support that claim. Others called for a re-vote.
Not possible, said J.D. Mesnard, a Republican committee member, because it would disenfranchise those who had already voted.
The threat of voter suppression has become much more real following the gutting of the Voting Rights Act in 2013, the result of Supreme Court's Shelby County v. Holder decision. The VRA, among other things, required that states with a history of political or racial discrimination had to get approval from the Department of Justice or a federal court before making any changes to their electoral procedures or policies, to ensure the changes wouldn't leave voters of color worse off. After 2013, Arizona was no longer legally bound to do so.
Meanwhile, a White House petition has attracted over 200,000 signatures demanding an investigation into reports of those unable to vote in the primary.