Arkansas Republican 'Most Likely Won't Try To Kill' Lawmakers Who Support Medicaid Expansion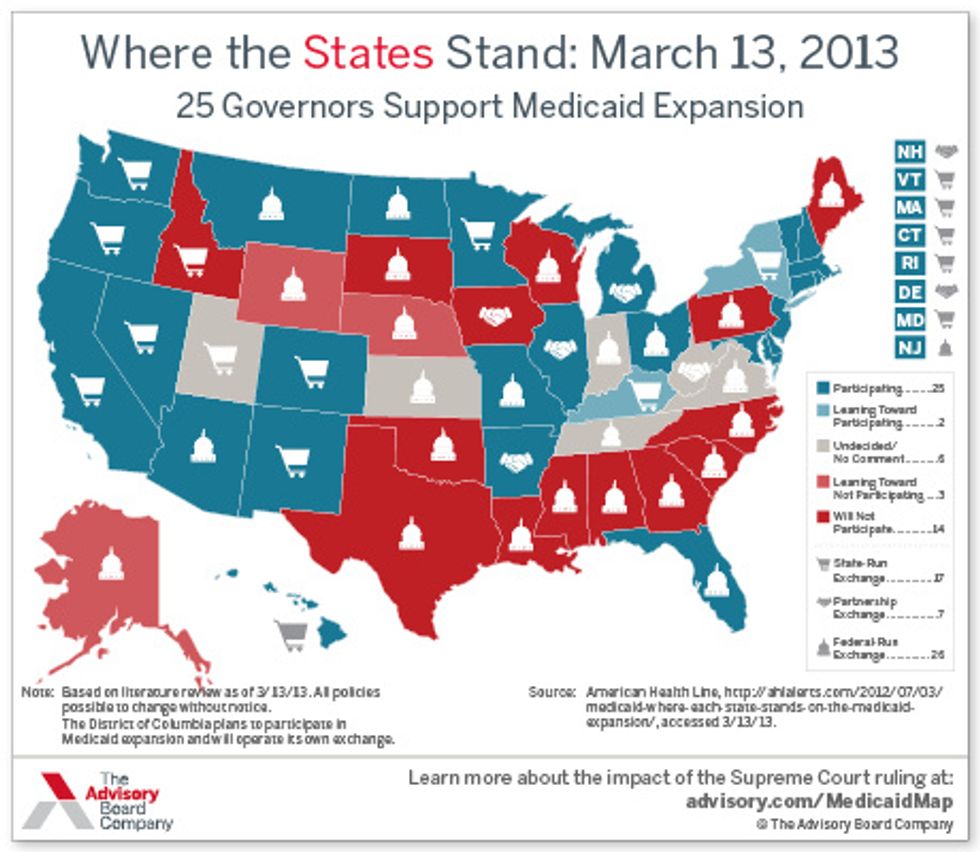 Arkansas may become the first red state to accept the Obamacare Medicaid expansion, which the Supreme Court made optional in its decision last year, if the Department of Health and Human Services accepts its privatized plan.
(Of course, the states turning down Medicaid expansion are generally the ones that need it most.)
The notion of expanding government to improve health care outcomes apparently drove Chris Nogy of the Benton County Republican Committee a little nutty. In a recent newsletter, he encouraged his fellow Republicans to seek "Second Amendment" solutions against those who had voted for for the expansion, and expressed dismay that he can't actually back up these threats:
We need to let those who will come in the future to represent us [know] that we are serious. The 2nd amendment means nothing unless those in power believe you would have no problem simply walking up and shooting them if they got too far out of line and stopped responding as representatives.  It seems that we are unable to muster that belief in any of our representatives on a state or federal level, but we have to have something, something costly, something that they will fear that we will use if they step out of line.  If we can't shoot them, we have to at least be firm in our threat to take immediate action against them politically, socially, and civically if they screw up on something this big. Personally, I think a gun is quicker and more merciful, but hey, we can't.
Nogy's wife is the group's secretary and she claims the article was placed in the newsletter without her husband's approval.
Medicaid expansion will provide health insurance for up to 250,000 Arkansans, ultimately saving dozens if not hundreds of lives, while driving down the costs of the state's insured —  who already subsidize the uninsured through higher rates.
Most of Arkansas' estimated uninsured 401,100 are working families who simply can't afford coverage.
Several Arkansas Republicans made it clear that they were appalled by Nogy's comments.
"I'm embarrassed for the Benton County Republican Committee for including this article in their newsletter," said State Senator Jon Woods (R). "I would think the Benton County Committee would have better judgment and not allow this to be sent out."
The Benton County Republican Committee offered a statement:
"The letter was not approved and Mr. Nogy had no authority to submit it through the newsletter. As a committee, we respect the right of our legislators to vote based on their knowledge and feedback from the voters they represent. We will discuss this issue further with our executive committee."
Nogy later clarified his comments in a letter to KFSM News.

He explained why he is more angry at Republicans than Democrats:
I don't feel the same way about the Democrats as bullet backstops as I do about the Republicans who joined them. The Democrats were doing what their party told them they had to do because they were elected to do that job.
He concluded by saying that his threats were only meant to attract attention and he "most likely" won't kill those Republicans who supported the Obamacare provision. He simply thought it was important to put a face behind his threats so lawmakers will take him seriously:
And for the record, I didn't advocate violence. I mentioned violence to get people's attention, and it worked. I advocated a serious political and social stand, an assured and significant negative response to any politician who breaks a primary voter / elected official promise contract. We have only one mechanism to maintain the 'government of the people, by the people, and for the people', and that is to elect those who promise to do as we demand they do. If we cannot make these people understand that we will not tolerate this kind of breach of contract, then we lose our ability as the people to control the government. And in this age of death threats from nameless, faceless thugs, we need these folks to know that while we most likely won't try to kill them or harm their families, they should be much more certain of our response than fearful of the actions of those who will not identify themselves.
The contentious battle over expansion has shown that Republicans are eager to take the federal funds without getting any Obama on them. Lawmakers are so afraid to be caught pandering to the president or "takers" that they've officially declared that Medicaid expansion is not an entitlement.
Mr. Nogy should be happy to know that another feature of Obamacare is mental health parity.