Armchair Hawks Still Cling To Fantasies About Iraq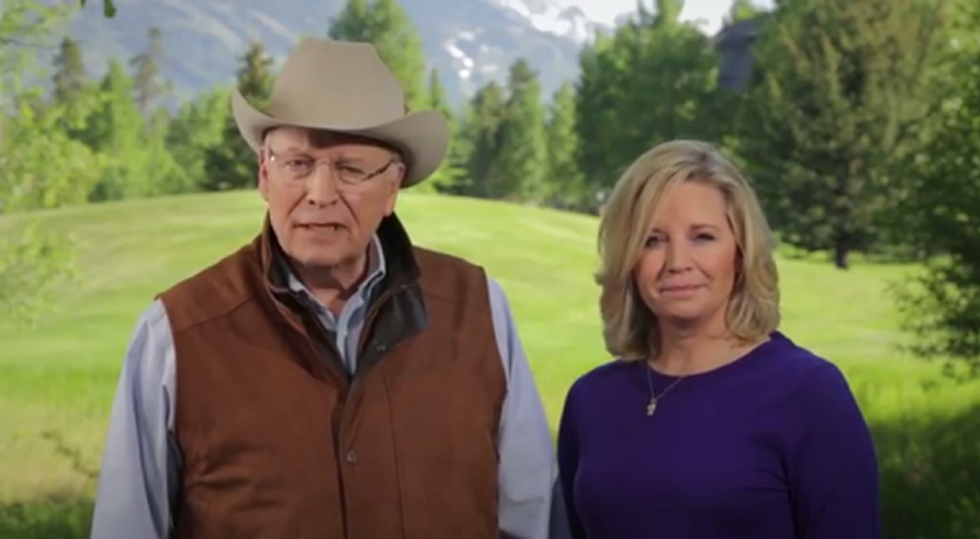 Once upon a time, I believed that if a mature adult made an obvious mistake, he would own up to it, apologize and take responsibility. I believed that if he were a leading political figure who had willfully led the public into disaster, he'd work tirelessly in an attempt to make amends, preferably in some low-key role in which he avoided attention and applause. I believed that if he had made a catastrophic mistake — one that cost tens of thousands of people their lives — he'd spend the rest of his life in quiet reflection, seeking to atone for his sins.
I've long recognized my naivete, but Dick Cheney has recently reminded me just how wrong I was.
Nearly 4,500 U.S. troops and more than 100,000 Iraqis lost their lives during a misguided occupation that Cheney helped to mastermind. Now, that country is disintegrating, torn apart by bloody sectarian warfare that was a foreseeable consequence of the ouster of Saddam Hussein. Yet, Cheney and his neocon allies have come out blasting Obama for Iraq's woes.
Last week, Cheney and his chip-off-the-old-block daughter Liz published an opinion piece in The Wall Street Journal that bears witness to their alternative reality universe.
"When Mr. Obama and his team came into office in 2009, al-Qaida in Iraq had been largely defeated, thanks primarily to the heroic efforts of U.S. armed forces during the surge. Mr. Obama had only to negotiate an agreement to leave behind some residual American forces, training and intelligence capabilities to help secure the peace. Instead, he abandoned Iraq and we are watching American defeat snatched from the jaws of victory," they wrote.
That is breathtaking — stunning — in its deceit, its gall, its malevolence. Before George W. Bush invaded Iraq, al-Qaida in Iraq was just a jihadist fantasy. Deposing Saddam Hussein — a sadistic tyrant, but the glue that held together that fractious country — allowed terrorists to bloom.
Cheney's ahistorical analysis reminds me of the old Soviet Union, where apparatchiks routinely erased previous party leaders out of photographs in an effort to persuade observers that they never existed. But evidence of the former vice president's attempts to rewrite the past abounds. For example, a 2002 speech he delivered to the Veterans of Foreign Wars in which he was wrong about, well, everything:
"Simply stated, there is no doubt that Saddam Hussein now has weapons of mass destruction. There is no doubt he is amassing them to use against our friends, against our allies, and against us. … Regime change in Iraq would bring about a number of benefits to the region. … Extremists … would have to rethink their strategy of jihad. Moderates throughout the region would take heart. And our ability to advance the Israeli-Palestinian peace process would be enhanced," he said.
The Cheneys are not the only neocons on the rebound. They are joined by several discredited names from the past, including Robert Kagan, Paul Wolfowitz and Scooter Libby. Indeed, Dick and Liz have launched a new fundraising group, The Alliance for a Strong America, to propel armchair hawks into political office.
No worries. The public is war-weary and wants nothing to do with further military interventions abroad. They are unlikely to win many converts.
But the damage the neocons did, not only abroad but also at home, lives on. The United States is left with a huge budget deficit, a result of Bush's two wars with tax cuts, and thousands of veterans who still suffer severe physical injuries, significant emotional trauma or both. No one should be surprised that the Veterans Administration has had trouble keeping up with its caseload.
But that may not be the worst of it. Polls show that Americans' trust in their government has fallen through the floor; in a recent survey, only 19 percent of people told Gallup they trust the "government in Washington" to do the right thing most of the time.
It's probably no coincidence that the last time many Americans trusted their government was during the Bush/Cheney "war on terror." They left us with a dangerous cynicism toward our democratic institutions.
(Cynthia Tucker, winner of the 2007 Pulitzer Prize for commentary, is a visiting professor at the University of Georgia. She can be reached at cynthia@cynthiatucker.com.)
Screenshot: The Alliance for a Strong America/YouTube
Want more political analysis? Sign up for our daily email newsletter!