Army General Sinclair Tearfully Pleads With Judge At Sentencing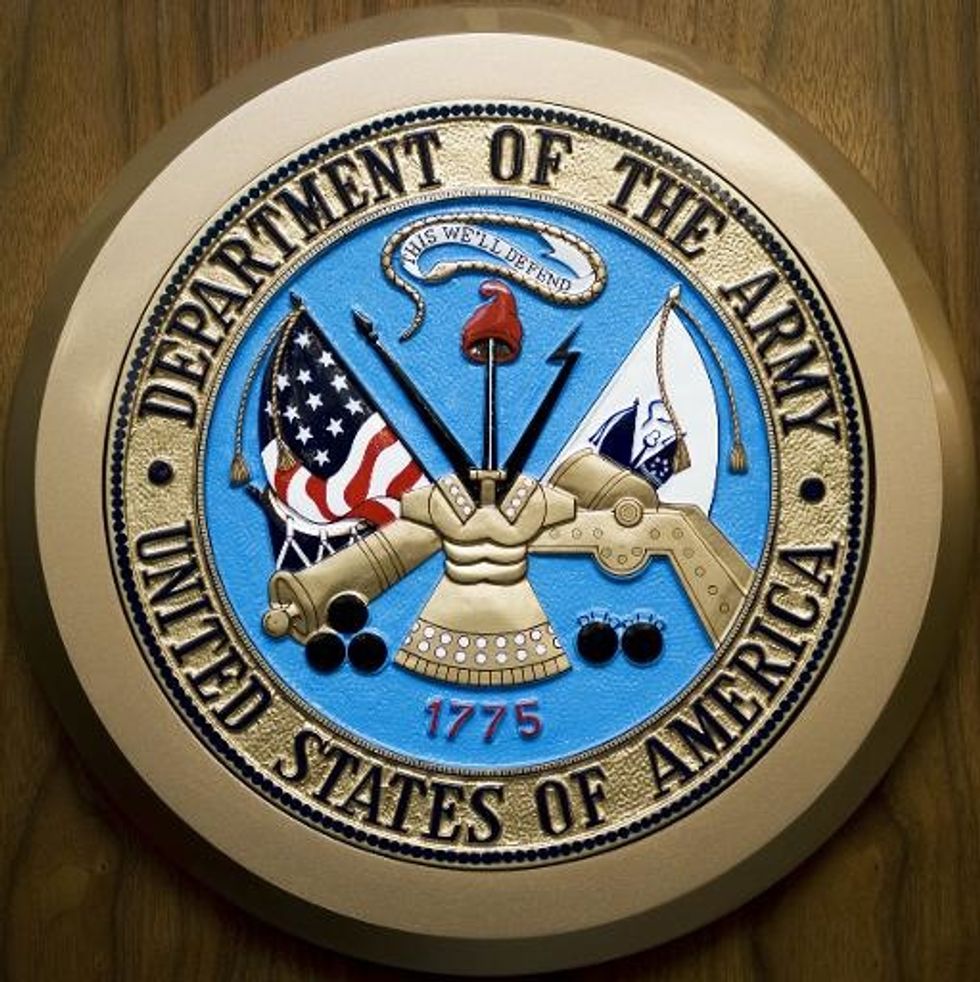 By David Zucchino, Los Angeles Times
FORT BRAGG, N.C. — His eyes red, his head bowed, Brig. Gen. Jeffrey A. Sinclair strode uneasily to a courtroom lectern Wednesday and glanced up at a silver-haired military judge who will sentence him for offenses he admits he committed.
Exactly two years had passed since a young Army captain who worked for Sinclair walked into the office of his commander in Afghanistan and revealed that she and the general had carried on an adulterous three-year affair in two war zones — prompting Army prosecutors Wednesday to ask the judge to dismiss Sinclair from the service.
Choking on his words and wiping his eyes, Sinclair apologized to the judge, the captain, his wife, his two young sons and to an institution he has served for 27 years. He begged to be allowed to retire at a reduced rank so that his family may collect military benefits "they have earned serving alongside me all these years."
It was the close of the sentencing phase in Sinclair's court-martial, where he has pleaded guilty to adultery, mistreating the captain, inappropriate relationships with two other female officers, obstructing an investigation and other charges.
Shortly after Sinclair spoke, an Army prosecutor in a blue dress uniform stood at the same lectern and asked the judge, Col. James L. Pohl, to dismiss Sinclair. Pohl, who listened to more than two hours of impassioned closing statements from the two sides, indicated he would impose the sentence Thursday.
Maj. Rebecca DiMuro said Sinclair had betrayed the Army and its officer corps by using his rank and authority to exploit impressionable young officers who came to him for guidance and leadership. She reminded the judge that Sinclair had pressured two officers for nude photos of themselves and asked a third for a date.
"Every time he chooses to harm a soldier, he harms everything it means to be an officer," DiMuro said. "General Sinclair let the Army down."
DiMuro, a special-victim prosecutor, scoffed at Sinclair's profession of concern for his family. She noted that on the final weekend of home leave with his family at Fort Bragg before he was to return to duty in Afghanistan in March 2012, he pressured a young lieutenant for a horseback riding date, saying he was "smitten" with her.
"He begged you to consider his family," DiMuro reminded the judge. But when he had the chance to consider them, she said, "he wasn't thinking about them."
Sinclair, 51, one of only a few generals to face court-martial in the last 60 years, pleaded guilty Monday to twice misusing his government charge card to pursue the affair, disobeying an order not to contact his mistress, and making derogatory and sexist comments about other female officers.
A week earlier, Sinclair pleaded guilty to impeding an investigation by deleting sexually explicit emails and photos from a civilian woman, possessing pornography in a war zone, conducting inappropriate relationships with two other female officers and asking the lieutenant for a date.
Under a plea agreement, the Army dismissed charges that Sinclair sexually assaulted the captain and threatened to kill her and her family if she exposed the affair. Also dropped were charges that the general had engaged in "open and notorious" sex in a parked car in Germany and on a hotel balcony in Arizona. If convicted on the most serious charges, Sinclair would have faced life in prison and registration as a sex offender.
The veteran of five combat tours now faces up to 25½ years in prison. However, an agreement between prosecutors and the defense puts a cap on his sentence. The actual sentence will be either the cap or the judge's sentence, whichever is shorter. Terms of the cap agreement, known as a "quantum," were not disclosed, not even to the judge.
On Wednesday, prosecutors did not request prison time. Pohl can still impose a prison sentence, but the ultimate sentence would have to be no higher than the cap. The judge will read the quantum after sentencing, then reconcile any differences with his punishment.
If Sinclair is allowed to retire at reduced rank — his lawyers proposed lieutenant colonel, the highest position in which he served honorably — a military review board will determine his retirement rank.
Sinclair said he had caused emotional distress for the captain, 34, who in sometimes tearful testimony said she was trapped and victimized by Sinclair. She said he refused to let her out of the relationship and drove her to threaten suicide. The general apologized to all four female officers.
"It was my responsibility to ensure these officers were protected and promoted, and I failed them as a leader. For this, I am truly sorry," he told the judge in a low, hoarse voice, standing a few steps from Pohl, wearing a dress uniform and polished paratrooper's jump boots.

Sinclair said he had no one to blame but himself: "I put myself and the Army in this position with my selfish, self-destructive and hurtful acts." He described "a deep and abiding sense of shame and remorse."
He paused several times to wipes his eyes. It was the third time the general had broken down in tears, first when he told the judge about lying to his mistress about divorcing his wife, and again when a defense lawyer read a statement Wednesday from his wife describing how his behavior had devastated their family.
DiMuro reminded the judge of a military skit at a roast for Sinclair in Germany in 2010, when one male officer portraying the captain donned a brown wig and knelt before another officer, portraying Sinclair, as if to perform oral sex. The skit was attended by more than 500 people, including Sinclair's wife, Rebecca, and the wives of other officers.
Rebecca Sinclair was sitting next to her husband that humiliating evening, a contrast to "the family he desperately wants you to think of now," DiMuro told the judge.
DiMuro noted that 24 defense character witnesses, most of them active-duty or retired officers, had described Sinclair as an inspirational and charismatic leader devoted to his men. The general spent more than two decades honing a reputation as one of the Army's most dynamic and promising officers, she said.
"He forsook all that collateral — every dime of that collateral, in exploiting junior subordinate soldiers," DiMuro said.
Sinclair's defense team, led by Philadelphia lawyer Richard L. Scheff, selected a soft-spoken officer, Maj. Sean Foster, to deliver a sentencing closing statement that recounted Sinclair's service and his wife's military volunteer work.
A video screen displayed photos of the Sinclairs' engagement and marriage, and their sons, now 10 and 12. Also on the screen were testimonial letters from Army officers, some retired, about Sinclair's sterling performance before his career was destroyed by his offenses.
Foster described the captain as "flirtatious" and said his accuser was not trapped in the affair. "It was a relationship she wanted to be in. … She chose to stay."
Foster said the charges that led to Sinclair being called "a rapist wearing stars" by a member of Congress had been dropped. "The reason we are here today is because of the stuff they dismissed."
He added: "General Sinclair has been punished enough."
The general was removed two years ago as deputy commander of U.S. troops in southern Afghanistan. He has spent two years defending himself in court with the help of a civilian law firm and a New York public relations agency.
"Now I have lost my ability to work at my calling — leading soldiers and planning battles," Sinclair told the judge.
AFP Photo/Paul J. Richards