Artists Demand NY Police Return Snowden Bust
@AFP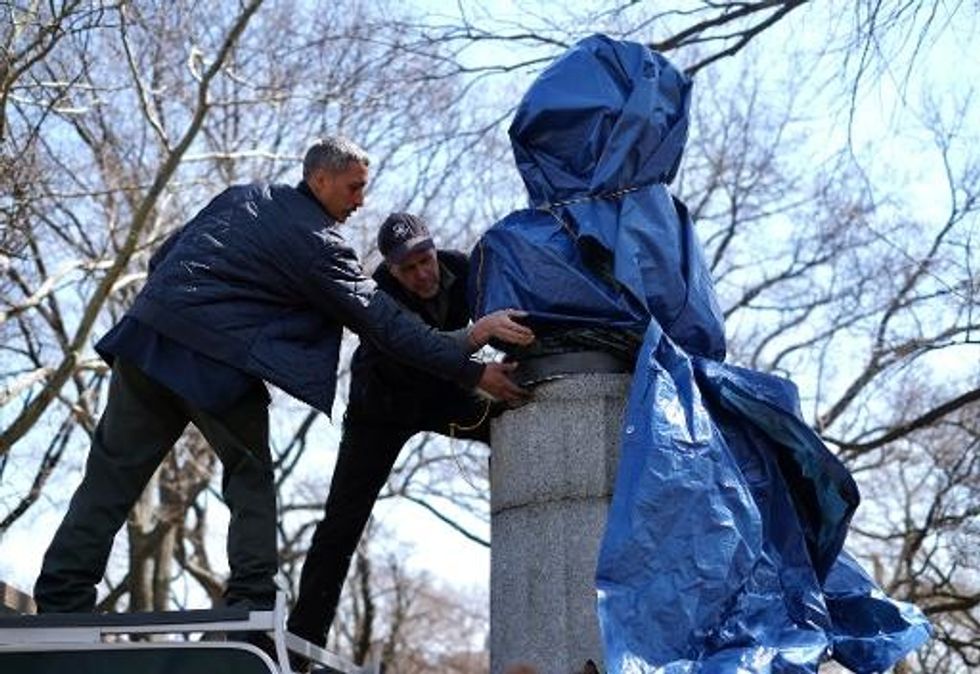 New York (AFP) — Three artists on Tuesday demanded that New York police return a bust of fugitive U.S. whistleblower Edward Snowden to public display or threatened legal action.
Civil rights lawyer Ronald Kuby said the artists would remain anonymous because they feared arrest and prosecution after authorities removed the sculpture from a Brooklyn park last week.
"We hope New York City will release the statue so it may continue to spark healthy conversations about issues central to our freedoms," the artists said in a written statement.
They erected the 100-pound bust at an American Revolution war memorial in Fort Greene park shortly before dawn on April 6, but within hours it was confiscated by police.
At a news conference on the spot where the bust was impounded, Kuby described the sculpture as a "valuable and well-crafted piece of art" that took six months to create.
"It is somewhat ironic that as Edward Snowden is in exile in Russia his statue is being held hostage in the basement of a police precinct in New York City," Kuby said.
"Whatever the right of the parks department to remove an unauthorized sculpture, that does not translate into the right of the police to indefinitely detain a work of art," he added.
A Manhattan gallery wants to put it on display next month as part of an exhibition on surveillance and privacy, Kuby said, threatening to prepare litigation if police do not respond.
A New York police spokeswoman told AFP that the statue was erected without permission and is being stored as evidence.
"All property that is confiscated for investigatory purposes may be returned to the rightful owner after the investigation is completed," said deputy chief Kim Royster in an email.
Geoffrey Croft from the NYC Park Advocates watchdog called for the statue to be exhibited in a public park as part of program that has put hundreds of works of art temporarily on display.
"Art and the freedom to express ourselves are the cornerstones of our society and they must be protected," Croft told reporters.
In a letter to police commissioner Bill Bratton demanding the statue's return, Kuby said the artists had displayed the bust on a war memorial to draw a link between martyrs for freedom in the American Revolution and those who suffer for freedom today.
Snowden, 31, a former contractor at the U.S. National Security Agency, has lived in exile in Russia since 2013 after revealing mass spying programs by the United States and its allies.
The U.S. administration has branded him a hacker and a traitor who endangered lives by revealing the extent of the NSA spying program
Photo: AFP/Jewel Samad