As Death Forecasts Double, Trump Tries To Normalize Catastrophe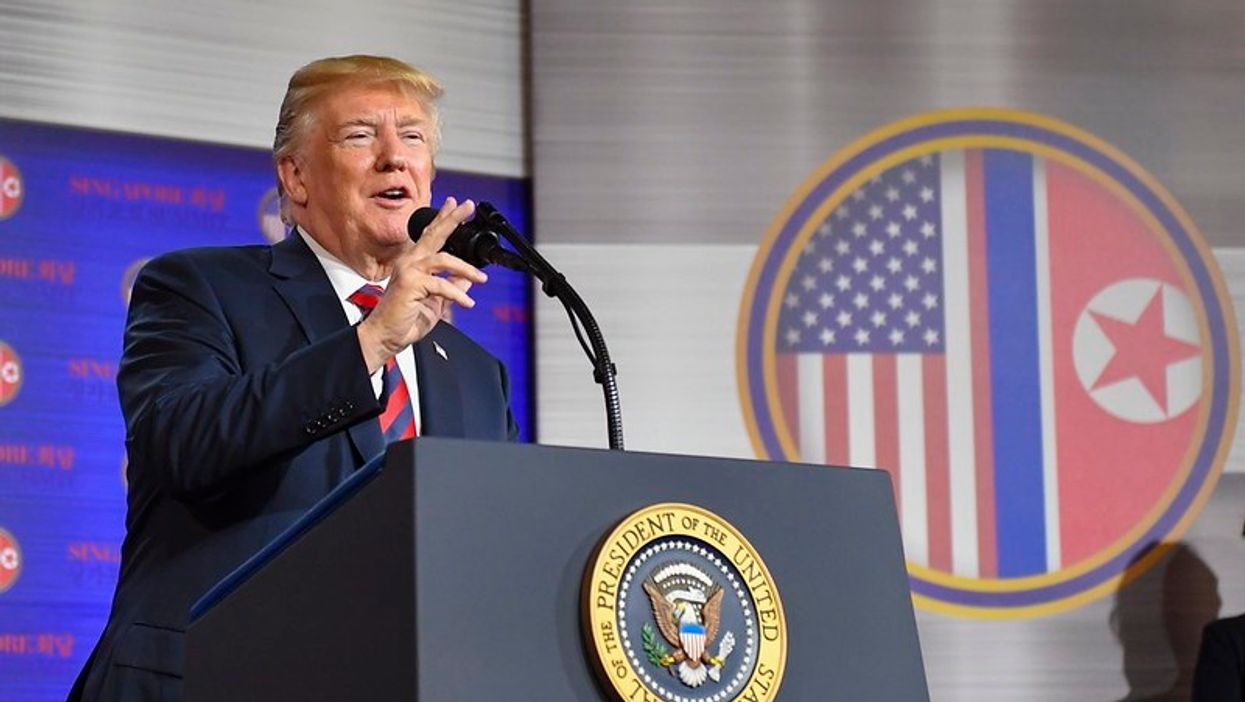 Reprinted with permission from Alternet
With his re-election on the line, President Donald Trump is desperate to convince us that he's doing a good job.
But according to the most recent counts, nearly 70,000 people have died during the coronavirus pandemic. This number is almost certainly an undercount. And the models expect the number to swell in the coming days and weeks, with some experts believing the death toll could nearly double by August 1.
---
These numbers should shock the conscience. World history was knocked off its axis in 2001 by a terrorist attack that killed about 3,000 people. Now, according to a New York Times report, an internal administration model projects that nearly 3,000 people could be dying from the coronavirus a day by June. In New York City, bodies have been buried in mass graves.
And Trump has no plan to stop it. On his watch, the federal government has abandoned key leadership functions. As he's made abundantly clear in the recent weeks, he's much more concerned with how to "reopen the economy" than he is with coordinating an unprecedented effort to quash the virus. But trying to return life to normal is exactly what could trigger a massive spike in new cases and deaths.
The president knows this, of course. He also knows his re-election chances hinge largely on the state of the economy in the fall, so he thinks it's better to risk mass death than higher unemployment numbers. And yet this is a false choice — there will be no economic rebound if thousands are still dying by the day in late summer.
Trump wants to convince us this doesn't to be the case. He's trying to convince us that the deaths we've experienced so far, and the deaths to come, aren't that big a deal. They couldn't have been prevented anyway, he suggests. Maybe, he thinks, we'll learn to accept the horrifying scale of a ghastly plague and go about our lives. Only then would he avoid the blame, and he could hold on to power.
This isn't how things were supposed to go. On Feb. 26, Trump told us what he thought a "good job" handling the pandemic would look like.
"When you have 15 people [infected with coronavirus in the U.S., and the 15 within a couple of days is going to be down to close to zero, that's a pretty good job we've done," he said in a now-famous line.
"It's going to disappear," he said the next day. "One day it's like a miracle, it will disappear."
On March 9, when he was still largely in denial, he tweeted: "So last year 37,000 Americans died from the common Flu. It averages between 27,000 and 70,000 per year. Nothing is shut down, life & the economy go on. At this moment there are 546 confirmed cases of CoronaVirus, with 22 deaths. Think about that!"
He was already trying to shift the goalposts, suggesting anything below the annual death rate of the flu would be acceptable. But now we're at the upper limit of the annual death toll he cited, reached within just a few months and after drastic mitigation efforts have been taken around the country. And there's still no end to the crisis in sight.
Since that tweet, Trump has accepted that the death toll will be in the tens of thousands. But he's gradually shifting that number up as the crisis deepens.
"I always say it: One is too many," Trump said on April 20. "But we're going toward 50 or 60,000 people. That's at the lower — as you know, the low number was supposed to be 100,000 people. We could end up at 50 to 60. Okay?"
And on Fox News Sunday night, Trump said: "I used to say 65,000. Now I'm saying 80 or 90, and it goes up, and it goes up rapidly. But it's still going to be, no matter how you look at it, at the very lower end of the plane if we did the shutdown."
He keeps shifting the projections. And that's understandable — epidemiology is complex, and no one expects models of the outbreak's course to be precise.
But — despite his lip service to the idea that one death is "too many" — he slips into predicting that add tens of thousands of Americans will die without pausing. This is the same man who said just a few months ago that going from 15 to zero cases would be a "good job." We can only conclude that Trump has catastrophically failed by his own standard, or that, by late February, he had no idea how severe the crisis facing the country was. Either explanation is damning for the president.
More important than our assessment of the president, though, should be our assessment of the crisis itself and what the country has lost. We shouldn't brush off the tens of thousands of deaths as the president wants us to. We shouldn't shrug and say the flu kills tens of thousands a year, and we may as well accept tens of thousands — if not hundreds of thousands — more.
We shouldn't accept it because it could have been prevented. Other countries in the world — South Korea, Germany, Greece, Australia, Canada — have, from all appearances, handled the crisis much better than the United States. They've had many fewer people die, both total and as a percentage of their populations, and they're on a better course to keep cases under control. We could have done much better than we did. If we had, many people who are now dead would still be alive. Fewer Americans would be grieving. More families would be whole.
And we still have the opportunity to do more to reduce the damage. If we delay efforts to resume normal economic activity and embrace extensive efforts at testing and tracing the spread of the virus, we still have the opportunity to save many lives and slow the carnage. Unfortunately, because the pandemic response in the United States has been so dreadful, and the virus has spread so far, it will be harder for us to what we need to do. Lockdowns and stay-at-home orders may have to be in place longer. We may need a much more sprawling and costly test-and-trace network to get a handle on the virus. And with these measures, workers and businesses will need more financial support from the federal government to keep their heads above water. But with so many lives at stake, it's clearly worth it.
We're living through a catastrophe. And we need to be able to see it clearly to get it under control. We can't let anyone tell us it's not happening or that's it's normal.