As NPR Tweets Declaration Of Independence, Trumpsters Freak Out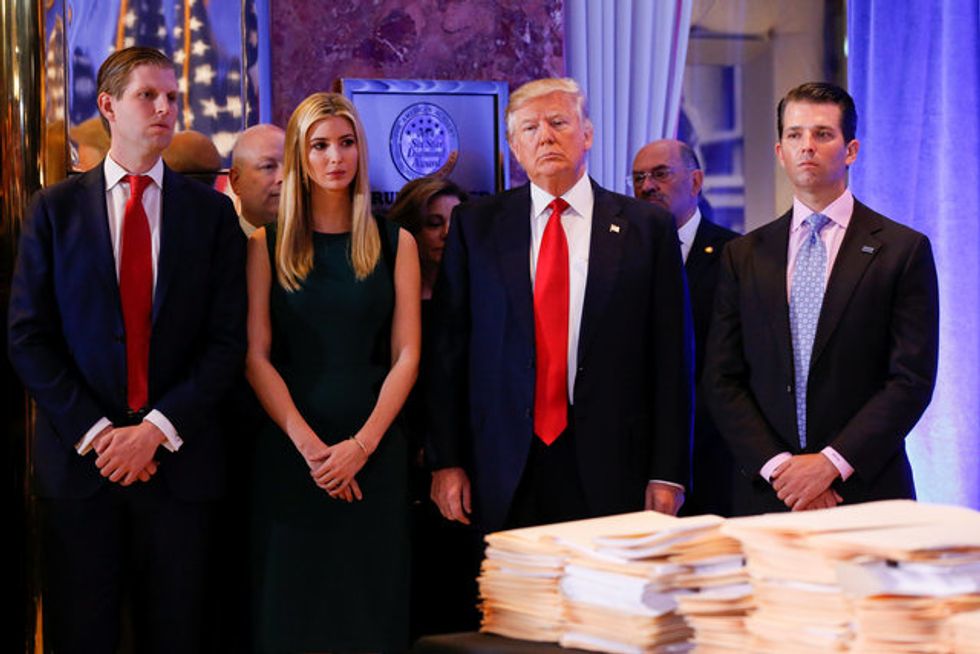 Reprinted with permission from AlterNet.
It's the Fourth of July, which means it's time, once again, for patriotic displays of deep-rooted American traditions. Across the nation, citizens will gather to celebrate the birth of the nation with fireworks and apple pie; and they will watch, once again, as Donald Trump supporters accuse National Public Radio of inciting a treasonous uprising against the president by tweeting out the Declaration of Independence.
As per it's own annual tradition, NPR last year tweeted out the Declaration of Independence line-by-line—a seemingly innocuous tribute to the nation's founding document, which outlined the thirteen original colonies' intention to separate from the Kingdom of Great Britain. Defenders of the president attacked NPR for "calling for a revolution" by tweeting phrases like "A Prince whose character is thus marked by every act which may define a Tyrant, is unfit to be the ruler of a free people."
Many patriots remembered last year's MAGA-snafu, and pulled up front row seats to this year's explosive fireworks display:
Here for the show when the #MAGA crowd inevitably shows up & freaks out about this tweet pic.twitter.com/BRVwJFGx1J

— Zack Hunt (@ZaackHunt) July 4, 2018
Psst…@NPR has started tweeting out the text of the Declaration of Independence. Please, remember, @NPR is tweeting out the text of the Declaration of Independence, and not attempting to foment a modern revolution.

— Lori Schmidt (@LoriSchmidt) July 4, 2018
Waiting for the #maga outrage to begin

— Brian Fraga (@BfragaHN) July 4, 2018
Some, however, did not get the memo:
Just chalk it up to one more reason for DJT being elected. Taxpayer funded partisan advocacy.

— Rod Kelly (@nexenrod) July 4, 2018
Our independence was won by MEN with GUNS!

— Johnny Sierra (@21untilidie) July 4, 2018
It's disgusting to use a few possible bad apples to smear our fight for independence but glorifying the British.

What are the backgrounds, initial motives & funding resources of so-called new scholars?

Attempting to tear down this nation from the very base is treasonous!

— Ann Follow back patriots porns (@AOC168) July 4, 2018
NPR pretending to care about the USA. ‍♂️

— Irie J (@TruthSeek200) July 4, 2018
But..you want to abolish our Rights & the Constitution.

Who are you kidding here?

— Irie J (@TruthSeek200) July 4, 2018
Idiotic primitive statement. Nature's God? What is that nonsense?

— Python (@ghenoic) July 4, 2018
Oh and let's not forget Obama prosecuted more ethical whistle blowers and journalists than all presidents combined. Remember Obama spying at AP on every reporter there?

— Jackatmaui (@Jackatmaui) July 4, 2018
NPR's line-by-line tweeting will continue throughout the day. We will update this post later with more MAGA outrage which will inevitably transpire as it moves through the text.
Happy Fourth of July!
Elizabeth Preza is the Managing Editor of AlterNet. Follow her on Twitter @lizacisms.