As Trump Moves Domicile To Florida, New Yorkers Say 'Buh-Bye'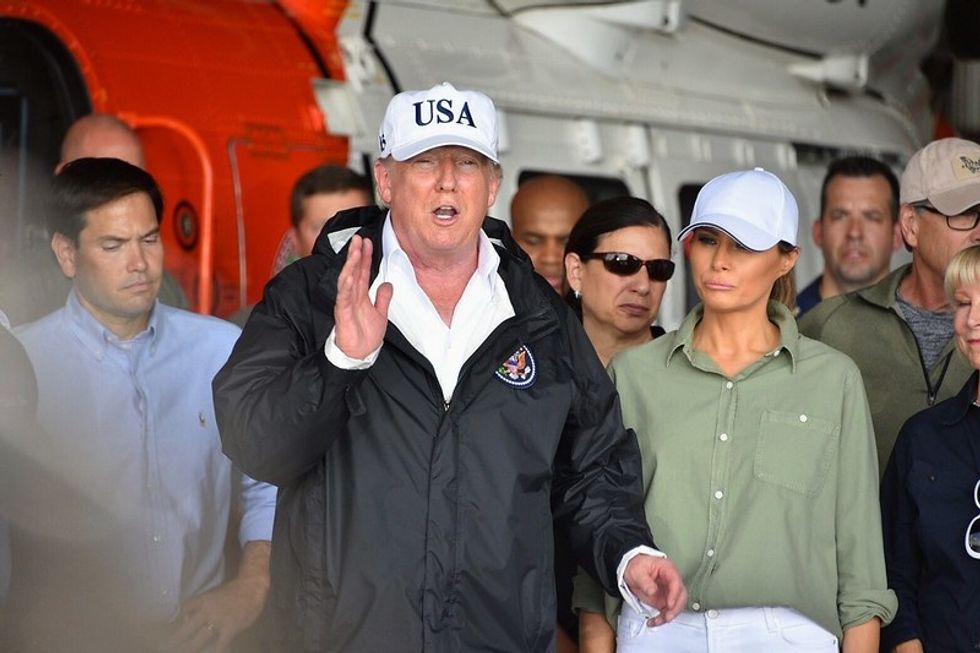 Trump's announcement Thursday that he is changing his primary residence from New York to Florida received mocking praise from prominent New York leaders.
"My family and I will be making Palm Beach, Florida, our permanent residence," Trump wrote on Thursday night. "Despite the fact that I pay millions of dollars in city, state and local taxes each year, I have been treated very badly by the political leaders of both the city and state."
"Few have been treated worse," Trump added, continuing his habit of public self-pity despite his personal good fortune and luck.
New York leaders were happy to see him go.
"Good riddance," the state's Democratic governor, Andrew Cuomo, wrote. "It's not like @realDonaldTrump paid taxes here anyway… He's all yours, Florida."
The sentiment was echoed by New York City Mayor Bill de Blasio, also a Democrat.
"Don't let the door hit you on the way out or whatever," wrote de Blasio, adding, "Our deepest condolences to the good people of Florida as Trump attempts to outrun his past (and near future)."
"White House officials declined to say why Mr. Trump changed his primary residence, but a person close to the president said the reasons were primarily for tax purposes," the New York Times reported.
Former Tallahassee, Florida, Mayor Andrew Gillum responded to Trump's announcement with an animated GIF of actor Jack Nicholson enthusiastically gesturing no.
Trump's claim that he pays "millions" in taxes in New York is impossible to independently verify.
Trump, unlike every other president and presidential candidate for the two major parties over the last 40 years, has kept his tax returns a secret. And there is credible evidence indicating that Trump has hidden income from the government on his returns.
Cyrus Vance, the current Manhattan district attorney, has been attempting to secure Trump's returns and has subpoenaed them. The Times noted that the change of residence is unlikely to affect that process.
Trump was also forced to shut down his family "charity" in New York after an investigation triggered a lawsuit by New York Attorney General Barbara D. Underwood (D). Underwood accused the Trump family of using the entity for "repeated and willful" acts of corruption.
New York also soundly rejected Trump in the 2016 election. He lost by nearly 23 percentage points there to former Secretary of State Hillary Clinton, who resides with her husband in a New York City suburb.
Published with permission of The American Independent.