Attorney General Barr Denies Role In Ukraine Scandal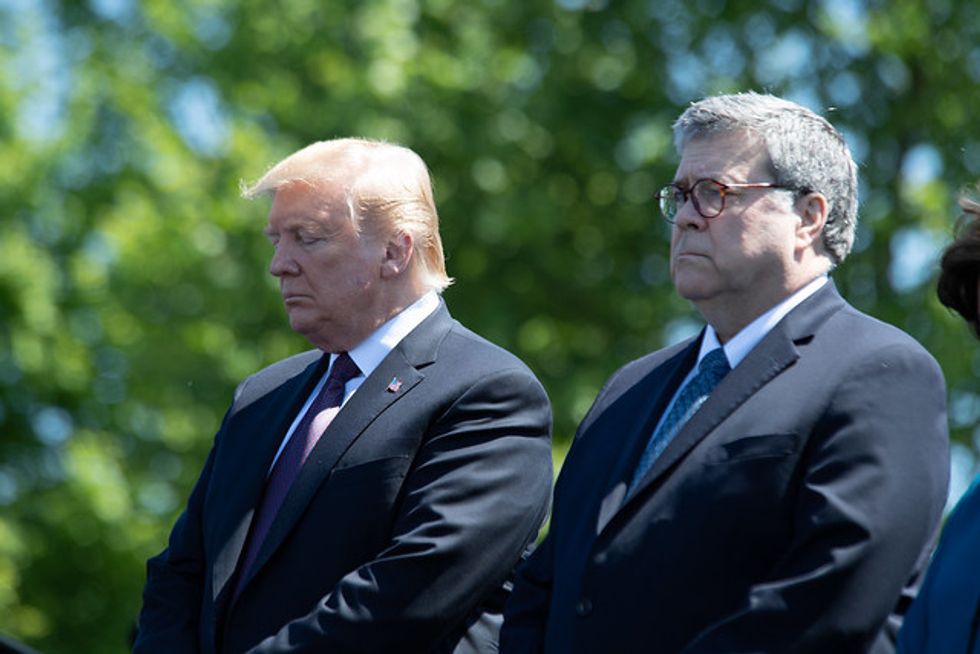 A statement from the Justice Department contradicts Donald Trump's words about Attorney General William Barr's involvement in pressuring the Ukrainian government to dig up dirt on former Vice President Joe Biden.
"The President has not spoken with the Attorney General about having Ukraine investigate anything relating to former Vice President Biden or his son," a Wednesday DOJ statement stated. "The President has not asked the Attorney General to contact Ukraine — on this or any other matter."
However, the White House released a memo about a July 25 phone call between Trump and Ukrainian President Volodymyr Zelensky where Trump explicitly states that he will ask Barr to be in touch with Ukrainian officials.
"There's a lot of talk about Biden's son, that Biden stopped the prosecution and a lot of people want to find out about that so whatever you can do with the Attorney General would be great," Trump says, according to the readout from the call. "Biden went around bragging that he stopped the prosecution so if you can look into it… It sounds horrible to me."
Trump mentions Barr several times during the call with Zelensky.
Jeffrey Toobin, CNN's legal analyst, said the document from the White House raises serious and significant questions about Barr's role in the Ukrainian scandal.
"Attorney General Barr is all over this transcript," Toobin said. "What was his involvement with the president, with Rudy Giuliani, in the whole Ukraine story?" After noting the statement from the DOJ, Toobin asks, "Why was he [Barr] mentioned so often by the president?"
Barr's involvement is also being questioned by others. After Trump's call with Zelensky, the intelligence community inspector general referred a criminal complaint to the Department of Justice to investigate whether or not Trump broke the law by soliciting dirt form a foreign national on a political opponent. The DOJ decided not to file charges.
When a whistleblower complaint related to Trump's behavior regarding Ukraine was raised with the inspector general, the DOJ stepped in and prevented the complaint from being turned over to Congress, as the law demands.
Rather than send the complaint to Congress, the DOJ determined it should be sent to Barr.
Barr played a major role in disseminating disinformation about special counsel Robert Mueller's report prior to the report being released publicly. His spin portrayed the Mueller report in a positive light for Trump, whereas the actual report describes several instances of Trump obstructing justice.
At a May Senate hearing, Barr was asked what a candidate should do if they are approached by a foreign national and offered dirt on a political opponent. Barr refused to directly answer the question, which was asked only a few weeks before Trump solicited dirt on a political opponent from a foreign government.
If, as Trump says, Barr was involved in trying to solicit political dirt on Trump's political opponents from the Ukrainian government, it makes sense why he was so reluctant to answer such a question. And given the contradictory statements from Trump and the DOJ, Barr's involvement in the Ukrainian scandal is still unknown.
Published with permission of The American Independent.