Author And Activist Gloria Steinem: Making Her Past Present for All
@JamieStiehm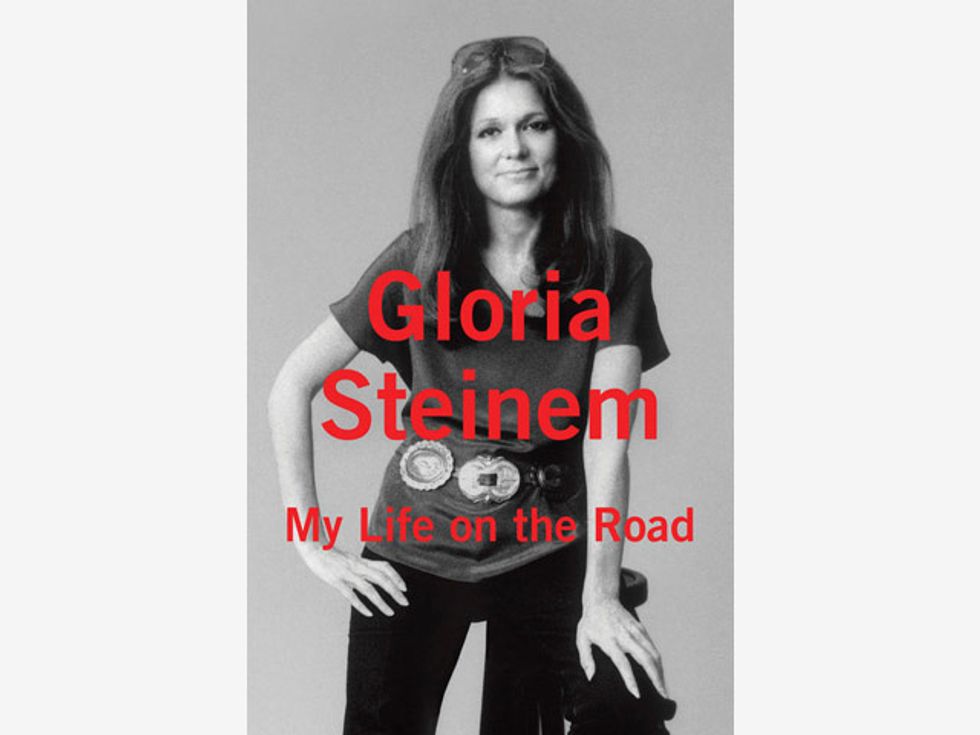 WASHINGTON — Sisterhood is not as powerful as it used to be.
But now comes Gloria Steinem, the wise, wry feminist icon in her early 80s, with a memoir that reads like a letter to the future. Its title, My Life on the Road, lies in the American tradition of a restless quest.
"The road forces you to live in the present," Steinem said on a Washington stop, explaining why she may be found in Rapid City, S.D., one day, Detroit the next and on any given college campus the third.
Last spring, she led peace activists crossing the DMZ (demilitarized zone) in South Korea. She swims in the shallows, she says poetically, but gets to the deep.
The founding editor of Ms. magazine has a nice place to touch base in New York, but yearns to be at home in the world.
Steinem addressed a full house in the historic Sixth and I synagogue with disarming grace. Her warm you-and-me smile and resonant voice filled a hunger in the space.
"Do you all know each other?" she began. "We have to organize!"
True. The autumn vibe suddenly felt like the start of a campaign, just as her friend Hillary Clinton's fortunes were picking up. The book event was not a political rally, but Steinem's timing was excellent. Winds of change were rustling.
Yet the question of whither the women's movement (or wither) was not what Steinem came there to answer. Neither her talk nor book offers a blueprint for the next revolution or revival.
For ages, the absence of a successor to Steinem's charismatic leadership caused women's rights to languish. Choice is under attack, keeping us frozen on other fronts.
Steinem's breezy voice breaks the usual narrative. After her girlhood in Ohio, she cuts across time and paints conversations, characters and moments in social history with a deft brush.
Perhaps this self-portrait is to reveal a woman living in full in a series of fast-moving stories.
Take 1963, in the late summer heat. Something big was happening in Washington. Martin Luther King Jr. was organizing a March in Washington. In New York, working as a freelance journalist, Steinem could not get an assignment to cover it:
"I decided not to go to the March — right up until I found myself on my way. All I can say years later is: If you find yourself drawn to an event against all logic, go."
A black woman Steinem met pointed out there were no woman speakers on the program. Only one, Washington's distinguished Dorothy Height, was seated on the Lincoln Memorial platform, where King gave his majestic "I Have a Dream" speech.
Women sat at the back of the bus in the '60s human freedom movement. The uneasy relationship between these brother-sister movements goes back to right after the Civil War, as Steinem notes. Women who worked for slave emancipation expected to become citizens, too, in the Civil War settlement. It did not happen that way.
A century later, Steinem recalls Gay Talese telling Saul Bellow, "You know how every year there's a pretty girl who comes to New York and pretends to be a writer? Well, Gloria is this year's pretty girl." Ouch. Second-class citizenship could not be clearer in her own line of work in 1968.
Knowing the smacks of sexism, Steinem led the vanguard of women (born in the '30s, with Franklin and Eleanor Roosevelt as beacons) set free by the women's movement of the early '70s. The Supreme Court decision, Roe vs. Wade, which codified legal abortion, became law during period. So long ago.
Steinem dedicated her story to the London doctor who approved her abortion in 1957. He made her promise to keep it secret. Secondly, he said, "You will do what you want to with your life."
I took this lesson from her book: a movement needs to keep moving. By 1991, 25 Novembers ago, the women's movement was losing ground. Hence Clarence Thomas's confirmation to the Supreme Court, over women's testimony.
Steinem uses the parable "For want of a nail" to reverberate to the Supreme Court Bush v. Gore 5-4 decision. Thomas cast the "one man, one vote." The senator who championed him narrowly beat a Democratic woman.
So Steinem's book is a testament to her politics. As they say, the personal is political.
To find out more about Jamie Stiehm and read features by other Creators writers and cartoonists, visit Creators.com.