An Activist Built A Website To Help Renters Avoid Giving Money To Jared Kushner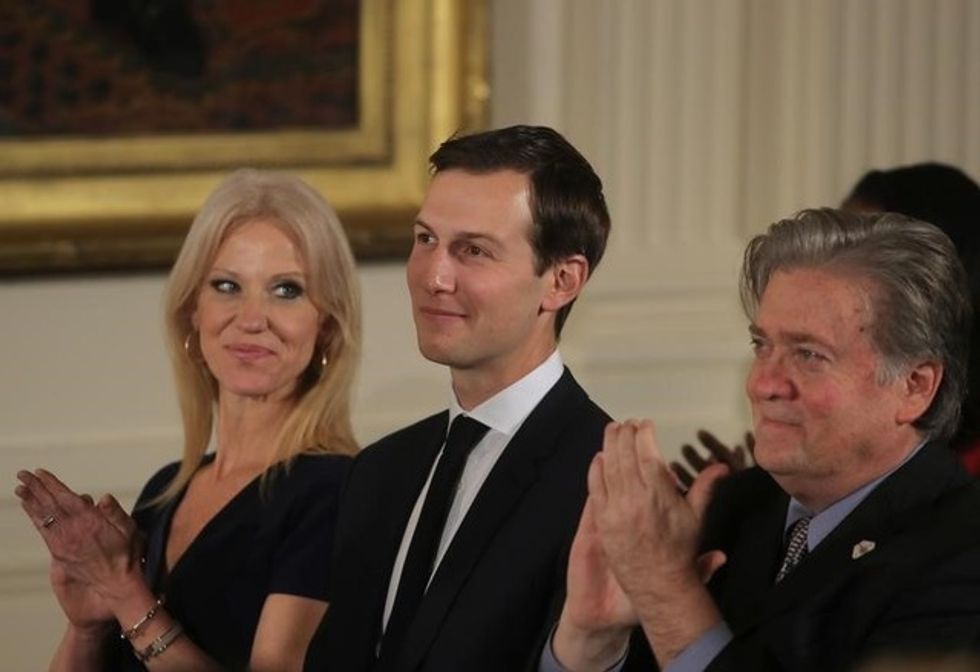 Reprinted with permission from Alternet.

Activists have targeted Donald Trump's vision of himself as a successful businessman by staging boycotts of his and his daughter Ivanka's companies. But while "the name Trump is easy to find," as C. Brooks points out, Trump's son-in-law Jared Kushner's business tentacles are spread more covertly than his father-in-law's, though just as widely. So Brooks started the website Don't Be Complicit, a directory of Kushner-owned or -affiliated businesses to help renters and house hunters make sure they aren't inadvertently subsidizing the wealthy real estate developer.
As Brooks explained to AlterNet, "GrabYourWallet has done a great job explaining how to boycott Trump products, but there are other ways in which the public enriches Trump and his family without realizing it…many anti-Trump people have no idea that avoiding Trump-branded products is only one way to stop subsidizing Trump and his family. So my overall goal is awareness."
One of the ways people may unknowingly fund Trump and his family is by renting or buying a property owned by Jared Kushner or his family. Before Trump assigned his son-in-law to "do peace" in the Middle East, Kushner was a notorious East Village building owner and developer. As one of his tenants told the Village Voice about life in a Kushner-owned building: "It's disgusting. It's insane. It's ludicrous… I don't know how to tell you how despicable this man is."
Kushner's company used what tenant organizers call "construction as harassment," where owners looking to cash in on luxury apartments (i.e., raise rents) run construction crews at all hours of the day and night, causing constant noise, fumes and dust.
Another resident told the Voice, "This guy's company preys on the feeble and infirm, lies, charges illegal late fees, puts tenants at risk in myriad ways, whose overall message to tenants is a shrug and a 'you get what pay for' re: heat, gas, hot water, modern plumbing, and electricity."
Kushner's own Westminster Management owns over $400 million in buildings in New York City. Kushner Companies, started by his father, Charles Kushner, and still going strong despite the elder Kushner's jail stint, includes the ominously numbered 666 Fifth Avenue, which according to Bloomberg, stands to net an additional $400 million from a Chinese company that is considering investing in the project.
Brooks, a member of the New York City anti-Trump activist group GetOrganizedBK, created Don't Be Complicit to serve as a resource for New Yorkers and anyone else looking to avoid giving money to Jared Kushner.
The site is still in its early stages, with properties listed in continually updated Excel spreadsheets, but the About section explains that it can be used in multiple ways:
If you are a renter, you can use this list to avoid making Kushner your landlord (or to help you figure out if it's time to move).
If you are a small business seeking space, you can find out which complexes and buildings are linked to Kushner and Trump (most of them do not have "Trump" in their names!) and avoid signing leases there.
If you are a consumer, we encourage you to reach out to Kushner Companies' large tenants and tell them how you feel about their choice of landlord. But we urge you NOT to punish small businesses that rent from Kushner; chances are, they signed their leases before Trump entered the presidential race. Do tell these business owners (in a friendly, polite way!) about your concerns, and encourage them to post signs and support organizations that reject the Trump agenda.
Going forward, Brooks plans to continually update the site and says he "wouldn't mind seeing people avoid renting from Kushner Companies, especially now that the rental market in NYC and other areas is softening and landlords are scrambling." After all, "Trump and his advisers have outright contempt for urban America, so why should we subsidize that contempt?"
Ilana Novick is an AlterNet contributing writer and production editor.
This article was made possible by the readers and supporters of AlterNet.