WATCH: Aziz Ansari Destroys Donald Trump Over Khan Family Feud: 'You Have a Black Soul'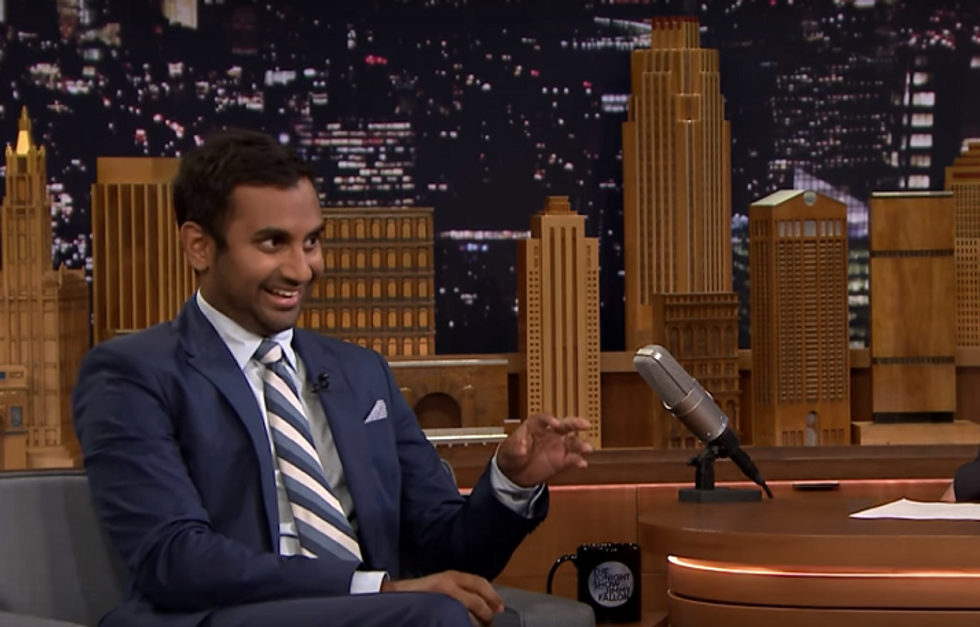 Published with permission from Alternet
Aziz Ansari, best known for his role on "Parks and Recreation" and as the creator of "Master of None" is relishing the election drama.
"It's a very riveting election," Ansari told Jimmy Fallon Wednesday, joining Fallon on "The Tonight Show" for the first time since November, when he played presidential hopeful Bobby Jindal.
"There's like, feuds and stuff," Ansari continued. "Right now, it's him and the Khan family. My God, they are destroying him."
Ansari's parents are Muslim immigrants. Because of which, he relates deeply to the Khan family's strggles with Trump's policy proposals, as he stated in his June New York Times Op-Ed titled "Why Trump Makes Me Scared for My Family."
In the widely publicized critique, Ansari wrote:
Being Muslim American already carries a decent amount of baggage. In our culture, when people think "Muslim," the picture in their heads is not usually of the Nobel Peace Prize winner Malala Yousafzai, Kareem Abdul-Jabbar or the kid who left the boy band One Direction. It's of a scary terrorist character from "Homeland" or some monster from the news. Today, with the presidential candidate Donald J. Trump and others like him spewing hate speech, prejudice is reaching new levels. It's visceral, and scary, and it affects how people live, work and pray. It makes me afraid for my family. It also makes no sense.
"The Khan family is the Drake to Donald Trump's Meek Mill," Ansari compared. "I mean, it's crazy. The guy makes a speech like, 'Have you read the constitution? Let me give you a copy,'" Ansari exclaimed, imitating Khzir Khan in his speech at the Democratic National Convention last Thursday.
Fallon cracked up.
"And Trump's like, 'Why doesn't your wife say anything?' And then the guy goes, 'You have a black soul,' which is the coldest sh*t I've ever heard. I've never heard anyone say that. I heard that was gonna to be a line in Tupac's 'Hit 'Em Up,' and he's like, 'Nah, it's too mean, too much. Don't wanna say that," Ansari joked.
Watch:
Photo: Screenshot via The Tonight Show Starring Jimmy Fallon/YouTube