If They're 'Pro-Life,' Why Did Republicans Vote No On Baby Formula?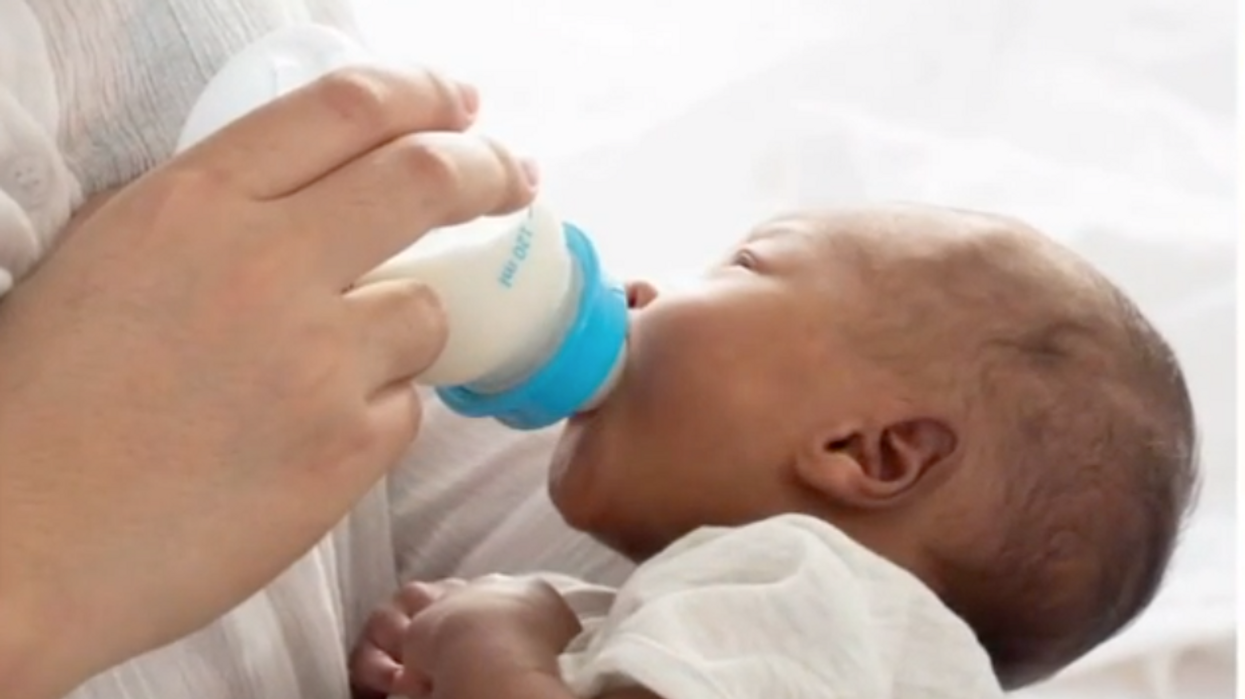 In the long era of anti-abortion demagoguery, "babies" have been the enduring symbol of Republican caring. They want to defend the rights of babies as persons even before they are born. Or, as former Congressman Barney Frank quipped, "From their perspective, life begins at conception and ends at birth."

And yet Congressional Republicans proved beyond doubt this week that they regard living, breathing babies solely as political props, not real human beings with actual needs. True to compassionless form, nearly every Republican in the House voted no when the chance came to feed infants, living ones.
Did you get that latest "pro-life" hypocrisy? The Republicans almost unanimously opposed a bill to increase the supply of infant formula during a crisis—192 Republicans against, with only 12 breaking ranks. What could make them behave so irresponsibly and even cruelly? Because they always want the problem and never want the solution.
What this midterm election season is teaching us about the Republican Party is a political lesson we ought to have learned years ago. When a real problem arises, like soaring inflation or supply chain disruptions, they propose nothing and oppose everything. They just want to exploit whatever the problem is for political profit—and often for the financial profit of their dark money benefactors.
By voting against an emergency Biden administration bill to alleviate the nationwide shortage of baby formula, the House Republicans again proved Barney Frank's adage that their party is "pro-life" until the moment of birth. After that, it's every baby for herself. The Republicans' complaint that the White House is "throwing money at the problem" sounds especially absurd because the bill's cost to solve a very serious problem is a mere $28 million, literally a rounding error in the Food and Drug Administration budget, let alone overall federal spending.
Given the usual glacial pace of Washington, the White House has in fact moved with blinding speed to solve the shortage, slashing away barriers to safely import formula from abroad and reopen the Abbott Labs factory whose closure from contamination had sharply limited domestic supplies.
Acting decisively, President Joe Biden has invoked the Defense Production Act to corral raw materials for the formula manufacturers and ordered the Pentagon to airlift specialty formulas from overseas that are urgently needed by several thousand families. The result, according to White House data, is that during the past four weeks more formula has been produced than during the same period preceding the Abbott formula recall that caused shortages in many states.
Instead of embracing solutions, of course, the Republicans are constantly searching for scapegoats, with particular attention to inflaming ethnic and racial hostility. Recall that the baby-formula debate began with Republican leaders attacking the White House over pallets of formula sent to the southern border, where infants in migrant families detained by authorities also needed to be fed.
The freak show contingent of the GOP has set the tone. Led by Reps. Marjorie Taylor Greene and Matt Gaetz, they accused Democrats of feeding migrant babies instead of native-born babies, as if the government policy should allow those other infants to starve to death. See, that's how much these "replacement theory" racists value and love babies. "Pro-life" apparently means let living babies die.
And this week, following that compassionate "pro-life" agenda, those same Republican extremists voted against expanding the Women, Infants and Children program to allow lower income families to buy more varieties of formula. Instead, they seized on the chance to blame poor families for the shortage too. There were only nine of those monstrous members in the GOP caucus, but they're the party vanguard.
If the Democrats were more like their partisan adversaries – that is, more concerned with pointing fingers than nourishing children – they might well have seized the opportunity to blame the Trump administration for the formula shortfall. Pursuing his futile and destructive trade war with China, Trump's trade advisers wrote provisions into the US-Mexico-Canada Act that hindered exports of baby formula from Canada. To thwart a Chinese investment in an Ontario, Canada dairy plant, they made it virtually impossible to bring formula over the northern border. American infants are now going hungry thanks to that typically counter-productive and thoughtless action.
The Biden administration and Democrats in Congress have scarcely mentioned this Trumpian predicate to the current national predicament. They're too busy figuring out how to get actual bottles of formula into the mouths of real infants that need them. They're too concerned with solving the problem. Meanwhile, the Republicans chortle that they have manipulated public opinion into believing that it was all Biden's fault at the same time they attempt to sabotage the solution. It's their heartless, cynical, and absurdly predictable game. They are not crying about spilt milk.
Americans need to understand that if they vote for Republicans, real live children are going to suffer. Just look no farther than those 192 House Republicans who voted against baby formula.