Backed By Strikes, Kurds Battle To Defend Key Syria Town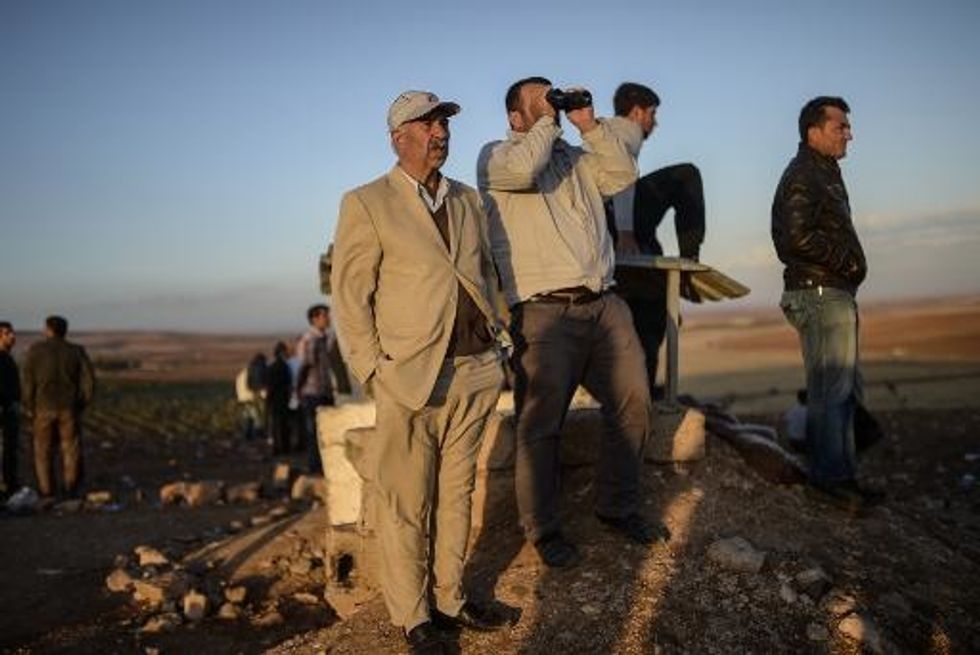 Mursitpinar (Turkey) — Kurdish fighters backed by U.S.-led coalition air strikes were locked in a fierce battle Wednesday to prevent a key Syrian border town from falling into the hands of jihadists.
The heavy clashes in Ain al-Arab on the border with Turkey — a crucial recent battleground in the fight against the Islamic State group — left at least 10 people dead overnight, monitors said.
Kurdish forces have been on the retreat for more than two weeks in the face of a jihadist assault on the town that sent tens of thousands of refugees streaming across the border.
With IS fighters less than three kilometers (two miles) from the town, the U.S.-led coalition carried out at least five air strikes on Wednesday, the Syrian Observatory for Human Rights said.
The Britain-based monitoring group said the strikes hit IS fronts south and southeast of the town, known as Kobane by the Kurds, where at least nine Kurdish fighters and one IS militant were killed in overnight fighting.
Ain al-Arab would be a key prize for IS, giving it unbroken control of a long stretch of the Syrian-Turkish border.
The U.S.-led coalition of Western and Arab allies is providing air support to local forces in their ground war against IS, an extremist Sunni Muslim group that has seized control of large parts of Syria and Iraq.
The U.S. launched strikes in Iraq in August and has been joined by Western allies. Last week, Washington and Arab states also began hitting IS targets in Syria.
In Iraq, Kurdish fighters were advancing against IS militants on three fronts, with support from British and U.S. air strikes.
Backed by 11 coalition strikes, Kurdish forces went on the offensive on Tuesday in the town of Rabia on the Syrian border, north of jihadist-controlled second city Mosul, and south of oil hub Kirkuk, commanders said.
– Pentagon appeals for patience –
The Pentagon meanwhile appealed for patience, warning that there would be no quick and easy end to the fighting.
"No one should be lulled into a false sense of security by accurate air strikes," Pentagon spokesman, Rear Admiral John Kirby, told reporters.
"We will not, we cannot bomb them into obscurity."
A long-term effort will be needed to train and arm Syrian rebel forces and strengthen Iraq's army, he said.
He said "military action alone will not win this effort".
The U.S. Marine Corps plans to deploy 2,300 troops to the Middle East for a new "special purpose marine air ground task force" designed to quickly respond to crises in the volatile region, Kirby added.
The idea for the task force originated before the U.S. air strikes against the Islamic State group and is not related "to the ongoing operations in Iraq," he said.
NATO member Turkey, after months of caution in the fight against IS, has decided to harden its policy, and the government asked parliament Tuesday to authorize military action against IS in Iraq and Syria.
Lawmakers are due to debate a motion Thursday that Deputy Prime Minister Bulent Arinc said would "meet all the demands and eliminate the risks and threats".
Turkey has remained tight-lipped about what its intervention will entail, but Arinc indicated the parliamentary mandate will be kept as broad as possible to allow the government freedom to decide.
Australia announced that its military jets were joining the U.S.-led air campaign in neighboring Iraq in a support capacity, a day after Britain carried out its first strikes on IS targets there.
Australian Prime Minister Tony Abbott, who has described IS as an "apocalyptic death cult" said the aircraft would provide reconnaissance and refueling support only for now.
"We have not yet made a final decision to commit our forces to combat but Australian aircraft from today will start flying over Iraq in support of allied operations," Abbott told parliament.
"Ours are support operations, not strike missions. Australian air strikes await final clearances from the Iraqi government and a further decision by our own."
Britain said its jets had destroyed an IS convoy west of Baghdad on Wednesday in their second strikes on the jihadists in Iraq in as many days.
On Tuesday, British warplanes destroyed an IS heavy weapons post and a machine gun-mounted vehicle in the country's first air strikes against the group in Iraq.

AFP Photo/Bulent Kilic
Want more world and political news? Sign up for our daily email newsletter!