Backlash Hurts Dallas Neighborhood Touched By Ebola Case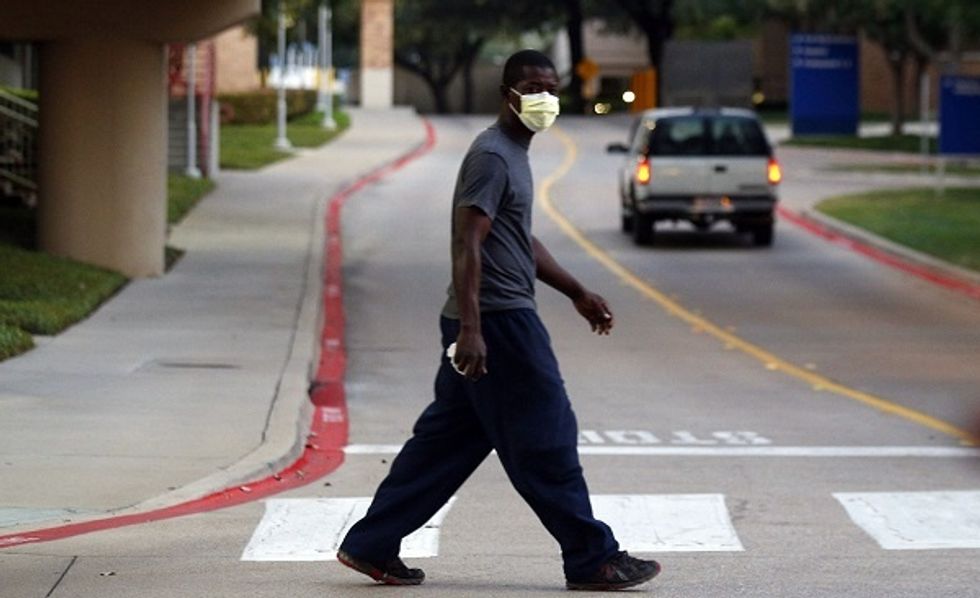 By Dianna Hunt and Dianne Solis, The Dallas Morning News
DALLAS — Schoolchildren were left without tutors. Medical clinics were short on staff. Workers were told to stay home. And the shelves at a food bank were stocked and ready but few people turned up for supplies.
A backlash against immigrants and refugees in the Vickery Meadow area — the heart of the community touched by the Dallas Ebola case — is causing a shortage of volunteers at some charities. Work-related problems are surfacing for others, community leaders said.
The residents are being unfairly targeted by those who don't understand they are not at risk of passing on the Ebola virus, said Dallas City Council member Jennifer Staubach Gates, who represents the area.
"These residents are safe," Gates said. "Even though they are at the epicenter of the Ebola case … they are not at risk for getting the disease and they are not at risk of transmitting the disease, and unfortunately they are feeling discriminated against."
Residents who came in contact with Thomas Eric Duncan, a Liberian man fighting for his life at Texas Health Presbyterian Hospital Dallas, are being monitored. Those who didn't have contact with him are not at risk of contracting or spreading the virus, health officials have said.
But that hasn't stopped volunteers from failing to show up, prompting a renewed call for people willing to work in the community, said Ellen Mata, director of mission programs at NorthPark Presbyterian Church. She is coordinating the recruitment effort.
Mata said one or two dozen volunteers failed to show up in the week since the Ebola crisis began. "Several of these nonprofits have had volunteers who have backed out on commitments," she said. "We are trying to fill those."
Particularly hard hit have been Heart House Dallas, which provides tutors and after-school help for children in four apartment complexes, and the Vickery Meadow Neighborhood Alliance Food Pantry, Mata said.
"Some of the after-school programs are needing volunteers to help with tutoring and reading with the kiddos," she said. "They are looking for some people to help with special projects."
Officials at the food pantry were expecting the usual heavy turnout on the first Saturday of the month. But volunteers and people in need largely stayed home, officials said.
"People needing food were afraid to leave their family … because of the way people (in the community) are treating them," Mata said.
Gates said many residents don't understand what is happening. "They're a vulnerable population," she said. "The trust factor is not always there with government officials. We have to let them know we're here to help."
Officials at Heart House and the food pantry did not return phone calls for comment.
Meanwhile, new volunteers are beginning to step forward, including a registered nurse who will be assigned to work at Healing Hands Ministries, which operates a medical and dental clinic, Mata said.
Rebecca Range, executive director of the Vickery Meadow Improvement District, said about 40 people met Monday, including officials with the Centers for Disease Control and Prevention and nonprofits and faith-based groups.
"Many residents are telling them that they can't go to work and are being turned away at restaurants based on their appearance," Range said. "Help us spread the word that there is no need for this stigma."
Two lawyers were brought in to meet with residents but calls to the attorneys were not returned Monday.
At the Human Rights Initiative of North Texas, executive director Bill Holston, who did not attend the meeting, said laws are in place to protect immigrants and other workers.
"It's a heavily immigrant neighborhood," he said. "I understand people's nervousness about an infectious disease but it is wrong to discriminate against an entire class of people."
Gates said three men told her they were told to leave work at an undisclosed location because they lived in the Ivy Apartments, where Duncan had been staying. "Those people had no contact with Patient Zero and they're not being traced by the county," Gates said. "But because of where they live, they were turned down at work."
Dallas Independent School District officials are working to prevent bullying of students who hail from Africa or the apartment complex. They also are working to prepare students for the day when the five students who came in contact with Duncan — and who are now staying home and being monitored — return to school. The virus has a 21-day incubation period.
"We are … in the process of having a team develop guidance lessons for students around sensitivity, around how Ebola is actually spread and how students can help create a support group for the students when they return to class in a couple of weeks," said Jon Dahlander, school district spokesman. "Part of the lesson will be about helping all students understand the fear that the students who were exposed to the virus are currently facing."
Photo/Nathan Hunsinger/Dallas Morning News/MCT
Interested in more national news? Sign up for our daily email newsletter!