Bannon's Bluster Exposed The Trump Coup Before It Even Began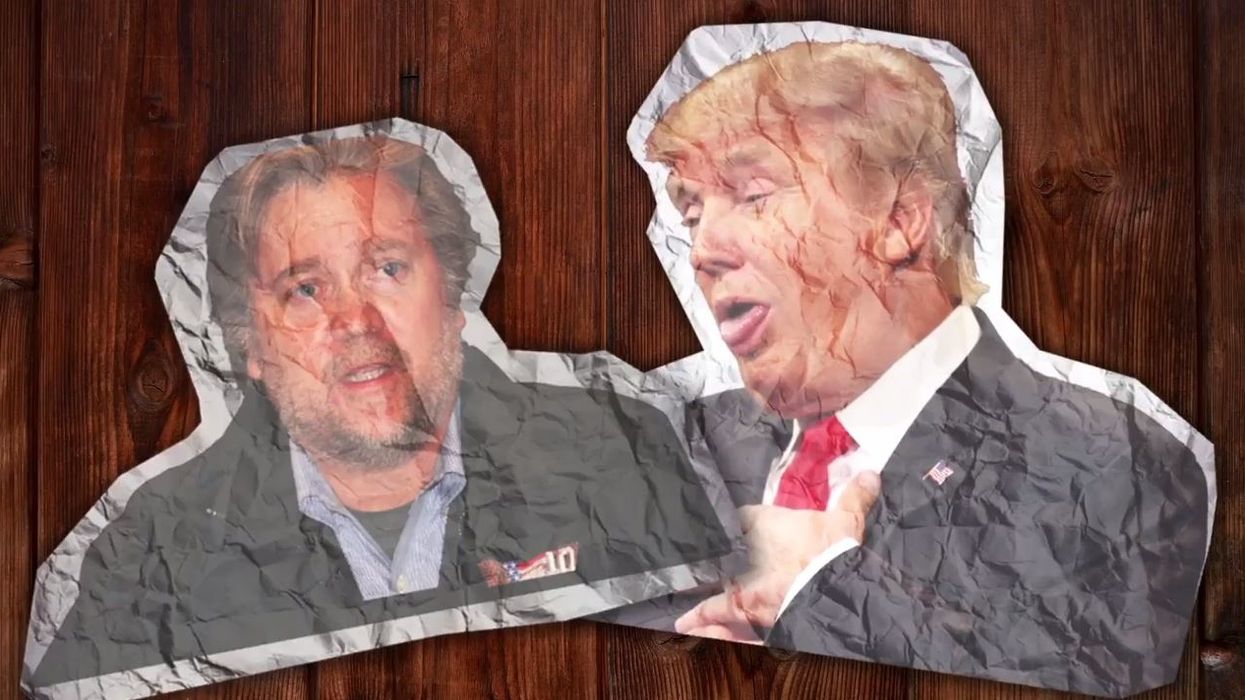 In the world according to former President Donald Trump and his apologists, the former president sincerely believed — and still believes — that election fraud and "irregular" voting deprived him of victory in the 2020 election. They will tell you that he never thought those he had summoned to Washington on January 6 would physically attack the Capitol, and that rather than inciting violence, he tried to send the mob home "in peace."
But the evidence that continues to emerge is vaporizing that fabricated version of events, despite the increasingly frantic and obscene repetition of his insulting lies. As the true story of Trump's attempted coup unfolds, it is more and more obvious that he not only knew the fraud claims were false, but that he and his criminal gang had planned their election deception for months in advance.
The latest proof comes directly from the mouth of Steve Bannon, the crypto-fascist agitator who formerly served Trump as his 2016 campaign manager and White House political strategist.
On July 12, Mother Jones magazine published an audiotape of Bannon boasting privately about Trump's strategy of deception on Oct. 31, 2020, a few days before the election. Speaking to a group of right-wing Chinese immigrants sponsored by Guo Wengui, a dubious business figure who backs Bannon's political ventures, he predicted in accurate detail how Trump would behave on Election Night.
After noting that Republicans would tend to vote in person while Democrats were more likely to vote by mail, Bannon explained why this meant a delay in counting ballots that afforded Trump a "natural advantage... And Trump's going to take advantage of it. That's our strategy. He's gonna declare himself a winner."
Their simple plan was to exploit the "red mirage" of an early lead.
"What Trump's gonna do is just declare victory. Right? He's gonna declare victory. But that doesn't mean he's a winner," Bannon chortled. "He's just gonna say he's a winner." Describing what would happen when, as Bannon expected, Trump amassed an early lead in key states, he added, "As it sits here today," at 10 or 11 o'clock Trump's gonna walk in the Oval, tweet out, 'I'm the winner. Game over. Suck on that.'"
Of course, there was no way for Bannon or Trump to know on Election Night how many votes would ultimately accrue to either candidate, or whether any irregularity or "fraud" swayed the outcome. Nor did any of that matter to them at all. Days before a single vote was tallied, Bannon knew that his candidate would claim victory, ignore the actual votes of Americans and deny the peaceful transfer of power, possibly by instigating violence.
At no point on the hourlong tape does Bannon proffer any complaints about actual Democratic "fraud," the Big Lie he and Trump and their claque have since shrieked so insistently. No, there isn't even a hint of the usual fake indignation that is a favorite GOP propaganda tactic. Instead, he laughs about the very real and cold-blooded fraud that his old boss is about to perpetrate on American democracy — and the bloody response that he hopes will ensue.
Those remarks were the ranting of a criminal conspirator, in Bannon's case a remorseless crook whose monetizing of political extremism earned him a federal fraud indictment for swindling Trump's gullible donors in his "We Build the Wall" scheme. According to The Washington Post, Trump pardoned him (though not his co-conspirators) because of his ardent advocacy of the Big Lie and support for the attempted January 6 coup. He was in frequent contact with Trump, speaking to the then-president on January 5 and 6, 2021, and was present in the Trump campaign "war room" at the Willard Hotel on those days leading up to the coup and insurrection.
But now he is under indictment again, for defying a House select committee subpoena, and he has been trying to worm his way out of that difficulty by promising to testify. It's too late for that, however. He will almost certainly be convicted of contempt, with a potential sentence of two years in prison and large fines. The gravity of his offenses makes a maximum penalty imperative — unless he finally abandons his authoritarian daydreams, turns over every document and testifies fully and honestly.
Bannon knows much more about the plot against America than he has revealed so far. The Justice Department's constitutional duty is to squeeze the truth out of him — and all of the treacherous gang around Trump.
To find out more about Joe Conason and read features by other Creators Syndicate writers and cartoonists, visit the Creators Syndicate website at www.creators.com.