Barr: Federal Prosecutors Taking 'A Hard Look' At Trump In January 6 Plot
@next2godwin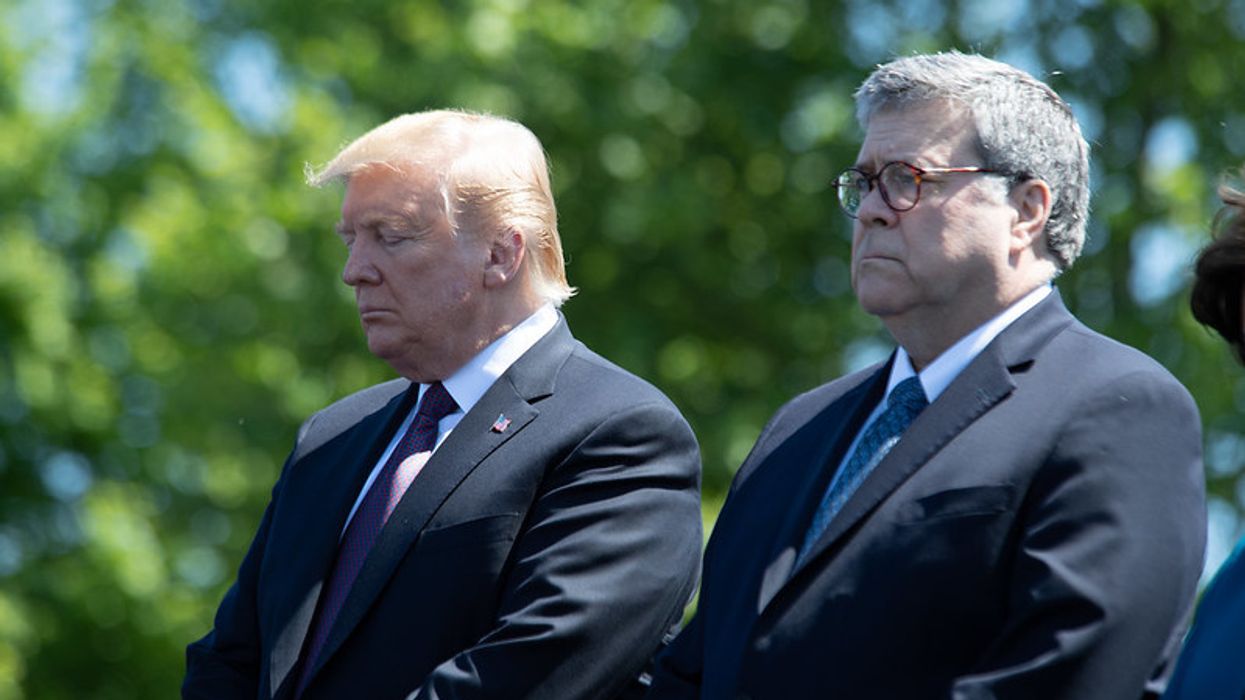 Former Attorney General William Barr weighed in on the newest slate of federal grand jury subpoenas the Justice Department issued for its January 6 probe, suggesting that a "hard look" is being taken at former President Trump and his allies.
Speaking to CBS News on Friday, Barr, once widely considered one of Trump's most loyal cabinet members, called the subpoenas of high-ranking Trump administration officials a "significant event" indicative of the escalating probe into those responsible for the January 6, 2021 attack on Congress.
"It definitely is a significant event. It changes my view of what's been going on," Barr told CBS News' Catherine Herridge. "This suggests to me that they're taking a hard look at the group at the top, including the president and the people immediately around him who were involved in this."
In recent weeks, the Justice Department has appeared to have moved on from its manhunt for the hundreds of rioters who stormed the U.S. Capitol at Trump's urging, turning its sights instead on the instigators of the riot, as well as others who lent their services to Trump's failed attempt to cling to power.
The federal grand jury — which has been meeting weekly, per CBS News — in late July deposed former Vice President Mike Pence's chief of staff, Marc Short, and Pence's chief counsel, Greg Jacob, in downtown Washington, according to the Washington Post.
The Post also reported that witnesses deposed before the federal grand jury were asked about communications with Trump, his lawyers, allies, and other inner circle members who partook in efforts to swap certified electors in states Biden won with fake electors subservient to Trump.
Last week, the federal grand jury subpoenaed former White House counsel Pat Cipollone and his top deputy, Patrick Philbin — a development Barr said implied that federal prosecutors are "going to try to get a ruling on the issue of executive privilege."
Barr also said Cipollone's subpoena was "the most subpoena" of the federal grand jury's mandatory interview invitation.
Cipollone and Philbin would have been privy to private communications with then-President Trump, but "executive privilege can protect a president's ability to obtain candid counsel from advisers without fear of immediate public disclosure," according to Independent.
"He has the strongest claim to executive privilege as the counsel to the Office of the President," Barr said, speaking of Cipollone. "That's sort of the biggest mountain for them to climb, and the fact that they lead off with that, to me, suggests that they want a definitive resolution — not only on Cipollone — but you know, this would affect [former White House chief of staff Mark] Meadows and some of the other people, too."
The former attorney general helped sow needless doubts about the legitimacy of the 2020 presidential elections, but he has since criticized Trump's actions on January 6.
Barr's Justice Department investigation investigated Trump's baseless claims of widespread voter fraud and found that there was no "fraud on a scale that could have effected a different outcome in the election."
In his testimony to the House Select Committee investigating the January 6 insurrection, Barr said Trump became so "detached from reality" after the election was called for Biden that he shunned his closest advisers and embraced a conspiracy theory-pushing legion of attorneys led by his former personal lawyer Rudy Giuliani.
"There was never an indication of interest in what the actual facts were," Barr told select committee investigators. "My opinion then and my opinion now is that the election was not stolen by fraud," he added. "And I haven't seen anything since the election that changes my mind on that."
However, Barr told Herridge he doubted there would be a way to prove "beyond reasonable doubt" that Trump engaged in criminal activity.
"After the last set of hearings I said, personally, if this is what there is, as attorney general I still don't see that as a sufficient basis to prove beyond a reasonable doubt that a crime was committed by the president," Barr said.