Barr Widely Condemned For Deception On Mueller Findings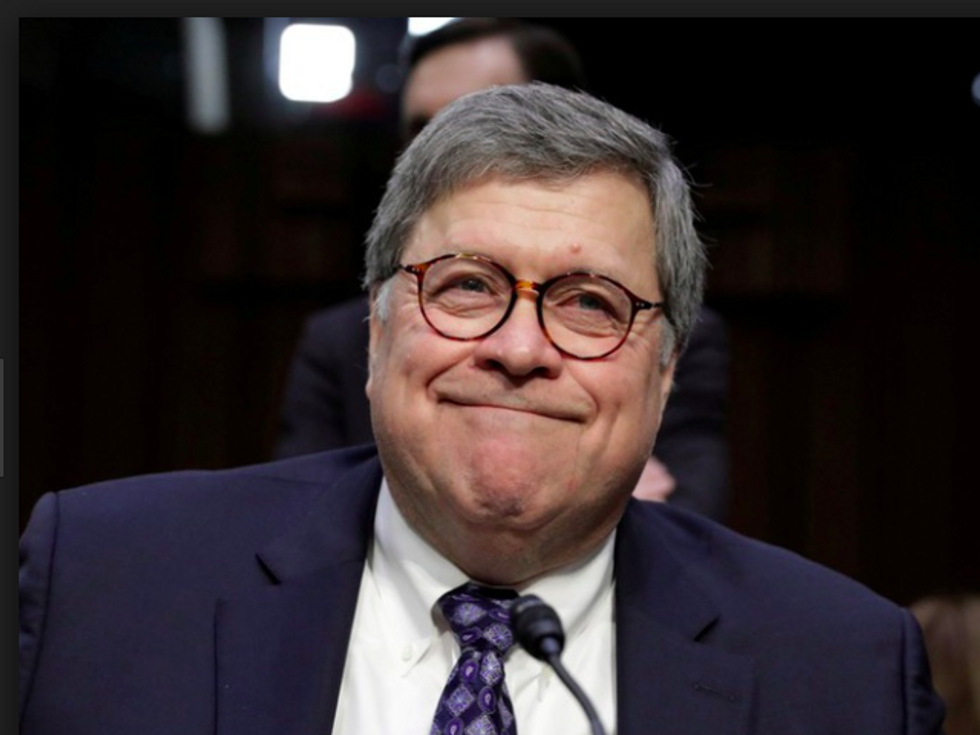 Attorney General William Barr repeatedly lied to America by attempting to spin the Mueller report in Trump's favor before anyone could see the full text of the report.
But once a redacted version of that text was finally public, America finally saw just how damning the report really was for Trump — and just how shameless Barr had been when he pretended otherwise.
A wide range of policy experts, legal analysts, and media figures roundly condemned Barr on Thursday for his obvious deception.
"I quite frankly was shocked at the performance of Attorney General Barr this morning," former CIA director John Brennan told MSNBC shortly after the report was released. "The political nature of his comments this morning were blatant, politically gratuitous."
"He really did give a pass to this administration, to Donald Trump, in a manner I think was unbefitting," Brennan added. "Like many others, I'm just disappointed that Attorney General Barr decided to go down this path."
Barr made two major public statements about the Mueller report before the report itself was released. One was a four-page summary, released last month very shortly after the report's completion, that only included a few direct quotes (none of which were complete sentences) from the report. The other was Barr's press conference on Thursday morning, held an hour and a half before a redacted version of the full report was released.
Former federal prosecutor and CNN legal analyst Jeffrey Toobin blasted Barr's press conference as "an extraordinary political commercial for Trump" — not a serious briefing from a government official.
And as senior MSNBC legal analyst Ari Melber noted, Barr's letter made at least one key claim that was completely "false": that Mueller had reached no conclusion on whether Trump obstructed justice, and left the decision of whether Trump should be charged with a crime up to Barr and the Department of Justice.
"We know now that's not the case," Melber said, because the Mueller report "dramatically explodes Attorney General Barr's claims."
In reality, Melber said, "Mueller viewed the rules that governed him, whether he liked them or not, as prohibiting the DOJ — which means Mueller, it means Barr, it means anyone who works at the DOJ — from indicting the president."
Instead, Mueller was using his report to gather evidence of Trump's actions and crimes and submit it to Congress, so that lawmakers could make a decision on how to handle Trump's misdeeds.
. @AriMelber explains five facts we have learned from the Mueller Report

Number 2: AG Barr was incorrect in claiming that Mueller reached no conclusion on obstruction and left that decision up to Barr. pic.twitter.com/1g8dKl9mEn

— TheBeat w/Ari Melber (@TheBeatWithAri) April 18, 2019
Vox explained how Barr "truncated quotes and omitted key context from his descriptions of Robert Mueller's report."
For instance, there was a lot more to Mueller's report on Trump and Russia than Barr's cherry-picked quote about how the investigation "did not establish" a direct conspiracy between Russia and the Trump campaign on election-meddling.
But we know now that the Mueller report did establish the Trump campaign "expected it would benefit electorally from information stolen and released through Russian efforts," and that "the Russian government perceived it would benefit from a Trump presidency and worked to secure that outcome."
"The Attorney General was censoring Mueller's judgment that Russia was trying to get Trump elected, and the campaign recognized that Russia's help would benefit the campaign," legal blogger Marcy Wheeler noted.
During his press conference, Barr repeatedly used the Trump talking point that there was "no collusion" between the Trump campaign and Russia. But as Wheeler also pointed out, Mueller explicitly said he wasn't looking at "collusion" — because "collusion" is not even a proper legal term.
Members of Congress also roundly condemned Barr for misleading them.
Barr's misleading letter was released soon after the report was submitted nearly a month ago. Then the Department of Justice refused to release the actual report for nearly a month — which allowed Barr's false claims to become the dominant media narrative about the report.
He tried to whitewash the Mueller report using first his letter and then his press conference.
But almost immediately after the public finally got to see the document, it became apparent that Barr was acting as an agent of Trump, not the truth.
Published with permission of The American Independent.