Beating Suspects Plead Guilty In Dodger Stadium Assault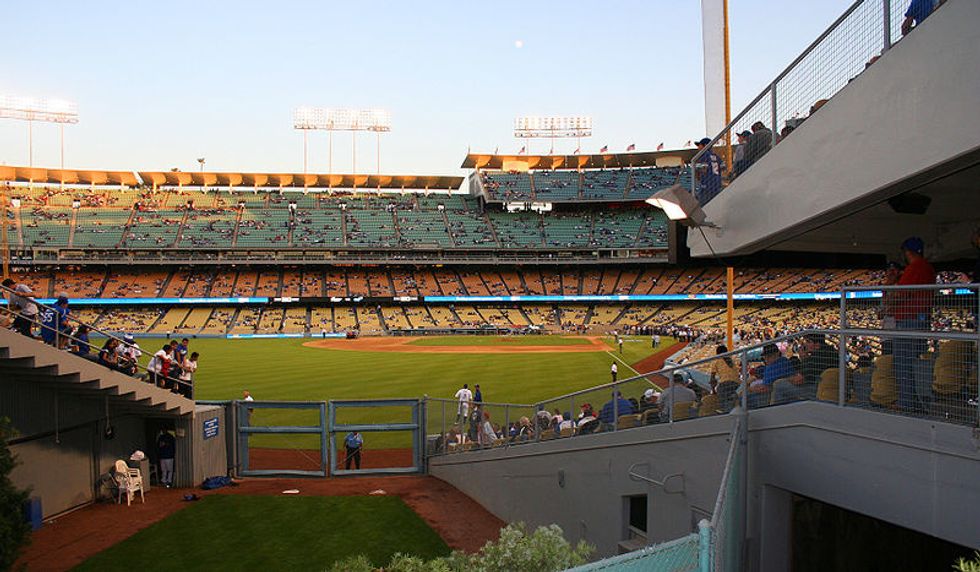 By Richard Winton, Los Angeles Times
LOS ANGELES — Two men charged with severely beating San Francisco Giants fan Bryan Stow in the parking lot of Dodger Stadium in 2011, leaving him with brain damage, pleaded guilty Thursday to assault charges.
Marvin Norwood, 30, and Louie Sanchez, 31, faced charges of mayhem, assault and battery, and inflicting great bodily injury in the beating of Stow, a 44-year-old father of two.
The March 31 attack left Stow, a Northern California paramedic, with serious head trauma and a permanent disability that means he will need care for the rest of his life.
Norwood was sentenced to four years in prison after he pleaded guilty to assault causing great bodily injury in Los Angeles Superior Court. In exchange, the earlier mayhem charge was dropped.
Sanchez pleaded guilty to one count of mayhem in exchange for eight years in prison. He could have received 11 years in prison if convicted of the original charges.
Stow was attacked as he and three other Giants fans, all Bay Area paramedics, walked through the parking lot after the Dodgers' opening day win against the Giants. Witnesses at a preliminary hearing last year described boorish, drunken and profane behavior by Sanchez against Giants fans.
According to witnesses, Stow said he hoped two men launching a verbal assault would "code," paramedic slang for having a heart attack, and that one of the men, later identified as Sanchez, shoved Stow. The paramedics took off to avoid a confrontation but a few minutes later the two assailants accosted Stow and his friends.
Witnesses said Stow was sucker-punched, falling to the ground and fracturing his skull. Once on the ground, Stow was kicked in the ribs and head, they said.
None of the witnesses could positively identify Sanchez or Norwood as having delivered the punch, and many of those closest to the altercation were unable to pick either defendant out during police lineups.
But ultimately, the words the two men spoke in jail after their arrest in July 2011 — unaware they were being recorded — made it hard for them to deny their role in the brutal beating, officials said. Those statements, along with testimony from Dorene Sanchez, Sanchez's sister and Norwood's fiancee, placed them at the scene of the crime.
In a 12-minute recorded conversation, the two expressed amazement at the evidence detectives had amassed against them, with one remarking that police "know everything, bro" and the other saying, "Wow, we're done."
"How much time do you think we are going to get?" Norwood asked.
"A lot," replied Sanchez.

Placed together in a holding cell as they awaited a police lineup, the men immediately began comparing notes about the evidence and discussed what Sanchez's 10-year-old son would say.
"I socked him, jumped him and started beating him," Sanchez said, apologizing to Norwood for getting him involved in the violence.
"That happens, bro," Norwood replied. "I mean, what kind of man would I have been if I hadn't jumped in?"
In another recording, Norwood told his mother that he had been arrested for "that Dodger Stadium thing" and admitted he "was involved." In finding there was enough evidence for the two to stand trial last year, a judge noted that Norwood had tried initially to act as a peacemaker when Sanchez taunted and attacked rival fans, but that he had later joined in the violence.
But Dorene Sanchez of Rialto testified at a preliminary hearing in 2012, after being granted immunity, that she never witnessed the beating, although her statements placed the two at the scene.
She said Norwood and her brother had run after the Giants fans and returned shaken and, in Norwood's case, with blood on his hands. Norwood is the father of her 2-year-old child.
Dorene Sanchez was originally booked with the men as an accessory after the fact, for driving them from the ballpark, but she began cooperating with prosecutors, who subsequently opted not to pursue charges against her.
Los Angeles Police Department robbery-homicide detectives first came across Sanchez's and Norwood's names while re-examining more than 700 tips from the public when the case was reassigned after another LAPD unit arrested the wrong man.
The incident drew national attention and calls for police, city officials and the Dodgers to tighten stadium security and better protect fans.
Photo via Wikimedia