Beefing Up Advice Options For Workplace Retirement Plans
@reuters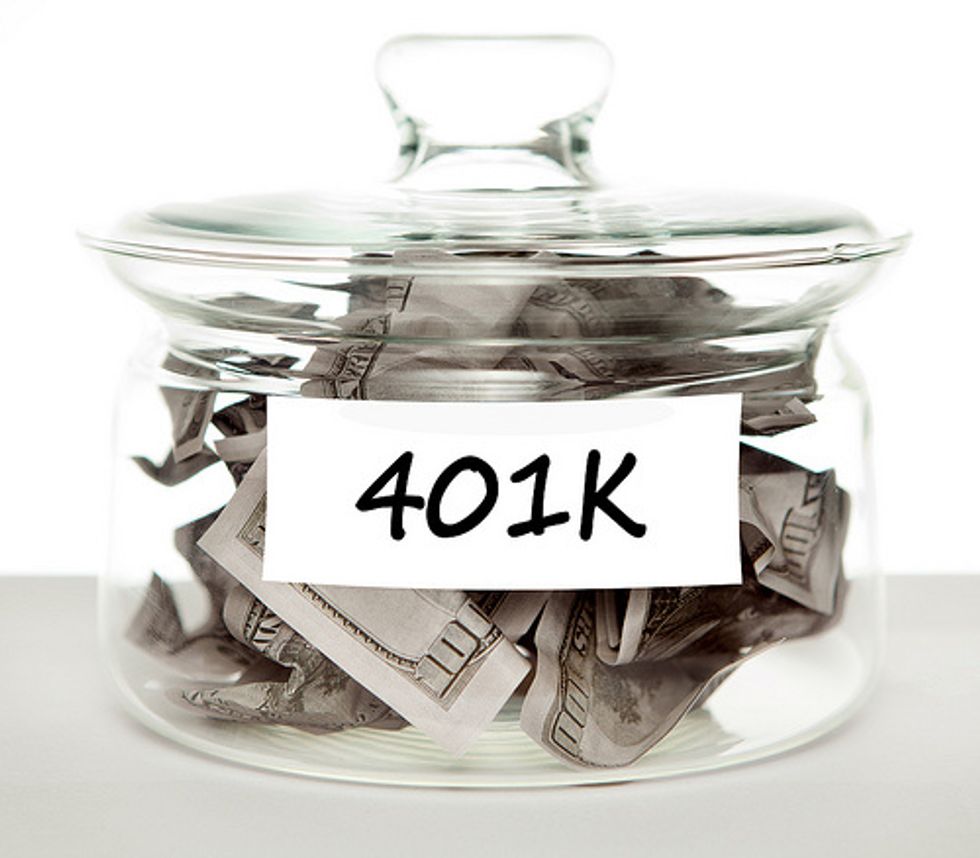 By Mark Miller
CHICAGO (Reuters) – Would you like some advice with that 401(k) plan?
Two of the leading companies in online investment advice launched initiatives this month aimed at getting more personalized financial advice to workplace retirement savers.
Betterment, a leader in the "robo-advisory" automated portfolio market for retail investors, announced plans this month for a new technology-driven offering for 401(k) plans.
Meanwhile, Financial Engines – the current leader in 401(k) financial advisory services – is giving more workers access to its network of human advisers.
Robo-advisory services like Betterment have been focusing on the retail market, helping people manage their IRAs and taxable brokerage accounts. These services use algorithms to select a mix of investments based on your tolerance for risk and other preferences, and then automate the account management.
Betterment ( http://betterment.com ) reports that its client base has more than doubled just this year to 110,000 customers.
The 401(k) market is a different story than IRAs and taxable brokerage accounts.
Workplace plans have shifted dramatically toward automated account management in recent years. But most of the action has been in target-date funds (TDFs), which are designed to adjust an investor's risk as retirement age approaches, through what is called a glide path. The farther out the fund's end date, the higher the stock allocation.
TDFs are helping 401(k) investors obtain better outcomes – asset-weighted average investor returns in TDFs are 1.1 percentage points higher than the funds' average total returns, according to a Morningstar study published earlier this year.
But a TDF is a one-size-fits all solution, and there is potential to do more. That is where managed account services like the one Betterment envisions enter the picture.
Managed account providers offer individually tailored help with retirement planning. Typically, they eschew more expensive actively managed funds, using very low-cost passive vehicles such as index funds or exchange-traded funds (ETFs) – and then add on a fee for the advice.
They can answer questions that go beyond asset allocation – everything from Social Security claiming strategies to advice about drawing down funds. Managed account advisers can even do some hand-holding when markets take a nosedive.
Managed account services have not seen much traction in the market yet. Eighty-six percent of plan sponsors pick TDFs as their default option for participants who do not make investment elections on their own, according to a survey by Towers Watson; managed account services make up just 3 percent of default plan sponsor choices.
Betterment is facing an uphill climb, says Mike Alfred, chief executive officer of Brightscope, which tracks and analyzes 401(k) plans. "What they are pitching is an Apple experience for financial services. But they will find out quickly it's a tough market to disrupt."
COSTS
Expense has been the big barrier. Towers Watson reports that managed account fees for large 401(k) plans often start around 50 basis points, and they run higher for smaller plans.
Those fees come on top of what is charged for underlying funds.
Betterment is entering a market dominated by several well-established players. The market leader is Financial Engines, with $102 billion in assets under management, according to Cerulli Associates. Morningstar ranks second ($36 billion), followed by GuidedChoice ($10 billion) and Fidelity Investments ($10 billion). Some of these offer one-on-one personal help as well as technology-guided assistance.
Betterment is betting on its reputation for industry-leading technology, and it claims that it will get costs down. It also plans to focus on small plans, where costs tend to run higher and may be more ripe for innovation.
All-in costs (managed account services and fund costs) from Betterment will range from 20 basis points for large plans to 70 for small businesses. For that, investors will receive investment management for their 401(k)s and any IRAs or taxable brokerage accounts, plus recommendations on asset location – that is, how to invest in each account type to take best advantage of their taxability.
"These are things most wealthy investors have – but everyone should have it, because it has a significant impact on returns," said Jon Stein, Betterment's chief executive officer.
Stein thinks TDFs have benefited investors, but that managed accounts can do much more. "We'll do the glide path but personalize it for you – so you're not in a bucket with 10 million other people. It will be exactly optimized for your retirement goals."
Another key difference: Betterment will be offering plan sponsors an all-or-nothing proposition. Unlike its competitors, which offer managed account services as an option inside plans, companies that sign up for Betterment's service will automatically enroll all of their employees. That means investors will be paying the individual's fees for the service whether they need it or not.
Most industry experts acknowledge that sophisticated guidance options are most valuable for workers getting close to retirement age; for younger workers just getting started saving, the best solution is to just sock away as much money as possible in the lowest-cost passive investment offered in the plan.
(The writer is a Reuters columnist. The opinions expressed are his own.)
(Editing by Beth Pinsker and Matthew Lewis)
Photo: Tax Credits via Flickr