Before Republicans Move Forward, They Retreat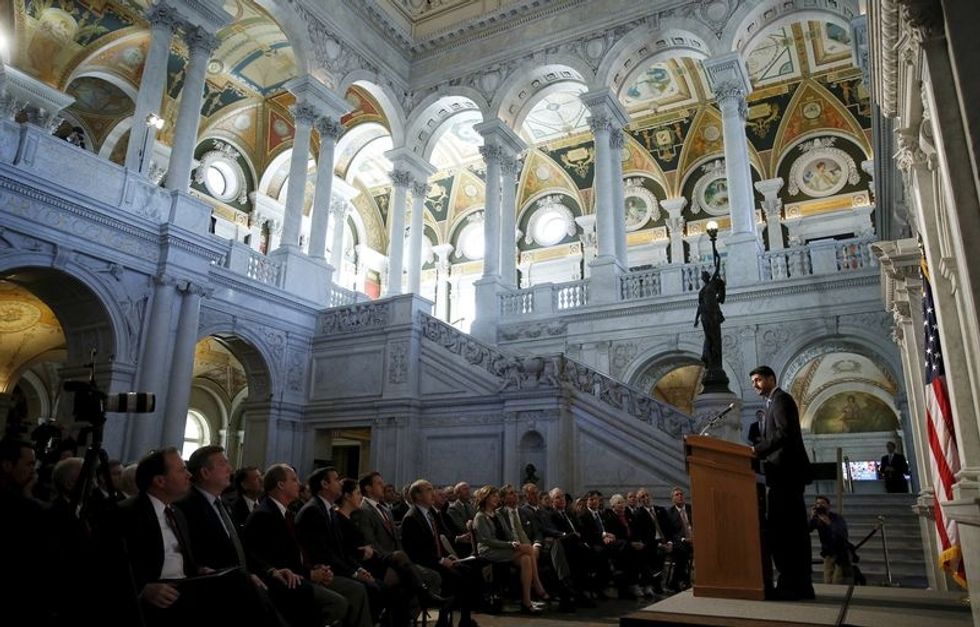 By Bridget Bowman and Niels Lesniewski, CQ-Roll Call (TNS)
WASHINGTON — Congressional Republicans emerged from a retreat in Baltimore last week committed to an agenda that navigates between the fierce rhetoric of the presidential campaign and the undeniable reality that Democrats can still block key legislation.
The next few weeks will determine how successful GOP lawmakers will be in developing the sort of policies that define the party's priorities and set a tone for the next president, should a Republican be elected. That will mean managing divergent approaches in the House and the Senate, fault lines within the party conferences and a tight legislative calendar this election year.
"One of the things that I've been talking to the speaker about is what can we do to maintain regular order and an open process, but still be able to be efficient with the use of our legislative calendar to get it done," said Rep. Bill Flores, R-Texas, chairman of the conservative Republican Study Committee. "It's going to be tough. I think we'll get there as long as we're all kind of on the same page."
Lawmakers seemed to be on that same page as they finished their annual issues retreat on Jan. 15. Senate Majority Leader Mitch McConnell, not known for soaring oratory, won praise for an inspired presentation.
"I have never heard Mitch McConnell as powerful as he was last night," Sen. Mike Rounds, R-S.D., told Roll Call in an interview Jan. 14. Rounds added that he wished the organizers would take the unusual step of releasing McConnell and Speaker Paul D. Ryan's remarks from the closed session.
The Wisconsin Republican also impressed members during his first retreat as leader of the House.
"This was my 14th conference," Rep. Devin Nunes, R-Calif., told reporters last week. "Paul Ryan is the first politician that has given a speech at any of these events to get a huge standing ovation at the end of his presentation. It was by far the best political speech by a member of the House or Senate that I've ever seen."
Despite the upbeat atmosphere, the challenges for the Republicans in charge of Congress have not changed. President Barack Obama is still in the White House. Senate Minority Leader Harry Reid of Nevada still has plenty of Democratic votes to thwart advances of a conservative legislative agenda. So Republicans have shifted some focus away from the floor, developing policies that could allow a potential GOP president to hit the ground running.
Wrapping up the GOP retreat, Ryan laid out their plan to craft a GOP agenda focused on five issue areas: national security, the economy, poverty, health care and restoring the separation of powers. Ryan said on Fox News Sunday that they plan to roll out the agenda in the spring, before the Republican Party has its presidential nominee. But it looks increasingly unlikely that these ideas will translate to legislation that will receive some floor time.
"This agenda is not going to be passed into law this year. Barack Obama's the president," Ryan told Fox. "So our goal here is not to simply just pass things and watch them go nowhere because we have a White House that doesn't agree with us. Our goal is here is to say, 'Here is what we will do in 2017 if the country gives us the authority to do this.'"
But Ryan could face increasing calls from within his ranks to take action on these ideas.
"Just having a nice blueprint doesn't do any good unless you actually move them forward," Rep. Rob Bishop, R-Utah, said. "I think that may be … one of the reasons that the senators were meeting with us as well," he added, noting that any House-passed measure would have to move through the Senate.
Across the Capitol, senators will turn their attention to the more mundane task of funding the government. With House members looking at sweeping policy proposals, and McConnell, R-Ky., saying the Senate will focus on spending bills, it appears, on the surface, that the House and Senate are heading in two different directions. But GOP leaders suggested that's by design.
Senate Majority Whip John Cornyn, R-Texas, said "the House is just simply more nimble" when asked about the diverging agendas. House Majority Leader Kevin McCarthy, R-Calif., agreed, telling reporters, "The forefathers designed the Senate and the House to be different … but we're sitting down talking about these ideas. We're together."
(Lindsey McPherson contributed to this report.)
©2016 CQ-Roll Call, Inc., All Rights Reserved. Distributed by Tribune Content Agency, LLC.
Photo: U.S. House Speaker Paul Ryan (R-WI) (R) delivers a policy address from the Great Hall at the Library of Congress in Washington December 3, 2015. REUTERS/Gary Cameron