Beijing In Lockdown For 25th Anniversary Of Tiananmen Crackdown
@AFP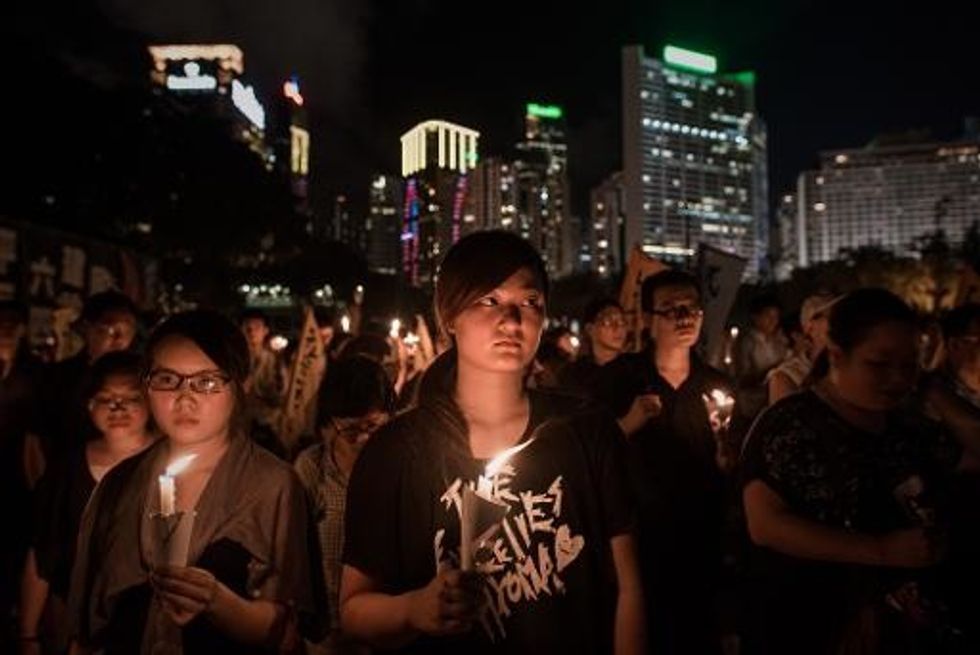 Hong Kong (AFP) – Tens of thousands gathered in Hong Kong Wednesday to remember the dead on the 25th anniversary of the Tiananmen Square crackdown, the only major commemoration in China, as authorities clamped tight security on Beijing.
The White House called for China's Communist authorities to account for those killed, detained or missing in connection with the June 1989 assault, still a taboo topic for a nation that refuses to allow political reform in line with its dramatic economic transformation.
"Vindicate 6/4!" crowds shouted, waving banners, as the somber candle-lit vigil began in a Hong Kong park.
Lights were turned out as elderly and young alike raised their candles in the dark. The names of those who died in Beijing on June 4, 1989 were read out over loudspeakers.
People bowed to pay their respects as film footage of the event was shown on large screens.
"This event must be instilled in everyone's heart, we can't let time dilute this event," said 19-year-old student Anna Lau.
Similar smaller events were scheduled in Macau and Taipei.
Taiwanese President Ma Ying-jeou described the events of 25 years ago as an "enormous historical wound".
Ma called on Beijing to "speedily redress the wrongs to ensure that such a tragedy will never happen again".
Likewise, the United States will continue to "urge the Chinese government to guarantee the universal rights and fundamental freedoms that are the birthright of all Chinese citizens", a White House statement said.
Hundreds of unarmed civilians — by some estimates, more than 1,000 — were killed during the June 3-4 crackdown of 1989, when soldiers on foot and in tanks crushed months of peaceful protests by students demanding political liberties to match China's nascent economic opening up.
Thousands of police and other security forces, some armed with automatic rifles, have been deployed across the Chinese capital this week. There were numerous police trucks on and around Tiananmen Square Wednesday, with fire engines and ambulances also visible.
Tourists and vendors criss-crossed the vast public square in the heart of the city, but uniformed and plainclothes officers were stationed at every corner and checking ID cards.
An AFP journalist was ordered to delete photos of scuffles between police and frustrated pedestrians waiting to enter the main part of the square Wednesday morning.
In 1989 the demonstrations and subsequent crackdown played out on television screens across the world, and Beijing briefly became a pariah in the West.
But 25 years later, the Communist Party's authority is intact and its global clout continues to rise in line with its rapid growth to become the world's second biggest economy.
Among the crowds packing Hong Kong's Victoria Park, named for the former British colonial monarch, were many from the Chinese mainland.

"I came here to take part in this vigil, because in China we don't have any rights or freedoms… so to express my views I have to come to Hong Kong," 35-year-old Huang Waicheng, an engineer from the neighboring city of Shenzhen, told AFP.
"In China, there are too few people that know about (the crackdown)."
Under the agreement governing Hong Kong's handover to China in 1997, the semi-autonomous city has far greater civil liberties than the mainland.
A 52-year-old business man from China's neighboring Guangdong province brought his son to the vigil.
"Freedom for the whole Chinese nation ought to be the country's ultimate goal. It's a good thing that some people still remember (the movement)," said the man surnamed Li, who declined to give his full name.
UN human rights chief Navi Pillay on Tuesday called on China to "finally establish the facts surrounding the Tiananmen Square incidents".
Hong Lei, a Chinese foreign ministry spokesman, condemned both Pillay's statement and earlier U.S. remarks as interference in China's internal affairs.
China has worked hard to erase public memories of the bloodshed, censoring any mention from social networks and detaining scores of activists, lawyers, artists and relatives of victims in recent weeks.
Among them is prominent human rights lawyer Pu Zhiqiang, who along with four others was taken away last month after attending a private seminar discussing the crackdown.
Around 80 academics from 12 countries penned an open letter to President Xi Jinping on Wednesday pressing for the release of the five.
Many foreign news outlets have received warnings from police and the foreign ministry against newsgathering related to the anniversary — or risk "serious consequences" including possible revocation of their visas.
Under pressure from authorities, Chinese online social networks quickly deleted any perceived references to the crackdown, banning terms including "Tiananmen", "student movement", "6/4" and "25th anniversary".
A handful of mentions slipped past the censors, including one posting that showed an image of a candle and the date June 4, 1989.
Asked about the anniversary, university students declined to be interviewed or suggested they did not know much about it.
"I know about it but I don't really understand what it is," said a student near Peking University. "At this time, we were not even born!" she added.
The state-run Global Times on Wednesday made references to the anniversary in its English-language edition, but the Chinese-language version only alluded to it.
"Chinese society has never forgotten the incident 25 years ago but not talking about it indicates the attitude of society," the English-language editorial said.
Photo: Philippe Lopez via AFP